A quick introduction to red wine
With its versatility of styles, aromas and flavors, it is no wonder that different types of red wine is cultivated and appreciated worldwide. Whether you prefer to drink a straightforward wine, a more delicate taste, or a wine with tannins that are more structured and smoother, there will be a red wine for you.
From international varieties – otherwise known as noble grapes – such as Pinot Noir, Cabernet Sauvignon and Syrah (or Shiraz), to grapes more specific to a viticultural area, such as Tempranillo (Spain) or Concord (USA), there is truly something out there for everyone.
Red wine can be made from just one grape variety, or a blend of two, three, or even more. Though blended wines are highly popular, the most well-known is, indisputably, the Bordeaux style, which has an impressive aging potential and has inspired producers around the world.
What gives red wines their color?
Although the color of red wine grapes is usually closer to purple or blue, they change into a characteristic crimson after the vinification process. More specifically, red wines acquire their recognizable color during the maceration process, when the anthocyanins (naturally occurring pigments) are leached out of the grape skins, subsequently mixing with the must (a 'broth' of crushed grape seeds, skins, stems and juices). An important part of red winemaking is increasing contact between the grape skins and juices during maceration, as the carbon dioxide released at fermentation pushes hardened solids to the surface of the liquid, reducing contact between the skins and juices.
Popular methods for increasing contact are pushing down these solids (pigeage, or "punching down") and pouring the wine from below the hardened surface over it (remontage, or "pouring over"). Alternative methods for "making wine red" include cold soaking (as the name suggests, the juice and skins are soaked together at chilled temperatures before fermentation) and extended maceration (where the wine and skins are soaked together after fermentation).
While different winemaking methods produce a similar end result in reds, it is the sheer variety of wine grapes (varietals) and the varietal blends of which some wines are made which gives each wine its distinct fruit flavor. The unique identity of each wine grape is fostered by their terroir of origin. Let's take a look at some of the most well-known red wine regions around the world…
Red Wines of the World
France
Bordeaux
Bordeaux is located in the sunny southwest of France, winegrowers there being equipped with the perfect climate for their work. When referring to Bordeaux appellations, one commonly separates them into the Left Bank and the Right Bank, the two areas divided by the Gironde estuary to the north of Bordeaux, which splits into the Dordogne and Garonne rivers as one ventures further south.
The great appellations on the Left Bank of Bordeaux include Medoc, Margaux and St. Estephe, with mainly gravelly soils for cultivating Cabernet Sauvignon, the red wine grape of choice in this region. The Cabernet Sauvignon of the Left Bank is often complemented by other grape varietals such as Cabernet Franc, Malbec, Merlot and Petit Verdot. On the Right Bank, which includes Saint-Emilion and Pomerol among other appellations, there is a wider range of soil types, including clay, sand, gravel and limestone. Merlot is the main varietal on this side of the river, with Cabernet Franc, Cabernet Sauvignon, Malbec and/or Petit Verdot commonly being added to the blend.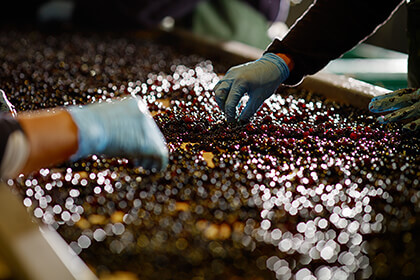 Indeed, the Bordeaux Blend is reputed around the world and often imitated, the grape varieties therein being Cabernet Franc, Cabernet Sauvignon, Carmenere, Malbec, Merlot and Petit Verdot. Barrels made of new oak are the most common aging vessel for these Bordeaux Blends, due to their ability to add class, complexity and depth to these best red grape combinations.
Burgundy
The Burgundy wine region (home to appellations such as Corton, Meursault and Pommard) is a notable counterpart to Bordeaux. This region uses only Pinot Noir grapes for its wines, creating monovarietal red wines which offer a distinctive style, indicative of the Burgundian terroir. Compared to Bordeaux wines, the red wines from Burgundy are usually lighter and softer on the palate, with more delicate tannins. Like the Bordeaux style, the winemaking style of Burgundy is also used as a benchmark for winemaking regions worldwide.
The Loire Valley
Situated near the Burgundy wine region is the Loire Valley, otherwise known as the "Garden of France" for its abundance of natural sites – including, of course, vineyards. Due to the region's cooler climate, the early-ripening Cabernet Franc is the red grape varietal which takes pride of place here. The thousands of vineyards in this region are spread across famous appellations, such as Sancerre and Saumur-Champigny, producing fresh and fruit-forward red wines with wonderful aging potential. Other winemaking regions with similarly cool climates around the world draw inspiration from the Loire style, including regions in New York State.
The Rhone Valley
The Rhone River, which runs through southeast France and into Switzerland, divides the area into Northern Rhone and Southern Rhone, two regions renowned for red wine production (which makes up over 90% of the overall region's total wine production).
The Northern Rhone area primarily cultivates Syrah (or Shiraz), a famed varietal which is grown worldwide but which has its roots in the Rhone Valley. Syrah can be used to make a beautiful monovarietal wine, with notes that range from truffles and coffee to raspberry and violet, as well as its trademark black pepper in the Cote-Rotie appellation (which directly translates to "the roasted slope"). Alternatively, it can be blended with white grape varieties, such as Marsanne and Roussanne, to produce wines with a remarkable aging capacity; these wines are produced in other appellations in Northern Rhone, such as Saint-Joseph and Hermitage. Syrah/Shiraz is also well-loved in Anglophone countries – notably, Australia's Barossa Valley cultivates rich and robust Shiraz wines with scents of dark chocolate.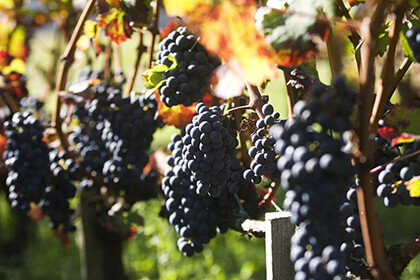 Meanwhile, the Southern Rhone region has a significantly warmer climate due to influence from the Mediterranean sea, with hot summers accompanied by the Mistral wind – strong gusts stemming from the combination of high and low air pressure, which ensure the vines' full exposure to the sun and simultaneously stabilize temperatures. The Southern Rhone is also home to soils composed of galets roulés (rolled pebbles), which form the base for the over 20 varietals cultivated in the region. These varietals include Grenache, Syrah, Mourvedre and Cinsault, with Grenache being the most used grape within blends. Compared to its northern neighbor, wines from Southern Rhone tend to be light in color, body and tannin. These are easy drinking reds to be enjoyed with food. Chateauneuf-du-Pape is the most famous appellation in Southern Rhone, blending up to 13 varietals, which requires the utmost expertise and patience in winemaking. These wines tend to have a relatively high level of alcohol.
Italy
While France's red grape varieties are usually internationally planted, Italy's diverse range of red varietals tend to remain domestic.
Tuscany
The spiritual home of the Sangiovese Italian red wine varietal, Tuscany's tremendous wines are made from a similarly stunning viticultural landscape. The region hosts numerous DOCGs (Denominazione di origine controllata e garantita, a marker of viticultural excellence), including Chianti Classico, where wines are always made of at least 80% Sangiovese, and Brunello de Montalcino, which produces exclusively Sangiovese wines. Sangiovese isn't the sole hallmark of Tuscany, however; the Bolgheri appellation is known for having created Super Tuscan wines in the 1970s, with blends that brought Cabernet Sauvignon and Merlot to the forefront.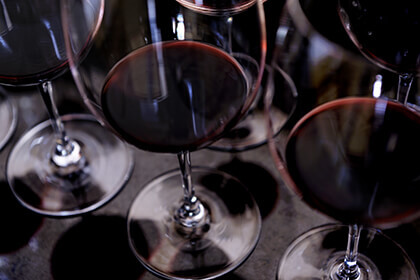 Piedmont
The Piedmont wine region lies further north in Italy and is known for different but equally flavorful red wine varietals. The most famous among these is Nebbiolo, which produces wines with pronounced tannins, a "tar and roses" bouquet and incredible aging potential. Nebbiolo can be found in Barolo and Barbaresco wines, two exceptional Piedmont appellations. Piedmont also cultivates many other red wine varietals, such as the less tannic Barbera and the sweeter Brachetto.
Veneto
Also in northern Italy – though on the eastern corner – is the Veneto wine region. Perhaps the most known feature of this winemaking region is the use of the appassimento technique, where the harvested grapes are air-dried before fermentation for several weeks to produce wines with richer flavors. The red varietals of the region include Corvina, Rondinella and Molinara, which produce intense Amarone wines and lighter, fruitier Valpolicella Ripasso.
Spain
Rioja
Widely regarded as Spain's flagship wine region, Rioja is split into three subregions: Rioja Alavesa, Rioja Alta and Rioja Baja. Rioja Alavesa is home to the well-known red varietal, Tempranillo, which produces tannic wines with notes of various fruits (cherry, plum) mixed with other memorable aromas, such as cedar, leather and vanilla. Tempranillo wines are aged from anywhere between 24 to 60 months, all with at least 12 months in barrel, ensuring the wines' proper evolution.
Ribera del Duero
Ribera del Duero vines are located at around 800 meters of altitude on a northern plateau of Spain, at a mid-point between Bilbao and Madrid. This region is also home to Tempranillo and cultivates mostly this grape, though it is locally referred to as Tinto Fino. Due to the region's elevation and drier climates, Ribera del Duero wines are a much more pronounced, concentrated and robust type of red wine.
Priorat
The Priorat wine region in Catalonia is smaller and produces lower yields than Rioja and Ribera del Duero, but is just as highly regarded thanks to the quality of the wines. Grenache (Garnacha in Spanish) dominates in this region, alongside Carignan (Cariñena), producing pigmented and powerful red wines with superb aging potential.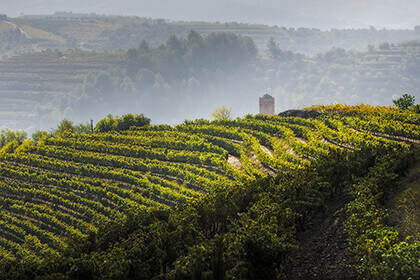 New World Red Wines
While France, Italy and Spain are all considered Old World wine regions (places from which most varietals and viticultural traditions originated), wine-growing regions in the USA and Australia (among others) are well-known as prolific New World wine regions, to which vitis vinifera (the common grape vine) and winemaking techniques were imported during the last few hundred years.
North America
California
Perhaps the most renowned winegrowing region of North America is Napa Valley in California. The red wines produced here are delicious and well-rounded, benefiting from California's Mediterranean climate. Napa Valley is particularly reputed for its "Napa Cab", a Bordeaux-style blend which combines predominantly Cabernet Sauvignon with aging in American oak. Napa's neighbor to the west, Sonoma County, is home to another well-known wine region, Sonoma Valley, which also primarily cultivates Cabernet Sauvignon in its warmer mesoclimates, the cooler ones being more suited to Pinot Noir. Some areas, like Lodi, also cultivate wonderful old vine Zinfandel.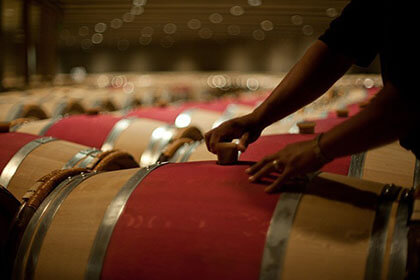 Oregon
Wines from Oregon are less well-known but just as noteworthy as their Californian counterparts. Pinot Noir is the main varietal cultivated in the Willamette Valley wine region, the largest in Oregon state. Thanks to the cool climate and volcanic soils in this rustic region, the Burgundian-inspired Pinot Noir wines from Oregon are wonderfully subtle and nuanced. You will usually find notes of cinnamon and vanilla by way of the terroir-focused viticulture and the tendency towards aging in French instead of American oak.
Australia
South Australia is no stranger to red wines with a spicy and smoky quality, the most prestigious winegrowing region being Barossa Valley, near Adelaide. French influence can also be found on this side of the world, with Southern Rhone-inspired GSM (Grenache, Syrah, Mourvedre) blends being a popular product. In additional to these styles, Pinot Noir is another choice varietal cultivated in the cooler areas of the Victoria wine region.
Red Wine: Expanding through Space and Time
Europe, North America and Australia may be the largest wine-producing regions in the world, but the quality and diversity of red wines are not limited to these zones. From the modern Pinotage varietal of South Africa, to the classic Carmenere of Chile and the Malbec of Argentina, red varietals and vineyards can be found in almost every continent in the world. And with contemporary considerations like climate change and ever-evolving viticultural technology, red wines are sure to be spread even more widely as the years go by.
Though we may have given an overview of red wines across the world, it is important to note that each wine, estate and region has its own, unique philosophy. Winegrowers adapt to different terroir and climate conditions each year, producing red wines that truly express the particular personality of each region and viticultural context. Whether a singular statement from one varietal or a blend of berries from several, red wines are sure to delight any customer or circumstance with their variety of aromas, flavors and structure styles. Discover our collection of red wines, perfect for a wide range of food pairings, and guaranteed to suit your personal taste!