The Story Behind Armand de Brignac Champagne
The story of the luxury champagne brand Armand de Brignac, nicknamed Ace of Spades, is one that brings together three great entities : the Cattier family of Champagne in its production, rapper Shawn « Jay-Z » Carter in ownership and endorsement, and LVMH in ownership and distribution. The centuries of savoir-faire behind each bottle comes from the Cattier family, whose elite House of Champagne was established in the village of Chigny-les-Roses in 1763. At the beginning of the 21st century, the Cattier family started to set aside some of their best reserve wines for a brand new prestige project. The Armand de Brignac Brut Gold cuvée was born in 2006. Two years later, the brand's Blanc de Blancs and Rosé cuvées were released, and in 2015, the range was expanded again with a Blanc de Noirs and a Demi Sec champagne.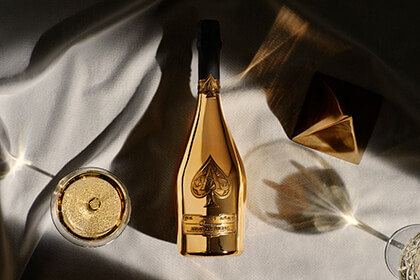 Shawn Carter (better known in the world of hip hop as Jay-Z) first began courting the brand in 2006, when a bottle of the Brut Gold cuvée appeared in one of his music videos. In November 2014, it was announced that Carter bought Armand de Brignac, which was afterwards featured in several other music videos, including « Feeling Myself » with Beyonce and Nicki Minaj in 2014. In February of 2021, Carter sold a 50% stake of the brand to Moet Hennessy, the wine and spirits branch of LVMH. These champagnes, already very successful with a total of 50,000 bottles sold in 2019, now enjoy access to the powerful international distribution network of Moet Hennessy.
But is the champagne housed in these luxurious bottles actually any good ? According to top wine critics, yes. In 2009, Armand de Brignac finished on top during a blind tasting of over 1000 champagne brands. Jancis Robinson MW rated the Blanc de Blancs and Demi Sec cuvées 18/20 in 2015. In 2016, Wine Spectator gave the Rosé a 92 point score, the Brut Gold 93 points and the Blanc de Blancs a 94 point rating. The brand's Blanc de Noirs Assemblage Two (A2) received 96 points, the Brut Gold and Rosé 95 points and the Rosé 93 points by Decanter magazine. These scores make it clear: there is more to this champagne than its eye-catching packaging.
The Winemaking Savoir-Faire Behind a Luxury Champagne
The winemaking team behind Armand de Brignac champagne is led by Chef de Cave Jean-Jacques Cattier and his son Alexandre Cattier, who represent the 12th and 13th generation of the Cattier family of winegrowers in Champagne. These cuvées are produced in the village of Rilly-la-Montagne within the Montagne de Reims region. Around 50% of the fruit comes from the family's 80 acres of vineyards in the lauded crus of Rilly-la-Montagne, Chigny-les-Roses and Ludes, and the rest is purchased from trusted local winegrowers. The three flagship grape varieties of Champagne – Chardonnay, Pinot Noir and Pinot Meunier – are all represented. The family asserts exacting standards over the cultivation of the fruit used in their blends, setting strict limits on annual yield each year. The vineyards are managed with sustainable principles at the core, and the land is certified HVE level 3 for high environmental value.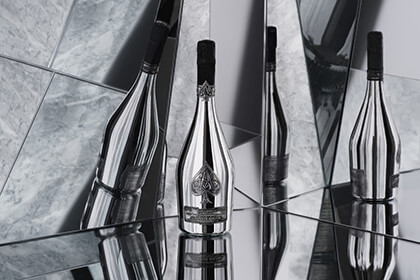 Following a manual harvest, the fruit is pressed at one of the two wineries owned by the family. Only the freshest first press juices are selected to produce Armand de Brignac. The Cattier team currently produces five different cuvées under the brand: a Brut white, a Brut rosé, a Demi Sec, a Blanc de Blancs (100% Chardonnay) and a Blanc de Noirs (100% Pinot Noir). All of these "Ace of Spades" champagnes are a blend of three different vintages, and thus non-vintage. After at least three years of aging on lees in a special, gated-off section of the family's underground cellars (199 steps underground, to be exact), they are disgorged and dosed with only the best liqueur de tirage of the house, which age for one year in French oak barrels. This special winemaking touch lends the champagnes a nice complexity of flavors, especially toasted notes, vanilla and pastry. The wines continue to age for three to six months in bottle following disgorgement before they are released on the market.
A One-of-a-Kind Bottle
No discussion on the subject of the champagnes of Armand de Brignac is complete without a few words about the brand's eye-catching packaging. Each bottle of this champagne comes coated in a layer of metal which is finished by hand and then fitted, also by hand, with French pewter labels. As this application process is completely manual, with only around 20 bottles completed per person per hour, each bottle is unique. The range is bottled in a wide array of formats, from the 0.75L standard bottle to the 30L Midas bottle, making it the only champagne in the world to be available in a 30L bottle.
A Closer Look at Two Iconic Champagnes
Today, the range includes five non-vintage cuvées, among which the flagship and the very first to be released is the Brut Gold. This champagne, housed in a gold bottle, blends 40% Pinot Noir, 40% Chardonnay and 20% Pinot Meunier from three vintages: 2012, 2013 and 2014. The dosage is 9.5g/L, making it a Brut champagne. On the nose, the Armand de Brignac Brut Gold champagne exudes aromas of peaches, apricots and touches of crystallized citrus, along with delicate fragrances of orange blossom and buttered brioche. The palate is quite rich and creamy, revealing a core of exotic fruit, complemented by flavors of honey and vanilla. This champagne is ready to be enjoyed now but can also age in the cellar until 2025. Its creamy texture lends itself to a wide range of pairings, including roasted quail or seared scallops.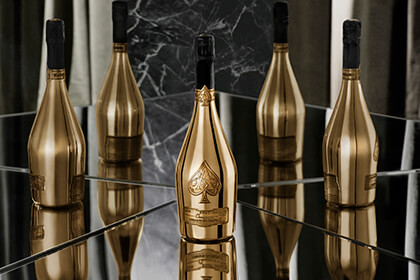 The Armand de Brignac Blanc de Blancs is a 100% Chardonnay champagne from three vintages: 2009, 2010 and 2012. Around half of the fruit comes from the Cattier family's own vineyards in the Montagne de Reims region with the rest originating in the Cotes des Blancs, especially Cramant, known for its high-quality Chardonnay. The nose of this pure white champagne reveals ripe pear, followed by waves of freshly baked pastry, toasted hazelnuts and gingerbread. Fruit flavors of gooseberry, peach and guava come through on the palate, which leads to a slightly spicy and mineral finish. This is an elegant, powerful and complex champagne to drink now or age for another 20 years or more. With time, it will evolve layers of toast and honeyed aromas. Pair it with a shellfish carpaccio, your favorite sushi and sashimi, or grilled sea bass.