It will pair effortlessly with the most delicate seafood dishes or the boldest, spiciest of Asian cuisines. And those same features – that structure, that epic acidity – also make Riesling one of the few white wines suited for extended bottle aging. Its best expressions will cellar for well over 20 years, evolving incredible complexity and signature aromas of petrol over time. Despite all of its wonderful qualities, misconceptions beset Riesling, which is mistakenly believed to produce only sweet wines that are low in quality and flat in flavor. In fact, nothing could be further from the truth. Learn more about this vibrant and vervy varietal, whose wines refresh the palate and sharpen the mind.
The Aromatic Grape at the Origin of Riesling Wine
At the origin of some of the most elegant and age-worthy white wines in the world is the Riesling grape, a light-skinned and aromatic grape variety believed to have originated in the Rhine Valley of Germany. This grape is characterized by naturally high acidity and low alcohol levels. Similarly to Pinot Noir, this variety is especially good at expressing the nuances of its terroir, which is why it has been planted by the most devoted winemakers in various regions around the world. In comparison to most of the best known international white wine varieties, it tends to ripen quite early, limiting it to cooler climate regions. When grown in warmer climates, the grapes can overripen and lose acidity quickly, resulting in flabby, unstructured wines. Within cooler climates, the grape performs best on sites with good water drainage and plenty of sun exposure, which will allow it to ripen fully.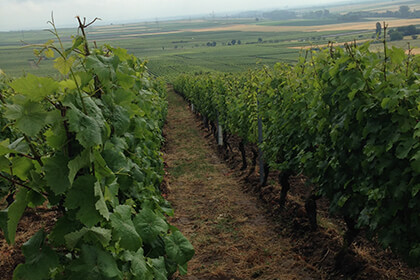 The best cool-climate, dry expressions of this grape offer a crisp, bright and racy bouquet of fresh citrus, orchard fruits (vine peaches, pears and honey-crisp apples) and white flowers (jasmine and citrus blossoms), along with touches of ginger, honeycomb and a steely minerality. On the palate, these wines are lean and refreshing, with an electric acidity, great purity and perfect tension. In warmer regions, dry Riesling wines offer a slightly fuller, rounder mouthfeel and display riper fruit aromas of apricots and pineapple. The color of these dry wines range from very light yellow to yellow with golden reflections, depending on region of origin and winemaking choices.
Common Winemaking Considerations
As an aromatic grape with plenty of varietal character and the very special ability to transmit terroir in the glass, Riesling is a grape that is best if fermented at cool temperatures and then bottled relatively early without undergoing malolactic fermentation. These grapes are almost always vinified as single-varietal wines rather than blended with other varieties. Wines of this variety are almost never aged in new oak barrels, although in Alsace it is common to age them in large, old oak foudres, which give them more body without imparting any oak flavors. The universal lack of new-oak-aging makes these some of the purest white wines out there, expressing the fruity, floral and mineral aromas of the grape, as shaped by terroir of origin.
A White Wine that Will Age for Decades
This is a variety characterized by its abundance of natural acidity, which allows its wines to age beautifully for decades in the bottle, providing classic exceptions to the assumption that white wines do not age well. In fact, the finest expressions almost demand extended aging. When the grapes are harvested ripe in low yields with high acid content, aged Riesling wines develop a compound called TDN (1,1,6-trimethyl-1,2-dihydronaphthalene), which is often associated with an aroma reminiscent of petrol or kerosene.
Since high sugar levels translate to longevity in the cellar, some of the sweeter styles of Riesling are even more ideal for extended aging, developing rich honey, caramel and nougat aromas, along with signature kerosene aromas over time.
From Bone Dry to Lusciously Sweet and Botrytized
One of the biggest misconceptions about this varietal is that its wines are always sweet. Another is that its sweet expressions are overly-sweet, flabby and simple. This reputation is an unfortunate result of low-quality, sugary wines mass-produced in Germany during the 1970's and 80's. In fact, this variety boasts one of the greatest dry-sweet spectrums in the wine world. Its wines can range from bone dry to lusciously sweet and botrytized dessert wines, reflected in the German labelling system ranging from Kabinett (driest) to Trockenbeerenauslese (sweetest) based on the ripeness of the grapes at harvest.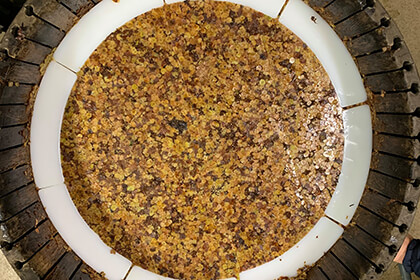 In fact, many wines from this variety are bone-dry, ranging from very light-bodied styles like German Kabinett to slightly richer Spatlese wines, which are made from later-harvested grapes. When labelled "Trocken," Spatlese wines are dry with higher alcohol and more body. However, they are more often off-dry or medium-sweet. Auslese wines are made from late-harvest grapes that are even riper than those used for Spatlese and are often vinified in an off-dry to sweet style. Spatlese and Auslese Rieslings are great options for wine lovers seeking a wine with just a touch of sweetness or a sweet wine whose natural acidity balances the sugar to keep the overall profile bright and fresh.
And then there are the voluptuously thick and sweet dessert wines, comparable to Tokaji Aszu and Sauternes. Riesling's thin skin, aromatic complexity and high acidity (which allows for longer hang-time) make it an ideal candidate for the development "Noble Rot" (a.k.a. botrytis cinerea), which shrivels and concentrates the grapes. Botrytized sweet Riesling is a deep golden-yellow color with a thick, syrupy texture. These wines offer powerfully fruity aromas, particularly apricot jam, as well as caramel and honey touches. By the German labelling system, these wines are called Beerenauslese (BA) and Trockenbeerenauslese (TBA). These are considered some of the finest dessert wines in the world.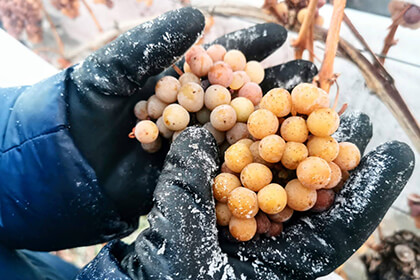 Finally, on the extreme "sweet" end of the spectrum is Eiswein or Ice Wine. This style is made by allowing the grapes to freeze on the vine and then pressing the grapes while they are still frozen. Eiswein Rieslings are densely-packed with luscious fruit aromas, from ripe pear and yellow apples to guava and touches of grapefruit.
Where is this Grape Planted? Not Just Germany
The spiritual homeland of Riesling is undoubtedly Germany and almost a third of all German wines made of Riesling comes from the Mosel region, which is known for its steeply sloped vineyards planted in a terroir of slate. These are some of the most elegant and deeply mineral expressions of the varietal. Nevertheless, the grape is also grown in Pfalz (where it produces richer wines with exotic fruit aromas) and Rheinghau (where dry expressions are more steely, lemony and mineral in profile). The Rheinghau also produces high quality BA and TBA styles. Württemberg Riesling is known for its rare earthy profile. Quality wines from this varietal also come from Baden and Rheinhessen.
In France, Riesling production is concentrated in the Alsace region, where it is considered a flagship variety and the noblest of grapes. Here, in the rain shadow of the Vosges Mountains, near a continuation of the Rhine River, the vineyards planted in Grand Cru sites enjoy a sunny and dry mesoclimate, where this grape variety thrives. Alsatian Rieslings are almost always dry, with a richer, more generous palate than those of Germany. Nevertheless, the region also produces lusciously sweet wines categorized as Vendanges Tardives (late harvest) and Selection de Grains Nobles (noble rot wines).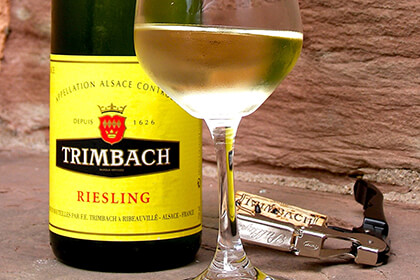 In the Wachau region of Austria, this grape produces exceptionally pure, bone-dry wines with more body and alcohol than those of Mosel and Alsace. Riesling is also popularly planted around central Europe, particularly in the Czech Republic, Slovenia, Hungary and northern Croatia.
Although most New World wine regions are too warm for this grape, Riesling has found new homes in areas characterized by cooler mesoclimates. In South Australia, the Clare and Eden Valleys are known for producing especially powerful, punchy versions of this grape, with tell-tale aromas of lime and grapefruit, along with a slightly oily texture and toasty notes developing with age. In New Zealand, most Riesling wines are off-dry in style, with strong citrus and stone fruit aromas, and a touch of residual sugar to balance out the acidity. The grape is cultivated all over the country, including Gisbourne, Wairarapa, the Waitaki Valley, Marlborough and Central Otago.
In the United States, the grape was adopted rather early on in Washington state, particularly in the Columbia Valley, east of the Cascade Mountains. Here, the grape is vinified into a dry style with ripe stone fruit flavors. It is also grown around California, where it produces wines with powerful aromas of honeysuckle, white blossoms, lychees and terpene. Riesling is the flagship varietal of the Finger Lakes AVA of New York state, where it produces some of its finest and most delicate expressions. In Canada, it is widely used to produce exquisite and complex ice wines.
The Ideal Food-Pairing Wine
Because of its balance of sugar with a high acidity and its relatively low alcohol, Rieslings is one of the most food-friendly wines out there. As these wines are rarely aged in oak, they tend to be lighter in weight, which allows them to pair with more delicate dishes. However, the grape's incredible versatility of styles and sweetness levels allows it to pair with a wide range of dishes.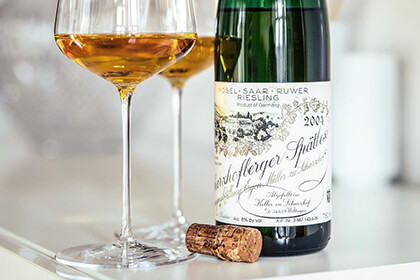 The steely, mineral and dry Alsatian or German Riesling will pair nicely with salads dressed in a mustard and cider vinaigrette or a chicken piccata with briny capers. Meanwhile New World dry Riesling, such as the lime-scented wines of South Australia will go with the bold flavors of a char-grilled fish, sprinkled with citrus for good measure. When it comes to off-dry Rieslings, such as German Spatlese and Auslese or a bottle from New Zealand, we recommend pairing them with very salty foods, such as German braised cabbage or baked ham. Finally, the honeyed and rich tropical fruit flavors of sweet Rieslings will soothe the palate when paired with spicy dishes, performing particularly well with a Thai curry like Pad Prik King or Sichuan hot pot.
As with most other white wines, dry Riesling should be served at a temperature between 43–46°F, while sweet Riesling should be served at 45–50°F. Botrytized versions can be served a bit warmer, at around 52–54°F.