From a patchwork of well-drained gravel and clay soils comes a sophisticated and alluring red wine, a classic Margaux extolling elegance and complexity over power and richness.
Chateau Rauzan-Segla | A History Over 350 Year Long
The history of Chateau Rauzan-Segla dates back over 350 years to 1661. It was in this year that the larger Domaine de Rauzan was founded by Pierre de Rauzan of the noble house of Gassies, a prominent figure in Bordeaux who also owned Chateau Margaux and Chateau Latour. From this point on, the estate would stay in the Rauzan family for over two centuries. In 1763, family friction caused the domain to split into two separate properties: Chateau Rauzan-Gassies and Domaine de Rauzan. In 1816, Catherine de Rauzan, Baroness of Segla, inherited the estate and she changed its name to Chateau Rauzan-Segla.
By this time, the estate produced a wine whose reputation had soared, even reaching foreign shores. Thomas Jefferson is believed to have tasted and ordered some of these wines during his visit to Bordeaux in 1787. It was under ownership by the founding family that the chateau went through the Official Classification of 1855, in which it was classified a Second Grand Cru Classé (or Second Growth) of Margaux.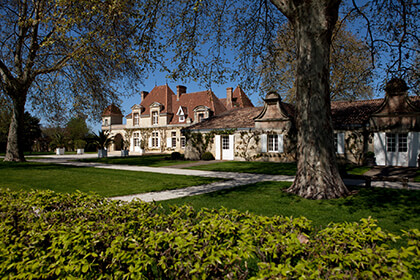 Château Rauzan Ségla changed hands for the first time in 1866, when it was sold to Mr. Eugene Durand-Dassier, who passed it down to his son-in-law Frederic Cruse in 1903. Under Cruse's ownership the construction of the picturesque chateau we see today was completed in 1904. During the 20th century, Chateau Rauzan-Segla changed ownership several times, between Frederic Cruse, Philippe de Melson and John Holt.
Due in part to the difficulties brought on by two World Wars, an economic crisis and the devastating frost of 1956, by the 1960's the estate vineyards had been quite neglected and in need of replanting. Consulting oenologist Professor Emile Peynaud was brought on in 1983 to help combat some of these issues and by 1986, many of the vineyards were replanted and a modern winery constructed. Chateau Rauzan-Segla entered a new chapter of its history when it was acquired by the Wertheimer family, owners of the luxury giant Chanel, in 1994.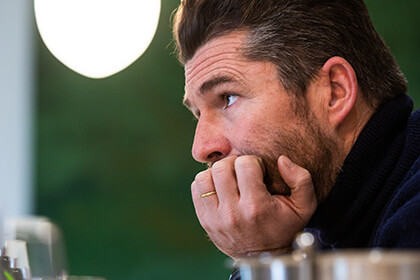 Shortly after the acquisition by Chanel, Chateau Rauzan-Segla underwent a monumental renovation. The chateau was restored in 1996 under the care of architect Peter Marino. Under Managing Director John Kolasa, the winery underwent a major transformation as well. Large tanks were replaced by smaller vats for parcel-by-parcel vinification and the winery was expanded and modernized. The vineyards were replanted and the proportion of Petit Verdot vines increased. Machine harvest was completely eliminated. More recently, the Rauzan-Segla team adopted a more organic approach, welcoming a Shire horses to work part of the vineyard.
In 2015, John Kolasa was succeeded by Managing Director Nicolas Audebert, former winemaker at Cheval des Andes, an LVMH property in Mendoza, Argentina and also in charge of Chanel's other property, Chateau Canon on the Right Bank of Bordeaux. Audebert works closely with Cellar Master Henry de Ruffray and consultant Eric Boissenot, a veritable dream team of Margaux winemaking.
Chateau Rauzan-Segla | A Mosaic of Soils in Margaux
Situated next to the Gironde Estuary, near the village of Margaux, in the Margaux appellation of the Medoc on the Left Bank of the Bordeaux wine region, Chateau Rauzan-Segla today expands over roughly 70 hectares planted to vines. From the east, the Gironde tempers harsh summer and winter temperatures, creating a milder environment for the vineyards nearby. The vineyards along the estuary are home to calcareous clay-limestone soils formed by the erosion of ancient deposits. Here, in clay blueish gray and dark red soils, Merlot is planted, offering a very powerful and voluminous expression of the grape. This variety makes up roughly 36% of the plantings at Rauzan-Segla.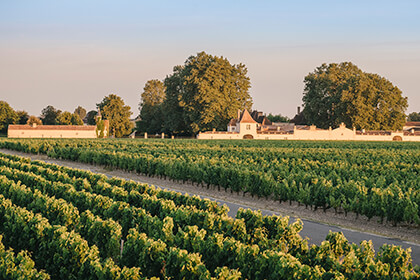 The historical vineyards of the estate are based on Terrace 4, which is a wide strip of deep gravel and clay-rich pebbles. These soils are arid and very well-drained, forcing the vine roots to stretch very deep into the limestone subsoil, resulting in remarkable complexity in the fruit. These gravel soils form the ideal conditions for Cabernet Sauvignon, which makes up 62% of the entire Chateau Rauzan-Segla vineyard. The Cabernet Sauvignon from here is very complex and built to age for decades in the bottle. In these soils, some Merlot and Petit Verdot (1% of the total vineyard) is planted.
The historical vineyards of Chateau Rauzan-Segla are surrounded by several satellite plots (on Terrace 3 and Terrace 5), characterized by soils that alternate between gravel, small pebbles and sand. In fine gravel soils, these satellite plots are home to vines of Cabernet Sauvignon, Merlot and Cabernet Franc (1% of the total vineyard plantings).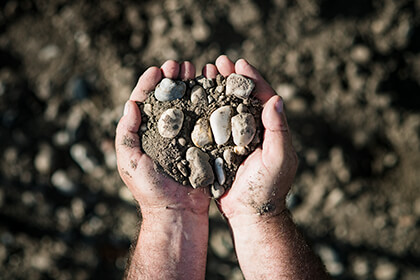 The vines of Chateau Rauzan-Segla are roughly 37 years old on average and planted at a vine density of 6,600 to 10,000 vines per hectare. All of the vineyard work is carried out carefully by hand, including pruning, training, leaf-thinning and bunch thinning. The entire vineyard is farmed using organic methods.
Chateau Rauzan-Segla | A Plot-by-Plot Approach in the Modern Winery
Following a manual harvest in crates, the grapes are sorted at the winery and moved by gravity to 60 temperature-controlled, truncated stainless steel fermenters of various sizes, ranging from 10 hectoliters to 150 hectoliters for parcel-by-parcel vinification. Fermentation takes 20-24 days, depending on the grape variety and plot, with malolactic fermentation taking place in the vat as well.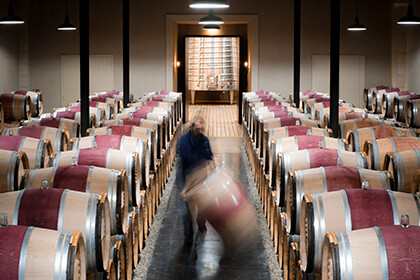 The wines of Rauzan-Segla are aged for a period of 18 months to 20 months in French oak barrels (of which 50-65% is new, depending on the specific needs of the vintage). The level of toast is also adjusted to the character of the wine in each new vintage. The wine is racked "a l'esquive" and fined traditionally with egg whites.
Chateau Rauzan-Segla also produces a Second Wine by the name of "Segla." The more approachable "little brother" of the estate's namesake First Wine, Segla is aged in only around 25% new French oak.
Chateau Rauzan-Segla | The Signature Style of a Sought-After Second Growth
Chateau Rauzan-Segla is a classic Margaux, one that highlights elegance and complexity as opposed to power and richness. The gorgeous gravel soils, tempered climate and 350 years of winemaking savoir-faire come together to create a unique tasting experience, highlighting a fruity freshness on the nose and silky smooth texture on the palate.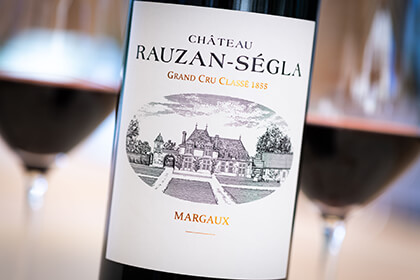 The chateau's Grand Vin (First Wine) Chateau Rauzan-Segla is a complex Cabernet-dominated blend displaying an intense color in the glass. Its nose offers aromas of rich, ripe black fruits like Morello cherries, accented by floral fragrances of iris and cigar-box spice. Sufficient aging softens the wine's tannins until they are velvety smooth on the refined and sophisticated palate. In its best vintage, this wine stretches on for what seems like forever on the finish, leaving behind a palate-coating impression. This endlessly elegant Margaux will pair beautifully to classic meat dishes, wild game and organ meats. Try it with roasted wood pigeon served with root vegetables or tender veal kidneys sautéed in a red wine and mustard sauce.