Choose among our Selection of Champagne Gift Boxes
---
"Champagne for my real friends and real pain for my sham friends." Forever associated with joy and celebration, Champagne makes for the ideal gift, no matter what the occasion. And while the production of this effervescent indulgence is limited to a relatively small area in the northeast of France, champagne comes in a remarkable variety of styles, flavors and colors. To make your choice easier, we have assembled a selection of 10 Champagne Gift Boxes perfect for gifting, including vintage and non-vintage, white and rosé styles. Each one of these ready-to-gift bottles comes housed in its very own gift box, with the option to include a personalized note for the lucky recipient!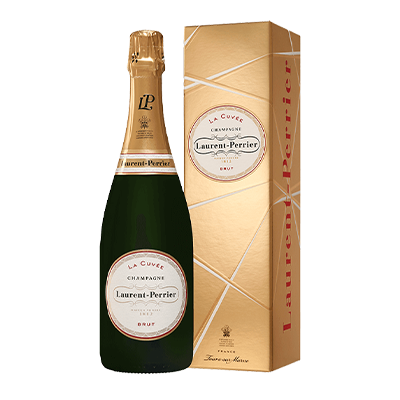 ---
Made from a blend of over 100 base wines, including 55% Chardonnay, 30-35% Pinot Noir and 15-20% Pinot Meunier, the Laurent Perrier La Cuvee is a beautifully balanced champagne. In the glass, it displays a beautiful pale gold color, fine bubbles and a delicate layer of foam over the surface. Delicate fragrances of fresh white flowers and citrus blend with more complex aromas of vine peaches and other white stone fruits. A fresh, fine and fantastic champagne, ready to be gifted!
Add to cart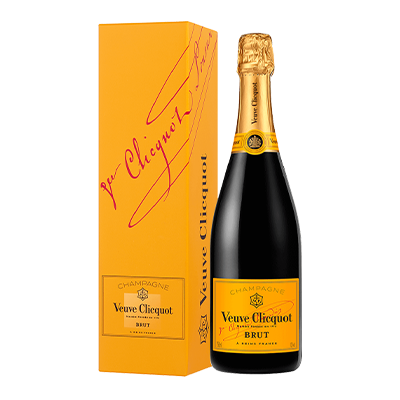 ---
The flagship Brut cuvee of the innovative Veuve Clicquot Champagne House, the Brut Yellow Label blends 50-55% Pinot Noir, 28-33% Chardonnay and 15-20% Pinot Meunier in a style so representative of the house's historic know-how. Revealing seductive golden reflections and an extremely fine effervescence in the glass, this brut champagne offers a powerful nose of dried fruit, which mingle with nuances of vanilla and brioche. On the palate, a straight-forward attack leads to a beautifully harmonious and fruity profile.
Add to cart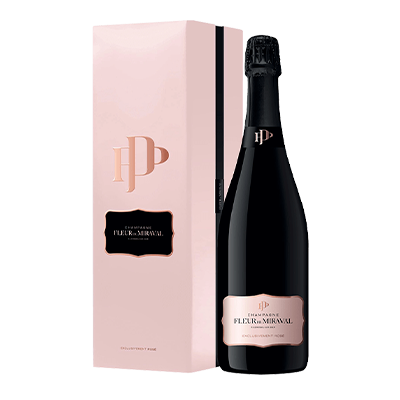 ---
A newcomer to the world of fine champagnes, the Fleur de Miraval ER1 cuvee was born from a partnership between former celebrity couple Angelina Jolie and Brad Pitt, along with the Perrin and Peters families of France. Blending fruit from old-vine Chardonnay (75%) and young Pinot Noir (25%), this non-vintage rosé champagne offers a delicate and lively bouquet with tangy red fruit, along with mineral and saline aromas. A very rare first edition, of which only 20,000 bottles have been produced.
Add to cart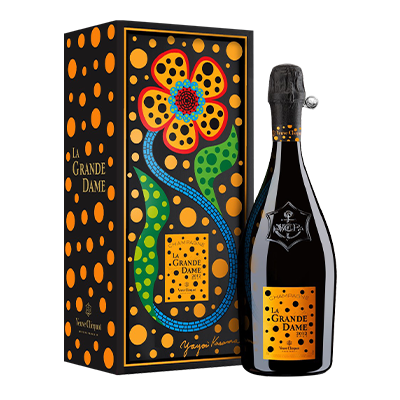 Veuve Clicquot

La Grande Dame by Yayoi Kusama 2012
---
A unique creation by the venerable House of Veuve Clicquot in partnership with Japanese artist Yayoi Kusama, the 2012 vintage of the La Grande Dame prestige cuvee celebrates the life of Madame Clicquot, the legendary matriarch of the house. Blending 90% Pinot Noir with 10% Chardonnay, this magnificent vintage champagne reveals a silky palate with delicious flavors of dried apricots, hazelnuts and honey. More than just a champagne, a true work of art, the gift box and label represent an original work by Yayoi Kusama.
Add to cart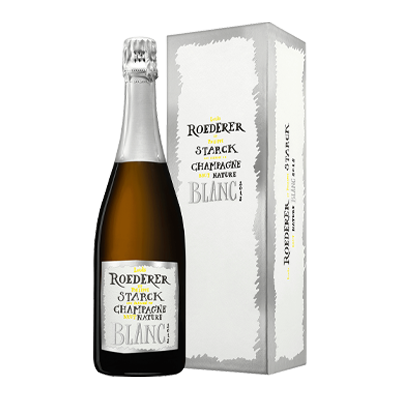 Louis Roederer

Brut Nature Limited Edition by Philippe Starck 2012
---
The Brut Nature 2012 vintage champagne by Louis Roederer represents a one-of-a-kind collaboration between a grand terroir, a brilliant vintage and the work of French creator Philippe Starck. Blended from 55% of Pinot Noir, 25% Pinot Meunier and 20% Chardonnay, with no malolactic fermentation or dosage, this champagne is the essence of purity, with an intense freshness and a salty freshness characteristic of its terroir. A unique cuvée from an iconic Champagne vintage, signed by Philippe Starck !
Add to cart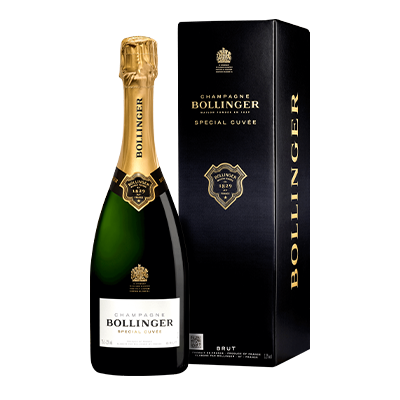 ---
From the timeless and legendary House of Bollinger Champagne comes a truly special Limited Edition Champagne Gift Box, inspired by British Special Agent, James Bond (a.k.a. 007) and his long-standing partnership with the house. Made from 60% Pinot Noir, 25% Chardonnay and 15% Pinot Meunier, this is a champagne marked by its finesse, expressing gourmet notes of baked apple and yellow fruits, along with touches of spice.
Add to cart