From every-day excellence to the legendary Californian cult wines that grace the cellars of the world's most dedicated collectors, the Golden State has something in store for all wine-lovers.
The History of California Wine Country
Vitis vinifera was first planted in Californian soil by Spanish Franciscan missions in the second half of the 18th century. With each new mission established, the Spanish would plant vineyards to produce wine for their religious sacraments. These first California vines are believed to have been brought from Mexico and were of the Criolla variety, which were later nicknamed the Mission grape and became the dominant grape variety well into the 20th century.
In the mid-19th century, the California Gold Rush attracted many new settlers, increasing local demand for wine. Gradually many new wineries began popping up around Sonoma and Napa counties, beginning with Buena Vista Winery in Sonoma, the first commercial winery in the United States of America, founded by Hungarian immigrant Agoston Haraszthy in 1857.
Over the next few decades winemaking flourished, until the phylloxera epidemic hit California wine country, destroying many vineyards. However, the wine industry rebounded rather quickly from the effects of the louse, grafting the vines onto phylloxera-resistant American rootstock and using the situation as an opportunity to plant new grape varieties. The Mission grape was replaced with French varieties like Cabernet Sauvignon, Chardonnay, Pinot Noir – just a few among the roughly 300 grape varieties that were planted by the turn of the 20th century.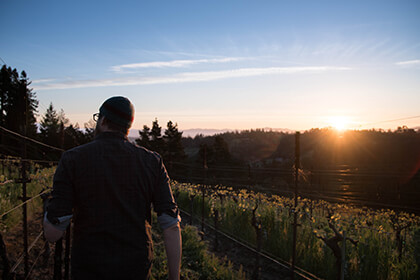 With new momentum, the California wine industry continued to flourish until it came to a screeching halt yet again, when the 18th Amendment ushered in Prohibition on January 16, 1919. In the early years of Prohibition, vineyards all over the state were torn up and wineries destroyed. Some enterprising estates managed to keep their business going by producing sacramental wine for churches and wine for medicinal purposes, which were exceptionally allowed by the laws of Prohibition. Nevertheless, by the time Prohibition was repealed in 1933, there were only around 140 operational wineries left in California. Compounded by the effects of two World Wars and the Great Depression, Prohibition suffocated the California wine industry, which did not recover until the 1970's.
The late 1960's and 1970's are considered the modern renaissance of the California wine industry, characterized by a renewed passion for California wine making. This period saw the proliferation of many small new wineries and the expansion of existent businesses.
This new surge culminated in the Judgement of Paris which took place in 1976, a date that will forever mark the history of the California wine industry. In a blind tasting organized in Paris, Californian wines swept the competition, beating out some of the best Bordeaux and Burgundy wines in both red and white categories. This tasting event internationally legitimized California wine as a real global competitor and ushered in a new era for American winemakers.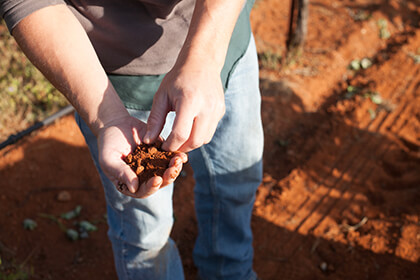 Since the 1970's, Californian wine producers have embraced modern viticultural techniques, technological innovations in the winery and the "savoir-faire" or expert advice of some of the world's leading wine consultants, including Michael Rolland. In the 1980's, the American Viticultural Area (AVA) system was set up the delineate winemaking areas with unique terroirs. This more recent history of California wine has been significantly molded by famous wine critic Robert Parker, said to have a "love affair" with the wines of Napa Valley. Some of the greatest producers of France, including Bordeaux's Rothschild family and Champagne's Louis Roederer have invested in the California terroir by acquiring estates and producing California wine with French know-how.
Today, California is responsible for 90% of the total wine production of the United States and Californian wines represent 60% of the total wine consumption of the country. Wines like Screaming Eagle, Opus One, Ridge Monte Bello, Joseph Phelps Insignia and Colgin IX Estate Red have earned international cult status, gracing the collections of the most dedicated wine-lovers in the world.
California Wine | A Patchwork of Terroirs
With over 600,000 acres (243,000 hectares) of grape vine planted on 850 miles (1370 kilometers of coastline, spanning almost 10 degrees of latitude, California is home to a dazzling mosaic of diverse climates, topographies and geologies. Therefore, it is impossible to generalize about or even properly summarize all of the different California terroirs and the 100+ grape varieties we find here. The state is currently home to some 3674 wineries, producing wines in a wide range of styles, including still red wine and white wine, sparkling wine and sweet wine.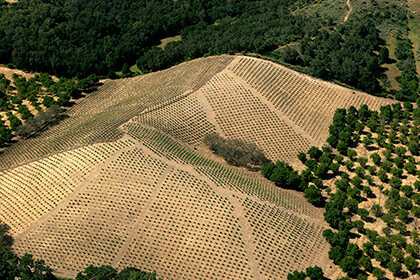 Nevertheless, the California wine region is usually broken down into four main regions, further divided into more than 107 AVA's. The North Coast, situated north of San Francisco Bay, is mostly covered by the North Coast AVA and includes the famous Napa Valley and Sonoma County AVA's, as well as Mendocino County and Lake County. Napa Valley, in turn, can further be broken down into its own AVA's, the most famous of which include Rutherford AVA, Oakville AVA and St. Helena AVA. Meanwhile, in Sonoma County we find the Russian River Valley AVA (birthplace of excellent California Pinot Noir) and the Alexander Valley AVA site.
The Central Coast region, covered by the Central Coast AVA, is situated on the Central Coast of California and the areas lying south and west of San Francisco Bay, all the way down to Santa Barbara County. In this area, the largest Californian wine region, we find the Santa Cruz Mountains AVA, the Santa Clara Valley AVA, the Paso Robles AVA and Livermore Valley AVA among many others.
The South Coast includes the coastal areas south of Los Angeles until the Mexican border. This region includes the Temecula Valley AVA, Ramona Valley AVA and San Luis Rey Valley, for example. Finally, the Central Valley region comprises the Central Valley AVA and Sierra Foothills AVA and the prized Lodi AVA.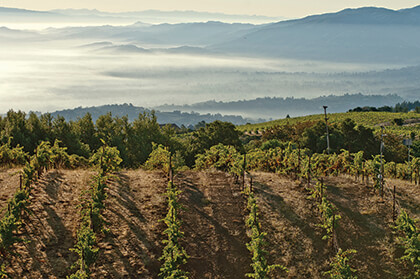 Most of the state's vineyards are nestled between the Pacific Coast and the Central Valley. Overall, the climate here can be classified as Mediterranean, though there are also some dry continental climates to be found more inland. Proximity to the Pacific Ocean and its bays brings cool winds and fog, which counteract the high temperatures and sunshine for which California is perhaps best known. Meanwhile, in winegrowing areas which are sheltered by mountains (like Sonoma and Napa Counties) we find warmer climates because of the lack of such coastal influence.
Home to mountains, valleys, plateaus and plains, California is also characterized by a dizzying array of different soil types, greatly affected by the plate tectonics of the North American and Pacific Plates.
The Many Grape Varieties of California Wine
Each grape variety in California is planted in the site that best suits them. For example, cooler regions near the coast tend to be better suited to traditionally cool-climate grape varieties like Pinot Noir and Chardonnay, while in regions more inland with hotter climates we find grape varieties with greater tolerance for heat, like Cabernet Sauvignon and Zinfandel. The leading grape varieties of California are Chardonnay (roughly 16% of the total production in 2018) and Cabernet Sauvignon (15%).
The other leading varieties are Merlot, Pinot Noir, Sauvignon Blanc, Syrah and Zinfandel. The red varieties planted here also include Barbera, Carignan, Cabernet Franc, Mourvedre, Malbec, Petit Verdot, Petit Syrah, Tannat and Sangiovese, while popular white varieties include French Colombard, Chenin Blanc, Marsanne, Roussanne, Gewurztraminer, Pinot Gris, Riesling, Semillon and Viognier.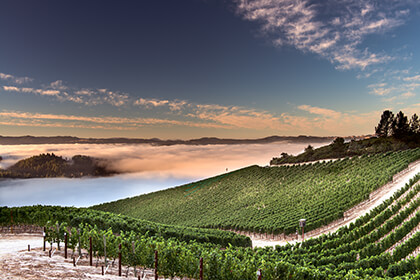 While originally, California was known for planting mostly Bordeaux grapes and Chardonnay, there have been several waves of winemakers who have brought in different varieties, such as the Rhone Rangers (who planted grapes like Carignan, Syrah, Cinsault, Grenache, Mourvèdre, and Piquepoul Noir) and Italian winemakers nicknamed Cal-Ital who planted Sangiovese and Pinot Grigio.
The "New World Style" of California Wine
Californian wines are often cited as an example of the New World wine style, and while this is a bit of an overgeneralization, it does merit discussion. Unlike the cooler and more unpredictable climates of regions like Bordeaux and Burgundy, where vintages vary significantly from one year to the next, California has a relatively reliable and consistent climate with warm weather and plenty of sunshine. Also unlike most New World wine regions, irrigation is allowed in the vineyards of California, giving vine growers more control over the quality of each vintage. These features allow grapes in California to become very ripe by the time for the harvest, resulting in a higher degree of alcohol as well as a more fruit-forward style, rather than the earthy and mineral style associated with Old World wines.
Cabernet Sauvignon from California (most famously, the "Napa Cab") is thus known for a high concentration of fruity flavors and a lush, rich texture with high alcohol. Merlot, which tends to have a certain mushroom-y, earthy quality in Old World regions like Bordeaux, shows more fruit (like ripe plums) and can get flabby if not planted in cool enough areas. California Pinot Noir is also much more intense and fruitier in style than the subtle, nuanced Pinot Noir of Burgundy.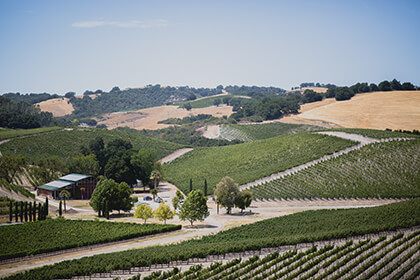 Another feature contributing to these differences is the use of American oak to age the wines, as these barrels impart more robust, obvious and sweeter aromas (vanilla and coconut) than the subtler smoke and spice of French oak barrels.
Meanwhile, the classic California Chardonnay tends to undergo malolactic fermentation and ample oak-aging, resulting in a buttery, creamy full-bodied white wine. These are very different than New World Chardonnay wines like Chablis, which are crisp and tense on the palate with plenty of minerality. When considering a food and wine pairing with a classic oaked Californian Chardonnay, we recommend heartier, meatier food, like cod or halibut.
Of course, to say that California wine is always done in this classic New World style is to generalize. While many Californian producers do prefer bolder, robust, fruit-forward reds and creamier whites, there are also several winemakers seeking to recreate the more nuanced, subtle, terroir-driven Old World style.