Today, South Africa produces a stunning array of wine styles, ranging from cool-climate Rieslings to ripe and luscious Chenin Blanc, chocolatey Pinotage and bold Bordeaux red blends.
The History of South African Wine
The very first grape vines were planted in what is today South Africa in the mid-17th century by Dutch settlers of the Cape Colony. The colony's first governors, among them Jan van Riebeeck and Simon van der Stel, sought to produce wine and grapes to supply to sailors of the Dutch East India Company spice route. It was van der Stel, in fact, who in 1685 established Constantia, the oldest South African winery still in operation today. The legendary Vin de Constance dessert wines produced here brought the Constantia region of South Africa international recognition during the 18th and 19th centuries.
In the 1860's, the phylloxera epidemic reached the vineyards of South Africa, wiping out the country's wine industry completely. As winemakers struggled to replant their vineyards, they chose grape varieties with a naturally high-yield, particularly Cinsault, which quickly led to a large-scale overproduction of wine and a dramatic drop in quality.
In 1918, the South African government stepped in to remedy the problem by funding the Koöperatieve Wijnbouwers Vereniging van Zuid-Afrika Bpkt (KWV) cooperative. During the 1900's, the influence of the KWV grew and the cooperative began restricting the wine production of South Africa. The new rules limited yields and set minimum prices, increasing the overall quality of the country's wines, though severely limiting innovation by individual winemakers. The KWV remained influential until the 1990's, by which time the country's wine industry had been taken over by a large number of cooperatives.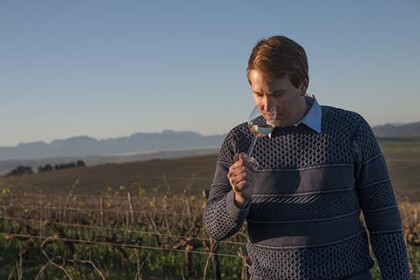 During the 20th century, South African wine fell out of favor with the international market, a situation further exacerbated by boycotts in the 1980's in protest against the Apartheid system. It was only in the 1990's, after the release and election of Nelson Mandela, that the export market for these wines opened back up and South Africa rejoined the world stage as a competitor in the international market.
Since the 1990's, the country's wine producers have rapidly adopted modern winemaking techniques and technology. A group of "flying winemakers" have added South Africa to their list of destinations and have brought a new wave of international influences to South African regions as well. In just 30 years, South Africa has reset its focus from bulk grape growing destined for brandy production to the vinification of quality-driven wines for the consumer market. Today, South Africa ranks as eight among the world's most important wine producing countries in overall volume of wine produced.
The Major Grape Varieties of South Africa
Today, a wide variety of international grape varieties are cultivated in the vineyards of South Africa. The latter are used to produce both single-varietal bottlings and multi-varietal blends.
The country's most iconic signature variety is Pinotage, cultivated almost exclusively in South Africa. This variety was born in 1925, when scientist Abraham Perold crossed Pinot Noir with Cinsault, and the first commercial Pinotage vines were planted in 1943. While Pinotage is a rather polarizing grape in the wine world, it has the potential to express remarkably rich aromas of black fruit, red fruit, leather and chocolate.
Shiraz has also become increasingly popular here, as the grape thrives in the country's hot climate and produces rich red wines with chocolate nuances and dark spiced fruit aromas. Shiraz is now outpacing Cabernet Sauvignon, Merlot and Petit Verdot, which have also traditionally been grown in South Africa and used to produce Bordeaux red blends. Cabernet Sauvignon grown in South Africa produces red wines with savory complexity, combining black fruits with bell pepper and black pepper nuances on the nose.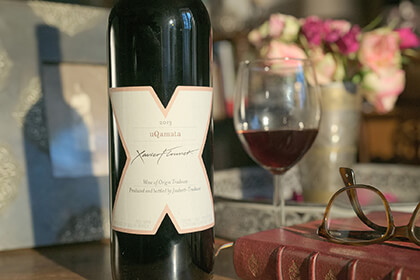 While red wine is produced from a range of varieties, white grapes account for a larger percent of the country's vineyard plantings. The most planted white grape is Chenin Blanc (locally known as Steen), which is used to produce a distinctly New World expression of this grape, very different than bright, mineral Loire Valley Chenin Blanc. "Cape Chenin" is overall much riper in style, often revealing rich tropical fruits like mango, melon, pineapple and grapefruit on the nose.
Chardonnay, of course, is also planted here and used to produce a wide range of white wine styles, among which the best known is a rich, barrel-fermented and oak-aged expression. Chardonnay is also used as one of the main bases for "Cap Classique" sparkling wines, elaborated with the champenoise method. Semillon grown in South Africa is used to make varietal wines or blended with the very popular, zesty and grassy South African Sauvignon Blanc (or Chardonnay to make white Bordeaux blends).
Viognier is very nicely suited to the warm climates of South Africa, producing wines with incredibly intense aromas of ripe yellow fruits and flowers. In the cooler pockets of South Africa, winegrowers even cultivate Riesling, mostly used to make remarkably fresh and luscious dessert wines. Gewurztraminer is planted in warm (yet not too hot) areas and makes wines with a very aromatic bouquet.
The Wine Regions and Terroirs of South Africa
Situated at the tip of Africa and surrounded by coastline, most of the wine regions of South Africa share coastal influences of the Atlantic Ocean and Indian Ocean. Here, the vines enjoy a Mediterranean climate, characterized by dry heat and very strong sunlight. Winters can be quite wet and cold. The regions that are situated closer to the coast often find themselves in the rain shadow of the country's mountain chains and experience a higher level of precipitation than wine regions located more inland. The Benguela current (which originates from Antarctica) cools down the temperature while the Cape Doctor wind tempers humidity and limits risk of mildew (much like the Mistral Wind of Southern France).
The historical heart of South African wine production is the Cape Peninsula, near Cape Town, with the most prominent wine regions spread out along the Western Cape, an area that is home to very diverse landscape.
Constantia, on the slopes of the Constantia Mountain on the Cape Peninsula, is home to the very first wine estates of the country. Here, oceanic influences from both sides of the peninsula result in cool temperatures and a relatively slow period of ripening for the vines. The soils of the Constantia wine region include sandstone in some areas and clay with gravel in others, nicely suited for the production of Sauvignon Blanc and Bordeaux blends.
The Stellenbosch wine region is known for producing some of the best South African wines, including luscious single-varietal Cabernet Sauvignon and Bordeaux blends, as well as Shiraz, Chenin Blanc and Sauvignon Blanc. Stellenbosch is also the birthplace of the Pinotage grape variety. The hilly landscape is home to a dazzling variety of soil types and microclimates, resulting in a wide range of wine styles. Overall, the eastern vineyards of Stellenbosch have granite-based soils suited to red wine production, while the western side features more sandstone soils, perfect for white wine.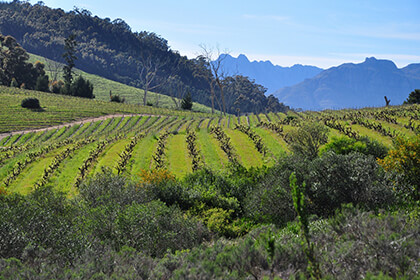 Another one of the best South African wine regions is Paarl, just north of Stellenbosch on the Western Cape. With average temperatures above those of Stellenbosch, the best Paarl wines comes from the more elevated vineyards. Traditionally a white wine region (known mostly for Chardonnay and Chenin Blanc), Paarl now also produces red wines from Cabernet Sauvignon, Shiraz and Pinotage.
Inland of Stellenbosch, the Franschoek Valley is a small but important wine region surrounded by the Drakenstein mountains. Here, high-elevation vineyards produce white wines (Chardonnay and Semillon, specifically) with high natural acidity, as well as some Cabernet Sauvignon.
The cool-climate region of Elgin is situated east of Stellenbosch on the Western Cape and produces some of the highest rated South African wines, which are very fruit-forward in style. Here, lower average temperatures and early-morning mists combine to slow the ripening period, resulting in wines with greater balance, depth and aromatic complexity. This region is perfectly suited to the cultivation of aromatic grape varieties like Sauvignon Blanc, Chardonnay and Pinot Noir, though a wide range of Bordeaux varietals are also grown here.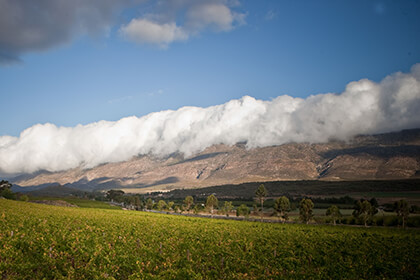 South of the Western Cape is another cool-climate wine region called Walker Bay, characterized by substantial maritime influences. The summers are long and sunny, tempered by ocean breezes and the Benguela current. The soils are composed of mostly Bokkeveld shale and some Table Mountain sandstone with a large amount of clay. Here, a slow ripening season and naturally low yields produce grapes with very concentrated aromas. Walker Bay is best known for its Burgundy-style Pinot Noir and Chardonnay wines, along with its flinty and refreshing Sauvignon Blanc.
In the Breede River Valley area of the Western Cape, the Robertson wine region is characterized by a very hot and dry climate with a very low level of precipitation. Nevertheless, oceanic breezes cool the area and bring occasional mists to the vineyards. Robertson produces very rich and fruit-forward Chardonnay and Shiraz, as well as some sparkling wines from Pinot Noir and Chardonnay.
Also in the Breede River Valley, the Worcester wine region is home to numerous cooperatives producing a very wide range of white and red wines from Sauvignon Blanc, Colombard, Chenin Blanc, Pinotage, Shiraz and Cabernet Sauvignon. Cooperates also dominate the very large Swartland region north of Cape Town. This area has also seen many new private wineries, like Overhex, blossom in the past years with the aim to produce highly-rated South African wines.
Food Pairing with the Wines of South Africa
Covering such a dazzling range of colors, grape varieties and styles, the wines of South Africa lend themselves to a wide array of food pairings. The following recommendations should help make your selection easier.
South Africa produces numerous sparkling wines (mostly from Chardonnay and Pinot Noir) by both the Charmat method and the Champagne method. South African Champagne-method sparklers are named Methode Cap Classique and they go beautifully with soft cheeses, fresh oysters or shellfish, as well as egg-based dishes like devilled eggs or quiche.
The white wines of South Africa range from citrussy and light-bodied to full-bodied and aromatic with notes of tropical fruit. Chenin Blanc, in particular, comes in many different styles. When choosing a dish to pair with a cool-climate Chenin (by Beaumont Family Wines in the Bot River area, for example), we suggest spicy Asian dishes or seafood, particularly sauteed scallops. The rich golden apple, mango, melon and lychee aromas of a warmer climate Chenin (like Fynbos by Xavier Flouret from Stellenbosch, Survivor by Overhex, or Backsberg Chenin from Paarl), will go nicely with roasted white fish or grilled chicken.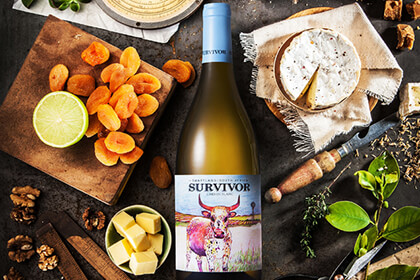 The tropical fruit and almond notes of a full-bodied Stellenbosch Chardonnay (for example, that of De Morgenzon) will go nicely with more indulgent fish dishes, like salmon in a creamy lemon sauce, as well as with pork loin and grilled leeks. A perfect wine for summer, South African Sauvignon Blanc (like that of Miravel) will go beautifully with fresh salads or shellfish.
When it comes to red South African wine, we recommend pairing big, bold styles (like a Cabernet Sauvignon from Paarl by Backsberg or the "Ella" Cabernet from Stellenbosch by Miravel) with robust meat dishes, like a stew of wild boar or roasted lamb shank. Pair an earthy, ripe Cinsault (like that of Natte Valleij) with equally earthy dishes, such as veal or pork tenderloin with Morel mushrooms. And a classic Pinotage (such as that of Overhex in Swartland) will go beautifully with barbecue, especially smoky pork ribs or blackened chicken wings.
The country also produces quite a few different styles of sweet South African wine, of which perhaps the best known internationally is the fortified wine called Cape Port. Made from Portuguese varieties like Tinta Barroca and Touriga Nacional, as well as Pinotage and Shiraz, these sweet wines pair beautifully with ripe cheeses and blue cheeses, savory dishes like venison pie and lasagna, or dessert foods like chocolate brownies.