This reputation persists today and is bolstered by the innovative and daring spirit of the visionary winemakers based here, many of whom arrived here from places with strict appellation laws, poised to try their luck in a place that encourages courage and creativity. They were drawn here, no doubt, by the quiet majesty of the terroir: the rolling topography of the Santa Lucia Mountains, the cool Pacific breeze gliding in through the Templeton Gap and the deep calcareous soils, which combine to form world class wine-growing conditions, with the potential to produce some of the world's greatest blends. From some of the most delicious expressions of Zinfandel, the region's flagship variety, to opulent Bordeaux blends dominated by Cab, rustic red Rhone Valley blends to truly unique bottlings made from Italian, Spanish and Portuguese grapes, Paso Robles is home to a myriad of unique styles, each bearing the unmistakable footprint of the region's rugged terroir.
A Brief History of Paso Robles Wine
The winemaking history of Paso Robles dates back to the end of the 18th century, when Spanish missionaries of the San Miguel Arcangel Mission first introduced Mission grapes to the area. Nevertheless, commercial winegrowing only began around the 1882, when Ascension Winery in Paso Robles (later renamed the York Mountain Winery and today called the Epoch Estate Wines) was first established. The town of El Paso de Robles was founded in 1869 by two Kentucky outlaws, giving the region a reputation for being the "wild west of California," a reputation that still persists today and is bolstered by the innovative and daring spirit of the winemakers at Paso Robles wineries.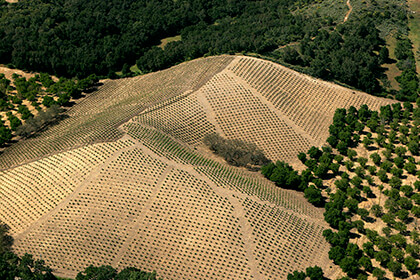 One of the later regions of California to really take off and the fastest growing AVA in California today, Paso Robles was home to only around 20 wineries in 1990, a number which has since expanded to over 200 wineries. The Paso Robles AVA was official established in 1983. As a way to help wine consumers better appreciate the diversity of terroirs to be found in Paso Robles, this large AVA was subdivided into 11 sub-AVA's in 2014.
These sub-AVA's are the Adelaida District AVA, the Creston District AVA, the El Pomar District AVA, the Paso Robles Estrella District AVA, the Paso Robles Geneseo District AVA, the Paso Robles Highlands District AVA, the Paso Robles Willow Creek District AVA, the San Juan Creek AVA, the San Miguel District AVA, the Santa Margarita Ranch AVA and the Templeton Gap District AVA.
A Diverse Paso Robles California Terroir
The Paso Robles wine growing area is situated in the San Luis Obispo County in the southern end of the California Central Coast region of California in the United States of America. It is situated midway between San Francisco and Los Angeles, 200 miles south of the former and north of the latter. The largest AVA in California, it encompasses more than 164,000 acres, of which 32,000 are planted with vines. The terroir here is extremely varied, with the rolling topography of the Santa Lucia Mountains creating a vast puzzle of microclimates.
This area is home to more than 45 different soil types, including sedimentary, sandstone, volcanic and granite soils, as well as the state's largest calcareous soil formation, with plenty of lime leading to a high ph. These "acidic" soils naturally reduce the vigor of the wines, resulting in wines with great concentration and naturally high acidity.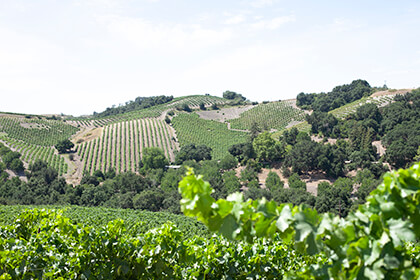 The climate also varies from one microterroir to the next, with rainfall specifically ranging from 10 inches per year to 40 inches per year. The elevation across this area ranges from 700 feet to 2400 feet. What most vineyards in Central Coast, Paso Robles, California have in common are hot days, with the average temperature reaching 105 °F. This helps explain the popularity of late-ripening grape varieties, like Mourvèdre and Cabernet Sauvignon, producing powerful and ripe wines.
At the same time, the cooling influences of the Pacific Ocean filter into the Paso Robles wine region through the Templeton Gap, leading to cool nighttime temperatures, which allow the grapes to maintain their natural acidity, build tannins and limits sugar production. This, in turn, helps balance out the power and alcohol in the wines.
A Wide Range of Grape Varieties
The flagship grape variety of this AVA has long been acknowledged as Zinfandel, which was first planted here around 1914. Zinfandel from Paso Robles is responsible for award-winning wines, including some beautiful single-vineyard expressions of this variety, known for their intense aromas of jammy raspberry, brambly black fruit, prunes and black licorice. Petite Sirah was the second variety planted, in the 1920's, and is now often blended with Zinfandel to add structure and color to red wines, which helps them age. Petit Sirah also adds an earthy and floral (violet) nuance to the finished profile of Zinfandel blends.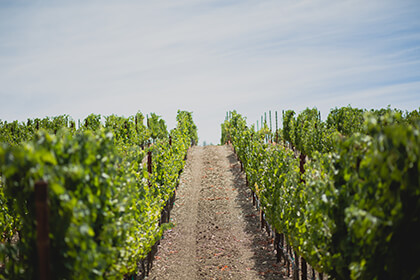 Around the 1950's and 1960's, Paso Robles wine growers began planting Bordeaux varieties, especially Cabernet Sauvignon in this Californian AVA. Cabernet Sauvignon wines from Paso Robles tend to have a generous, opulent texture with touches of peppercorn and cola. Today, more than 55% of the total vineyard acreage is planted with Bordeaux varieties, including Cabernet Sauvignon, Merlot, Cabernet Franc and Petit Verdot, which are used to produce Paso Robles Bordeaux blends.
One characteristic that sets the Paso Robles AVA apart from other winegrowing areas of California is that the former is home to the largest vineyard acreage planted to Rhone varieties in the state. Grape varieties like Syrah, Grenache, Mourvèdre, Viognier, Marsanne and Roussanne were first planted here in the 1980's and have grown in popularity ever since.
These wines are used to produce several different styles of Paso Robles Rhone blends, including Grenache-Syrah-Mourvedre (GSM blends) and Marsanne-Roussanne blends. Paso has even become the site for the bi-annual Hospice du Rhone conference, an international festival and wine tasting which welcomes producers of Rhone Valley style wines from around the world.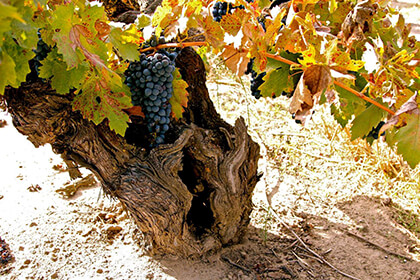 The Paso Robles region is also home to several Italian grape varieties, which were first brought to the United States by Italian immigrants in the 1860's. These grapes, nicknamed the "Cal-Italian grapes," include Nebbiolo, Sangiovese, Montepulciano and Barbera, which are especially well adapted to the local climate in their ability to maintain high levels of acidity despite very hot daytime temperatures. Winegrowers of the region have recently also been experimenting with Spanish varieties like Tempranillo, Albarino and Verdejo, as well as Portuguese grapes like Touriga Nacional to produce premium quality single-varietal wines as well as innovative new blends.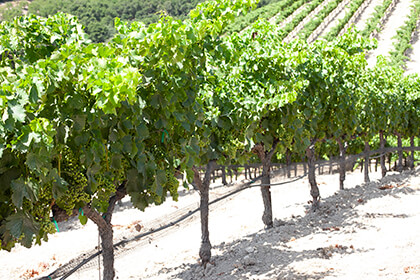 While the hot daytime temperatures that characterize most of the Paso Robles growing region have led to mostly warm-climate varieties planted here, some cooler areas are also planted with Pinot Noir and Chardonnay.
Food and Wine Pairings
The existence of so many diverse types of wine from Paso Robles makes it difficult to generalize about how best to enjoy them. Rhone-style Paso Robles white wines, like the Ridge Vineyard's Grenache Blanc, for example, will go beautifully with boldly flavored dishes like grilled eggplant or chiles rellenos.
A Paso Robles Zinfandel, such as the single-vineyard Paso Robles masterpieces of Turley Wine Cellars, will pair well with a wide variety of dishes, with enough acidity to cut through the richest mouthfuls. Pair this California wine with sweet and spicy dishes, like barbecued pork ribs or a complex Mexican mole with chocolate and chili peppers.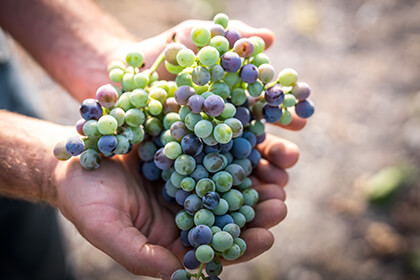 The AVA Paso Robles Rhone Valley red blend like the GSM blend "Cote a Cote" by L'Aventure winery offer gorgeous smoky, toasty and peppery touches to complement its soft red fruit and violet nose. These wines tend to pair nicely with smoky barbecued dishes, such as a grilled flank steak taco or a boldly flavored lamb tagine.
A Bordeaux-style Cabernet Sauvignon from Paso Robles, like the Justin Vineyards and Winery Cabernet Sauvignon, will offer aromas of ripe black cherries, cassis, tobacco, leather and oak. Wine enthusiasts should consider pairing these wines with simple pleasures like a vegetable lasagna or meat lover's pizza. They will also pair nicely with an aged ribeye steak fresh off the grill.
One of the best ways to get to know these wines is to book a room at a resort in the downtown Paso Robles area, visit the tasting rooms and wine tour the vineyards of Paso Robles at the best wineries directly. Or, check our wide selection of Paso Robles wines and click to order now.
If you have any questions on the best wineries in Paso Robles, the best resort in Paso Robles, how to visit a Paso Robles tasting room and do a Paso Robles wine tasting, do not hesitate to reach out directly. To find out more about our best Paso Robles wines stock, J. Lohr, the Gary Eberle Winery, Tablas Creek, Robert Hall Winery, Austin Hope, York Mountain Winery, Daou, Tobin James, Hope Family Wines, Epoch Estate wine, Summerwood Winery, Napa Valley or the Wine Country Alliance, contact our team!