Today, the forward-thinking Bordeaux estate provides plenty to talk about, from the herd of draft horses used to plough its vineyards to the concrete "dolia" amphorae partially used to age its wines. Vintage after vintage, Chateau Pontet-Canet produces wines that feel freed of all constraints, vibrating in the glass with a contained power, pure and precise fruit and unprecedented, unparalleled and undeniable pedigree.
Three Families at Pauillac Classified Growth Chateau Pontet-Canet
The history of Chateau Pontet-Canet begins with a man by the name of Jean-Francois Pontet, who had served the court of Versailles as the Grand Ecuyer (Master of the Horse) of Louis XV and became Governor of the Medoc upon his move to Guyenne. In 1705, Jean-Francois Pontet purchased a few acres of land north of the village of Pauillac and planted grape vines. Just a few years later, he acquired some more parcels in a place known as Canet. He named his estate Chateau Pontet-Canet. A century and a half later, the chateau was ranked as a Classified Fifth Growth of Pauillac in the Official 1855 Classification of Bordeaux, ordered by Napoleon III.
In 1865, the family of the founder sold Chateau Pontet-Canet to a wine merchant named Herman Cruse, whose family held on to the property for 110 years. During this time, Estate Manager Theophile Skawinski constructed a revolutionary vat house at the chateau, with a wooden platform that could move on rails and fill the wine by gravity into oak vats.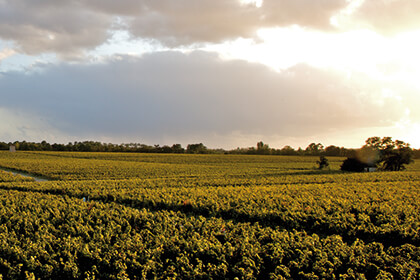 In 1975, the estate was acquired by Cognac merchant Guy Tesseron (who already owned Chateau Lafon Rochet in St-Estephe), entering a new modern age of its history. Under the care of the Tesseron family, Chateau Pontet-Canet was transformed from a largely neglected vineyard in poor shape to one of the stars of the Pauillac appellation, a Classified Fifth Growth with all the qualities of a Super Second.
Around 1994, Guy's son Alfred Tesseron took over at the helm of Chateau Pontet-Canet, continuing his father's investments in both the winery and vineyard of the estate. He focused on converting to sustainable farming techniques and vinifying the wines on a plot-by-plot basis. In 1989, Alfred hired Jean-Michel Comme, who ended up serving as Estate Manager of Chateau Pontet-Canet for the next 31 year until his resignation in May 2020. Together, Tesseron and Comme decided to do what no Classified Growth of Bordeaux at that time had even thought of doing: abandon conventional viticultural methods and adopt an organic and biodynamic approach instead.
The first biodynamic trials were carried out in 2004 on 14 hectares of vines, and the wines produced were noticeably brighter and tighter in structure. In the years that followed, the entire estate was fully converted to biodynamic agriculture, becoming the first Medoc Classified Growth to do so. The wines of Chateau Pontet-Canet received the Ecocert organic certification and Biodyvin biodynamic certification in 2010, followed by the Demeter certification in 2014.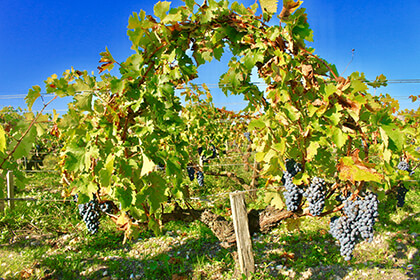 During this time, the Pontet-Canet winery was also renovated and the brand new Nicole vat house inaugurated in 2005. The new winery is home to small conical concrete vats designed for parcel-by-parcel vinification.
In 2008, the estate became home to three Breton draft horses, who would work the vineyard soil without compacting it too much. Since then, the family of Pontet-Canet horses has expanded and a stable has been constructed to house them. Several other Grand Cru Classés of Bordeaux have followed in the footsteps of Pontet-Canet, adopting horses as a gentler, more natural way to work the soil.
Today, Chateau Pontet-Canet is run by Alfred Tesseron's nieces Melanie and Philippine, aided by famous Bordeaux wine consultant Michel Rolland (who has consulted at Pontet-Canet since 1999).
The Biodynamic Vineyard of Chateau Pontet-Canet
The Chateau Pontet-Canet estate reigns over 120 hectares (almost 300 acres), out of which 81 hectares (200 acres) under vine, in the Pauillac appellation of the Medoc region on the Left Bank of Bordeaux. The vineyard is located just south of the famous First Growth Chateau Mouton Rothschild. The soils here are composed of mostly well-drained Quaternary Garonne gravel upon a clay and limestone bedrock. These gravel soils store heat during the day and release it during the night, allowing the fruit to ripen gradually. The vineyard is planted with 62% Cabernet Sauvignon, 32% Merlot, 4% Cabernet Franc and 2% Petit Verdot. The blend of the estate's First Wine reflects this proportion. The vines are around 40 years old on average and planted at a density of 9,500 vines per hectare.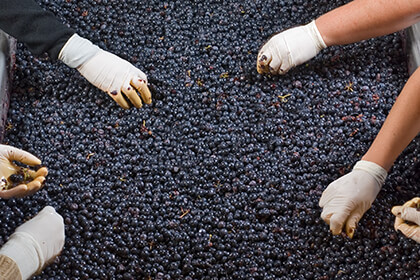 The entire Chateau Pontet-Canet vineyard is today conducted by the methods of biodynamic viticulture, with a deeper consideration for the vine as part of a larger vineyard ecosystem. The soils is treated, only when necessary, with composted manure fertilizers, instead of conventional fertilizers that can introduce harmful chemicals to the soil. The vineyard is ploughed by horse, which prevents the excessive compaction of the soils and instead encourages a healthy biodiversity of flora and microbes surrounding the vine roots.
Winemaking at Chateau Pontet-Canet
At Chateau Pontet-Canet, the team carries out "homogenous terroir" harvesting of the vineyard, which is divided into two main parcels and further subdivided into 92 plots. The fruit is picked only when it is deemed fully ripe and ready. The grapes are collected by hand in bunches in small crates, hand-sorted, then destemmed, then hand-sorted for a second time on vibrating sorting tables at the winery. The fruit is then transferred into vats by gravity.
A holistic approach in the biodynamic Chateau Pontet-Canet vineyard is paired with a natural, minimal intervention, "hands off" approach in the winery. The plot-by-plot vinification follows a gentle process and takes four weeks to a month, strictly dependent on the character of the vintage, grape variety and parcel of origin. Natural yeast is used for the alcoholic fermentation, which takes place in conical oak vats and temperature-controlled cement vats for a period of two to three weeks.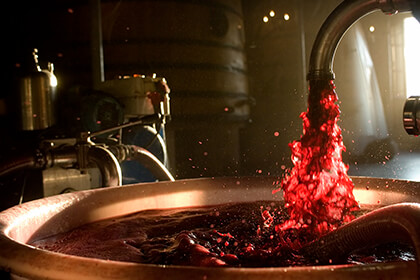 At Chateau Pontet-Canet, the maturation process is designed to enhance rather than hide the natural character of the wine. Vintage after vintage, this Pauillac estate has gradually decreased the amount of new oak used to age its wines, favoring older barrels and alternative aging vessels. Today, the First Wine is aged for roughly 16 months in a combination of new oak barrels (50%), one-year-old barrels (15%) and 100 unique amphorae called dolia (35%). These dolia are beautifully curved concrete amphorae whose walls contain a trace amount of soil from the vineyard. These vessels were specially designed for the wines Chateau Pontet-Canet, allowing them to age with a link to their terroir of origin.
The Chateau Pontet-Canet Second Wine, Hauts de Pontet-Canet is aged in 100% one-year-old barrels for a period of 12 months.
The Signature Style of Chateau Pontet-Canet
From the biodynamic vineyard of Fifth Classified Growth Chateau Pontet-Canet comes another kind of Pauillac fine wine: a bright and beautiful blend of Cabernet Sauvignon, Merlot, Cabernet Franc and Petit Verdot with a vivid tension and remarkable intensity. Unlike many of the new- oak-aged great wines of the Medoc, these wines feel freed of constraint, vibrating in the glass with a contained power, pure and precise fruit and undeniable pedigree.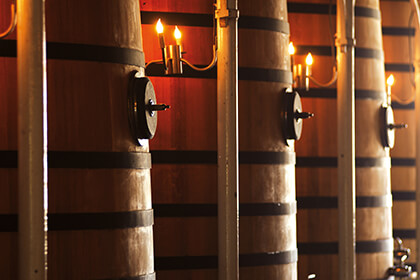 Offering a truly emotional tasting experience, these wines are powerful, ample and refined. On the nose, Château Pontet-Canet expresses aromas of plum, blackberry and blackcurrant preserves, floral touches, spice cake, wood smoke and balsamic. On the palate, this wine is rich and decadent, revealing a full-bodied, well-rounded and very layered texture. The tannins are velvety and smooth, balanced by a remarkable freshness which lends an incredible depth to this Pauillac Classified Growth. On the finish, mineral touches mingle with balsamic and saline notes, which stretch on for a long time.
This wine should be aged at least 10 to 15 years but will continue to evolve beautifully for decades to come. Pair it with a dish worthy of such a biodynamic Bordeaux Cru Classé, like an entrecote a la Bordelaise or pan-seared duck breast with roasted vegetables.