As the world's most planted and versatile grape varietal, Chardonnay needs no introduction. Nor does one need a particular reason to indulge in a glass or two! Some may say they do not enjoy Chardonnay, but they have not found the right type – there is a style for every palate! Wines can be light, crisp and minerally, or oaked with flavors of toasted coconut, vanilla and butter. It can even dazzle with bubbles in a sparkling wine and Champagne. Chardonnay pairs beautifully with a wide range of food.
Hailing from Burgundy Chardonnay grapes expanded rapidly across the world; nearly all vineyards have this grape variety planted because of its relatively high yields and its ability to grow in a broad spectrum of climates. Chardonnay has a "blank slate" nature, which results in its range and major popularity among winemakers as well as consumers.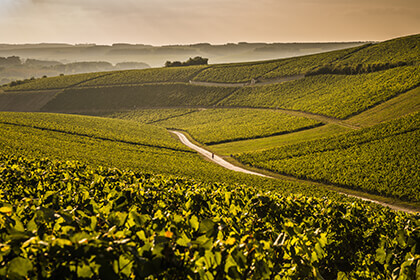 Chardonnay Grapes and Terroir
Although the grape varietal itself is relatively neutral in terms of flavor, it imparts much of its fruity characteristics to the overall profile. This fruit flavor is expressed differently depending on characteristics of the wine regions from where it hails, the acidity of the grapes or especially climate. Typically, this varietal from the best warmer regions, like California and Chile, reveal less natural acidity and tropical fruit notes (think pineapple, mango and guava). Those of cooler climates, like the vineyards of Champagne, Chablis and Germany, exhibit higher acidity, green apple and lemon flavors, as well as earthy, mushroom aromas. Somewhere in the middle, Chardonnays from temperate climates, such as Burgundy and New Zealand, tend to show stone fruit (think peaches and nectarines) on the nose.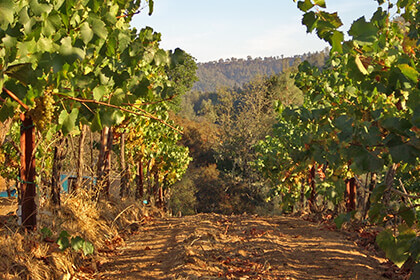 Reflections of Oak
Along with being known as an easily adaptable grape, Chardonnay is also often referred to as "the winemaker's wine." Because of its blank slate nature, it possesses the uncanny ability to clearly reflect through its bouquet, body and mouthfeel the winemaking process behind it. Aging in oak introduces more oxygen, resulting in the best toasty pie crust and baked apple flavors, while contact with the new oak brings spice – vanilla, coconut, cinnamon and clove, among others. Malolactic fermentation in barrel also curbs the wine's acidity and results in the luscious, buttery texture often associated with an oaked Chardonnay. When it comes to this varietal, however, a little bit of oak goes a long way. A Chardonnay with the right amount of oak displays a great depth of flavor and a full-bodied, round texture. These Chardonnay wines have a high natural acidity, that will allow them to age. Oak-aged Chardonnay pairs perfectly with food exhibiting the bold flavors of grilled or roast shellfish (think lobsters and scallop), roast chicken and creamy wild mushroom risotto.
A Lighter, Fruitier Chardonnay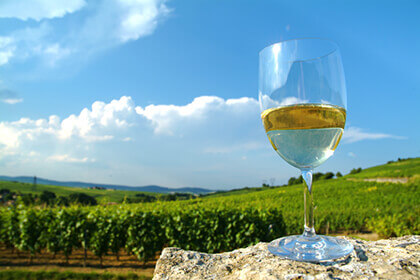 A lack of oak in the winemaking of the grapes results in a lighter, fresher style with more floral and fruit-forward notes. This style was made famous by the region of Chablis in France. Unoaked Chardonnays reflect the varietal itself, expressed through fruity (yellow apple, fresh mango and pineapple) or floral (green apple, citrus, pear, white flowers) aromas, depending on terroir. These wines go beautifully with more delicate food, like steamed flaky fish, oysters and a vegetable medley.
"Blancs de Blancs"
Chardonnay is also the most popular and best white grape varietal used in the production of sparkling wines, including Champagne in France. There is even a special French phrase used to refer to a sparkling wine made with Chardonnay. "Blanc de Blancs" are created by blending a "cuvee" of early-harvest Chardonnay and allowing it to undergo secondary fermentation in the bottle. One of the most famous examples of this style is Ruinart Blanc de Blanc, known for its bright intensity and minerality. And what about the chardonnay grapes that bring to life the Montrachet, know for the rocky hill that sheltered them, allowing for the production of this unique dry white wine. Centuries back, no one thought that this hill could guide us to one of the highest range of wine in the world. Now keep in mind that the flavor profile depends on whether the wines were produced in oak or stainless steel, and on how long they are aged in bottle. You will be savoring some fine aromas in both cases.