Based in the village of Pommard, in the Cote de Beaune subregion of Burgundy, Domaine A.F. Gros is a family owned and operated estate, producing wines at the regional, village, premier cru and grand cru levels. Their hand-crafted red wines are made with fruit harvested from a collection of Burgundy climats, offering in the glass a pure expression of each precious terroir of origin. Discover the gourmet Pinot Noir wines of Domaine A.F. Gros, whose gorgeous aromas of juicy black fruits and expertly integrated touches of oak make them the perfect pairing with a wide range cheese and charcuterie, as well as roasted game.
Domaine A.F. Gros | The Formation of a Family Domaine in Pommard
The Domaine A.F. Gros was founded in 1988, after Jean and Jeanine Gros decided to divide up the estate of the Gros family, Domaine Jean Gros (previously known as Domaine Gros-Renaudot and then also as Domaine Louis Gros), between their three children: Michel, Bernard and Anne-Françoise. Anne-Francoise married François Parent, who in turn had been making wines at his father's estate, Domaine Parent, since 1974. For the occasion of their marriage, Francois decided to take his own share of the family vineyards, situated in Pommard, and combine them with those of his wife, situated in Vosne-Romanee. Francois also produces wines under his own label. Anne-Francoise's cousin, Anne Gros, produces wine under the label Domaine Anne Gros, easily confused with Domaine A.F. Gros.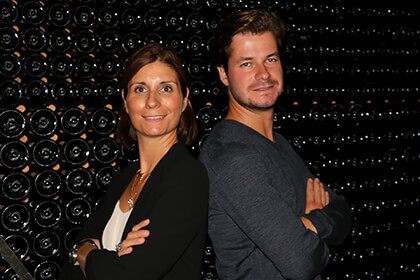 Since 1998, the wines of Domaine A.F. Gros, headquartered in Pommard, have been produced in a premises in Beaune. Today, Anne-Francoise and Francois are joined by two of their children, Mathias Parent and Caroline Parent. Mathias focuses on the winemaking side of the business, while Caroline handles the management and sales side of the family estate. Each vintage, the family produces hand-crafted, small-batch wines from Pinot Noir, pure expressions of the terroirs of Burgundy in the glass.
Transforming the Terroirs of Domaine A.F. Gros into Magic in the Glass
Based in the village of Pommard, the Domaine A.F. Gros estate produces wines of Pinot Noir, the emblematic red grape variety of Burgundy, from village, premier cru and grand cru level appellations in the communes of Pommard, Beaune, Vosne-Romanée, Chambolle-Musigny and Savigny-lès-Beaune.
The estate vineyards are characterized by limestone and clay soils. Following a manual harvest of the Pinot Noir grapes, the fruit is completely destemmed. The grapes then undergo a period of cold maceration, which lasts 4 to 5 days. Alcoholic fermentation takes place in a mix of stainless steel, concrete and wooden vats, typically lasting around 18 to 20 days (including cold maceration). The juice is poured over the cap twice per day until half of the sugars are fermented. Then, traditional pigeage (punching down of the cap) is carried out twice per day. A pneumatic press is used to press the fruit at Domaine A.F. Gros winery. Décuvage (the removal of the wine from the vat) takes place around four or five days after the alcoholic fermentation is complete.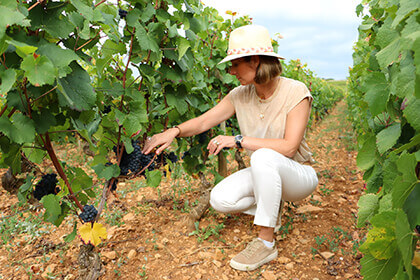 The wines of Domaine A.F. Gros are matured in French oak barrels for a period of 12 to 18 months. Mathias keeps very close control over the quality of the barrels used, the oak for which come mainly from the Tronçais forest in Allier, as well as the forests of Bertranges and Fontainebleau. The estate works with three trusted coopers, who produce barrels with just the right level of toast for the wines of A.F. Gros. The village level wines of the estate are aged in 40% new oak and 60% barrels with one or two previous uses. Premier Cru level wines are aged in 60-65% new oak and Grand Cru level in 100% new oak. The base wines are blended after 12 months of maturation and then added back into older barrels in order to curb the effects of the oak's toast. A second blending takes place in February/March before the wines are bottled by a gravity-fed system. The team carries out regular analyses on the wines' turbidity in order to determine whether they need to be filtered or not. At Domaine A.F. Gros, wines are filtered, by the lenticular technique, only if necessary.
The Wide Range of the Domaine A.F. Gros Portfolio
The Domaine A.F. Gros portfolio includes Pinot Noir red wines of various appellation levels and price points. Their regional level Bourgogne Hautes Côtes de Nuits offers a gorgeous fresh fruit profile, marked redcurrants and cherries, along with nuanced earthy touches. This is a hand-crafted Burgundy wine that can be enjoyed quite young with a wide range of dishes. The estate's village level wines includes their Vosne-Romanee Village "Aux Reas," a robust Burgundy Pinot Noir with woody aromas integrated with spiced plum and raspberry. On the palate, this wine reveals great length, followed by a sappy, complex finish, making it the perfect Burgundy to serve with roasted game dishes, such as goose or duck.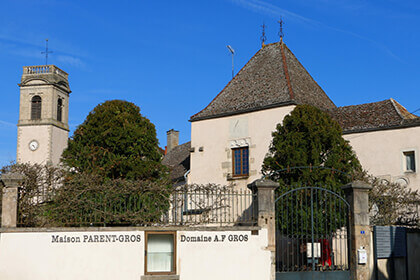 At the Premier Cru level, the Domaine A.F. Gros Pommard 1er Cru "Les Pezerolles" is a lovely wine, offering new oak seamlessly integrated into fresh fruit on the nose, and a palate revealing red berries, along with touches of sage and rosemary. The balanced and slightly creamy texture of this wine will allow it to pair with game meat or roasted veal in a rich wild mushroom sauce. And finally, the Domaine A.F. Gros Richebourg Grand Cru is produced from fruit harvested in the estate's Richebourg, one of the six grand cru sites in Vosne-Romanee, on the Côte de Nuits of Burgundy. In the glass, this exquisite Burgundy Grand Cru expresses the great opulence of the Richebourg terroir, offering aromas of wild violet, blackcurrant and vanilla on the nose. The palate is characterized by an unforgettable depth and a fantastic balance between power and finesse. A truly special wine that can be aged over 25 years and will pair beautifully with game dishes, as well as dry-aged beef or lamb.