The Dom Perignon Vintage 2009 : A Year of Extremes
Produced only in the best years, the Dom Perignon vintage cuvee is a truly representative and iconic wine of the historic estate. But it was not always obvious that 2009 would be such a successful vintage. The harvest season, similar to that of 2003, was marked by episodes of severe frost and intense heat. Faced with several difficult choices presented by such extreme climate changes, Cellar Master Richard Geoffroy nevertheless succeeded in creating an exceptional blend, characterized by a rare intensity.
In 2009, as in 2003, it was very important to make the right choices, especially in selecting the date of the harvest, based on when the grapes would reach their optimal stage of ripeness. The 2009 season started with a harsh winter and continued with a particularly mild, rainy spring, resulting in significant pressure from mildew during flowering. Later, heavy storms in July led many to expect the worst, as the rain presented a health risk to the vines. Fortune favored the vines during the month of August, with warm temperatures that allowed for the ideal environment for the fruit to achieve optimal maturity. Although a short hail storm on September 4th posed some difficulties, the grapes were harvested successfully on September 12th. The blend elaborated from this high quality fruit clearly expresses not only the soil and varietals, but also the unique climatic conditions of this season and the creative talent of the cellar master.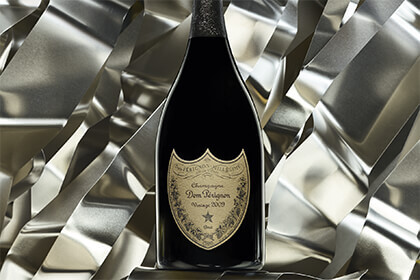 Focus on the Dom Perignon Vintage 2009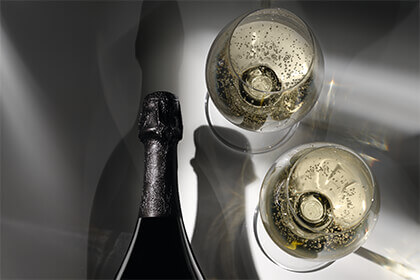 The Dom Perignon Vintage 2009 clearly expresses the marriage between nature and human savoir-faire, perfected over 350 years of history at this prestigious Champagne House. Nature has blessed this vintage with perfectly mature fruit, balanced with a great acidity that gives the wine freshness and energy. This carefully assembled cuvee combines Chardonnay with Pinot Noir, lending the wine a very fruity bouquet of primary aromas (guava, spicy grapefruit zest, white peaches and nectarines). Swirling the wine in the glass reveals notes woody vanilla and toasted brioche, hot from the oven. Ripe, juicy fruit emerge on the palate. Intense, voluptuous and marked by a great richesse, the Dom Perignon Vintage 2009 displays a certain power, which is nevertheless beautifully restrained. This wine offers a palate of impressive depth, with a silky, saline, sappy character complemented by splendid iodized touches. The finish provides satisfies completely with remarkable length and persistence.


This unique vintage exemplifies to perfection the harmony achieved by the wines of Dom Perignon. Faced with difficult climatic conditions during the 2009 growing season, the prestigious Champagne House managed, as always, to use its magnificent know-how and elaborate a dazzling vintage cuvee. The Dom Perignon Vintage 2009 is a true gift to the world of wine, one that successfully balances maturity, freshness and tenseness.