In very Burgundian fashion, the landscape is divided into 65 different crus, from which the appellation's dynamic producers craft terroir-driven, single-vineyard bottlings, along with carefully assembled multi-vineyard blends. The wines of Barbaresco thrill and charm with intense varietal aromas of red cherries, rose petals and tar, along with a delicate earthy touch of underbrush, leather and dried violet petals. While generally more approachable in their youth than the wines of Barolo, they offer a remarkable potential to age. An exquisite choice with a wide range of pairings, especially braised meats and classic Italian dishes featuring a rich tomato sauce.
The History of the Barbaresco Wines
While wine production in this area dates back thousands of years, its modern history as its own winemaking entity really begins in 1894 with the establishment of the Cantina Sociale di Barbaresco cooperative by local agronomist and headmaster of the Royal Enological School of Alba Domizio Cavazza. Before this time, Nebbiolo grapes grown in the vineyards of the region were mostly sold in bulk to neighboring Barolo.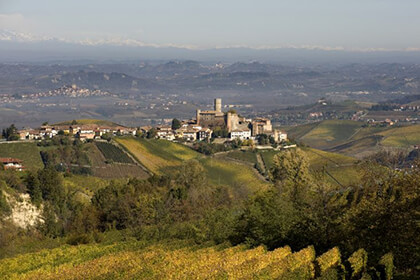 Cavazza recognized the enormous potential of the region's terroir. He decided to purchase an estate with vineyards here in 1886 and 8 years later partnered with a group of nine wine growers to establish the Cantina Sociale. Equipped with new barrels and the most recent winemaking tools, the cooperative bottled some of the very first official wines of this area. After enjoying a fairly successful beginning, the cooperative suffered the effects of World War I and the death of Cavazza in the year 1915.
It was not until the 1950's that this winemaking region of the Piedmont rejoined the world stage. Its modern renaissance was brought on by the pioneering efforts of passionate winemakers like Angelo Gaja, Bruno Giacosa and Cesare Pio (founder of Pio Cesare). In 1958, a local priest by the name of Don Fiorino Marengo resuscitated the Cantina Sociale by bringing together 19 small growers to form a cooperative called Produttori del Barbaresco. Together, these producers put the appellation back on the map. By the 1960's the wines of the region were being sold internationally with mounting success.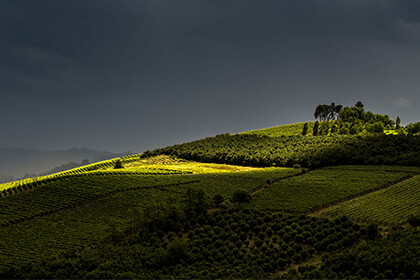 In 1966, this appellation was granted the status of Denominazione di origine controllata (DOC), which was upgraded to Denominazione di origine controllata e Garantita (DOCG) status in 1980. From early on, the wine producers of this appellation have fought for the recognition of various vineyard sites, similar to the cru system of Burgundy. Since 2007, all 65 vineyard sites of the appellation have been recognized on the label, with many winemakers now producing single vineyard bottlings. These 65 crus are divided between the four communes of the appellation: Barbaresco (which produces roughly 45% of the appellation's wines), Neive, Treiso and San Rocco Seno d'Elvio.
The "Other" Nebbiolo Terroir
The appellation is situated in the Langhe area of the Piedmont region of northwest Italy and, like its "big brother" Barolo, also produces wines exclusively from the Nebbiolo grape variety. Nevertheless, while Barolo and Barbaresco share a grape variety, they make wines that are different in style. These differences can largely be attributed to differences in terroir.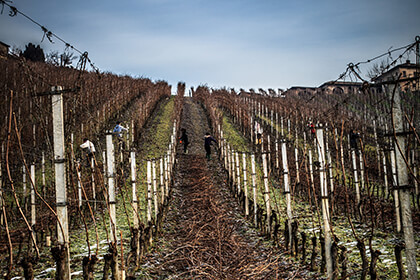 The soils of the latter appellation comprise calcareous marl from the Tortonian age (dating back roughly 11.6 to 7.2 million years), which are very rich in lime and clay. These soils are richer in nutrients than those of Barolo, producing wines that are slightly less tannic, rounder, softer and more approachable in their youth. The soil's high lime content results in a lower pH and thus a higher degree of natural acidity in the wines.
The elevation of the appellation's vineyards (which are at a lower altitude than those of Barolo) and their proximity to the Tanaro River (which brings a slight maritime influence) also results in climatic differences, allowing the grapes to ripen slightly earlier than those of Barolo. This means that the fruit gets to the fermentation vat sooner and enjoys a shorter maceration time, resulting in early tannins that are less harsh in their youth than those of Barolo.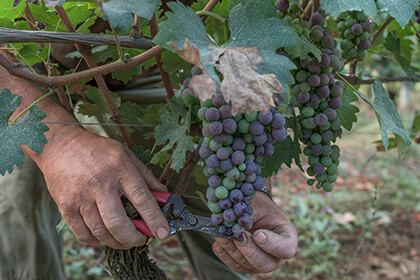 Since the 2010's, many of the appellation's producers have stopped using industrial fertilizers and chemical pest management, adopting instead natural, organic and biodynamic viticultural methods to producer higher-quality fruit.
Winemaking and Signature Style in this Piedmont Appellation
Due in part to the earlier ripening of the grapes, the regulations of the DOCG appellation stipulate that the wines have to be aged for at least 2 years before release, and at least 9 months of this total aging must take place in oak. Wines labelled "riserva" age for a minimum of 4 years. In contrast, Barolo wines must be aged for a minimum of 3 years or 5 years for Barolo Riserva. Barbaresco DOCG wine also must have a minimum alcohol level of 12.5%, although this is usually closer to 13.5%. The appellation also produces declassified Langhe Nebbiolo wines that are matured for a shorter period of time or come from younger vines. The best Barbaresco wines have the potential to age beautifully over decades in bottle.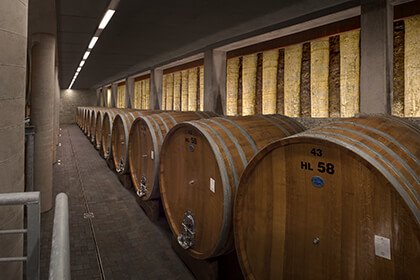 Produced from Nebbiolo, the flagship grape of the Piedmont region, these wines bear the grape's tell-tale varietal aromas of rose petals, red cherries and tar. These wines also offer plush red berry aromas and fragrances of violets, along with earthy nuances of underbrush and leather. Like its cousin Barolo, it is an intensely flavored and full-bodied Italian wine. However, while Barolo is often austere in its youth and is known for its magnitude, structure and tannic force, Barbaresco is more approachable in its youth, offering complexity and elegance over sheer power.
These wines are quite consistent, although there are some regional differences due to terroir. Among the four communes, the one named after the appellation (near the town of Barbaresco) is home to a slightly cooler climate, resulting in wines with great body and finesse. Wines of Neive are known for their power and structure, while those of Treiso are reputed for their refinement and grace. San Rocco Seno d'Elvio is the least known of the four communes and produces wines of less complexity that are often more approachable in their youth. All four of the appellations communes now produce single vineyard wines from specific parcels classified under the 65 crus.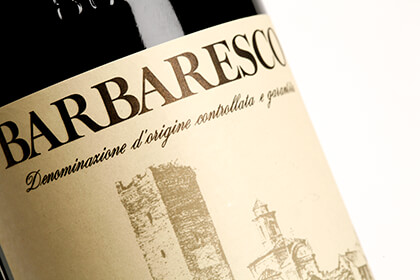 This is a red wine that pairs easily with food, due to its fresh natural acidity and nuanced aromas of red fruit and earth. For a guaranteed success, serve it with a regional Piedmontese dish, like brasato al Barolo (beef braised in red wine) or pasta topped with the famous white truffles of the region. It will also pair with just about any dish featuring tomato sauce, including Neapolitan pizza or a cheesy lasagna.