An agronomist by training, Manoncourt made the decision early on to analyze the estate's distinctive terroir and plant the grapes that would best thrive in its soils, which unlike the limestone and clay profile of Saint-Emilion, feature significant outcroppings of gravel. Today, over two-thirds of the 100-acre vineyard are planted with Cabernet Sauvignon and Cabernet Franc, two varieties that have come to define the Figeac signature style through a blend that stands out for its freshness, smoothness and refinement. These are wines that seduce with their balanced bouquet of ripe red fruit, peonies, white pepper and truffles, whose finish leaves, upon a lush and velvety palate, an elegant touch of graphite minerality.
The History of Chateau Figeac
Château Figeac is an ancient property in St. Emilion, whose history dates back to the Gallo-Roman period of the second century. During this time, the estate was owned by a Figeacus, who gave his name to it. Traces of an ancient Roman water supply system can still be seen on the property today, as well as ruins dating from the Middle Ages and remnants of the original chateau, built by Raymond de Cazes in 1586. The chateau we see today was constructed in 1780.
The Figeac estate was owned by the Cazes family and their descendants for five centuries, up until the 18th century. By this time, the estate had come to measure 200 hectares and was the largest in Saint-Emilion. Nevertheless, in the two centuries that followed, various owners would buy and sell different plots and parcels, which explains the many other Saint-Emilion chateaux with "Figeac" in their name. Part of the estate was eventually absorbed by Figeac's famous neighbor Chateau Cheval Blanc, for example. Nevertheless, Chateau Figeac remains one of the largest estates in the appellation.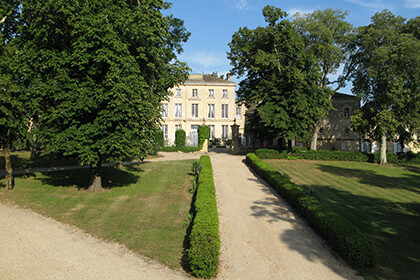 In 1947, Chateau Figeac in Bordeaux entered into a new modern chapter of its history, when it was taken over by the visionary Thierry Manoncourt. Manoncourt was responsible for renovating the chateau, expanding the cellars and significantly improving the quality of its wines. Nicknamed the "Pharaoh of Saint-Emilion," he is credited with creating the Figeac style, which has served as a benchmark of Right Bank Bordeaux. As one of the creators of the Union des Grands Crus de Bordeaux and as the President of the Jurade de Saint-Emilion for 23 years, he was also a passionate ambassador to the Bordeaux region and an avid promoter of the Saint-Emilion appellation around the world.
A true pioneer of the appellation, Manoncourt made Chateau Figeac the very first Saint-Emilion chateau to introduce temperature-controlled stainless steel vats in 1971. Chateau Figeac was also one of the first Right Bank estates to produce a Second Wine, named La Grange Neuve de Figeac, debuted with the 1945 vintage. Following Thierry Manoncourt's death in 2010, the management of Chateau Figeac was taken over by Thierry's wife, Marie-France Manoncourt (Madame Manoncourt) and her daughters. The team has worked with wine consultant Michel Rolland for decades and is today co-managed by Jean Valmy Nicolas and Frederic Faye. A significant improvement in the quality of the wines has been noted, beginning with the 2009 vintage and exemplified by the spectacular 2015 and 2016 vintages.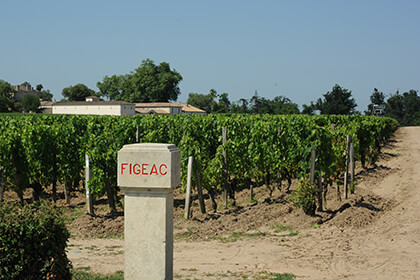 Most recently, the Chateau Figeac team has turned their attention to more sustainable viticultural methods. In 2013, 133 acres of the property were designated a natural wildlife reserve. In 2015, the chateau committed to the ISO 14001 certification, and Figeac today holds the Level 3 HVE (High Environmental Value) certification. In honor of Thierry Manoncourt, an agricultural engineer by training and a passionate nature lover, the chateau has also embarked on several initiatives with the aim to study and protect the biodiversity of the vineyards. Today, a separate research and development department is dedicated to the study of environmental matters at Chateau Figeac.
A Great Terroir in Saint-Emilion
Chateau Figeac is a Grand Cru property situated on the western edge of the Saint-Emilion appellation of the Right Bank in France's Bordeaux region. Today, the chateau expands over a total of 113 acres (54 hectares) in a single block, the entirety of which is classified Premier Grand Cru Classé of Saint Emilion. Out of this, roughly 100 acres (40 hectares) are planted to vines. Here, the terroir is characterized by a unique mix of soil types, including three outcrops of Gunzian gravel and quartz, as well as patches of deep blue clay.
These gravel beds make the terroir more Medoc-like in quality, compared to the more limestone and clay soils of the rest of Saint-Emilion. Chateau Figeac in St-Emilion was one of the first Right Bank properties to plant a significant portion of Cabernet Sauvignon, which thrive in the estate's gravel soils. Today, the vineyard is planted with roughly 35% Cabernet Sauvignon, Merlot (30%) and 35% Cabernet Franc grape varieties, a proportion that stands out in a Merlot-dominated appellation.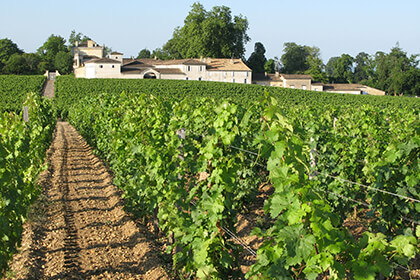 While the Figeac vineyard in Saint-Emilion, Bordeaux, France is home to very old Merlot vines first planted in 1921, the average vine age is around 35 years. The vineyard team practices massal selection on old vines in order to preserve their unique genetic heritage. At Chateau Figeac in France, each of the 275,000 vine stocks are cared for on an individual basis, depending on their unique needs. The vines are considered part of a greater natural ecosystem, whose biodiversity and natural health is encouraged through the preservation of several natural areas. Today, over half of the Figeac vineyard is farmed organically, with this percentage gradually increasing each year. Ploughing of the soil is carried out by horses as a way to respect the soil and vines.
Parcel by Parcel Winemaking at the Recently Renovated Winery
In 2021, Chateau Figeac in Saint Emilion Bordeaux acquired a new winery, which covers over 5,000 m2 and includes two underground levels. This new building is quite discreet on the surface and houses a facility designed for completely gravity-fed winemaking. The winemaking takes place in a combination of 8 custom-made French oak vats and 40 truncated cone shaped stainless steel vats, designed with plot and intro plot vinifications in mind. No sulfur is added to the wines during the winemaking process.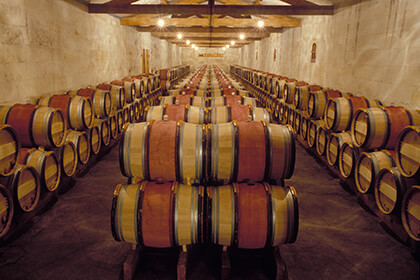 The Grand Vin of the Saint Emilion Grand Cru Chateau Figeac is matured for a period of 15 to 18 months in French oak barrels of which 100% new oak each year. The blend is typically comprised of equal portion of Cabernet Sauvignon, Cabernet Franc and Merlot, although the exact percentages vary with each vintage. The Chateau Figeac Second Wine, renamed Petit Figeac with the 2012 vintage, is matured for a period of 12 to 15 months in French oak barrels, of which only around 30% are new each year. Petit Figeac typically includes a higher percentage of Merlot in a blend that is more typical of the Saint-Emilion appellation.
The Signature Style of a Slightly Medocain Saint-Emilion
The Saint-Emilion Premier Grand Cru Classe Bordeaux wines of Chateau Figeac are some of the most sought-after of their appellation, known by Bordeaux lovers for their unique signature style. In the meticulously assembled blend of Chateau Figeac, three grape varieties come together. Charm is brought by Merlot, while Cabernet Franc brings its elegance and Cabernet Sauvignon its mineral texture. Cabernet, which represents 70% of the blend, defines the wine's structure, lending it a certain freshness, smoothness and refinement.
On the nose, the First Wine of Chateau Figeac reveals ripe red fruit, spicy hints of white pepper, floral touches of peony and a graphite minerality. The palate offers a vibrant backbone and lush tannins. Flavors of tobacco leaf and black truffle intermingle with a fresh fruit core of the Figeac Grand Cru wine. The finish of this Bordeaux red is persistent and fine, leaving behind an elegant mineral quality.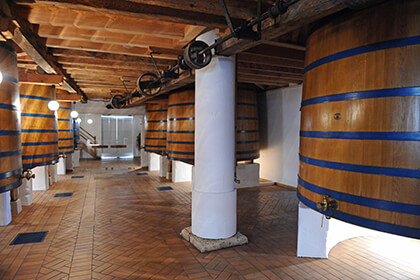 The Second Wine of this Bordeaux Saint-Emilion chateau, Petit Figeac is medium-bodied and more approachable in its youth. Nevertheless, this wine seduces with its beautiful length on the palate and its elegant texture.
We hope you have enjoyed this journey into the world of the Figeac Chateau. If you have any questions about the lowest price of a certain vintage, reviews of these wines by Jancis Robinson and Robert Parker, bond procedures or the delivery of a bottle or case of Chateau Figeac wine, do not hesitate to reach out to our team directly. For our full selection of Right Bank wines from Saint-Emilion and Pomerol, browse our website.