Over the past century, the wines of Armand Rousseau have become known as some of the very best in the Burgundy commune of Gevrey-Chambertin. Expanding over a carefully assembled mosaic of legendary plots (among them 3.77 hectares of Premier Cru vines and 8.51 hectares of Grand Cru), the estate specializes in the production of single-vineyard Pinot Noir with a signature style, which has remained consistent over four generations of winemakers in the family. At Armand Rousseau, a viticulture emphasizing limited yields from old vines combines with familial savoir faire in the cellar to produce wines that are concentrated in their flavors and aromas, with smooth tannins and a great elegance that remains consistent over the vintages.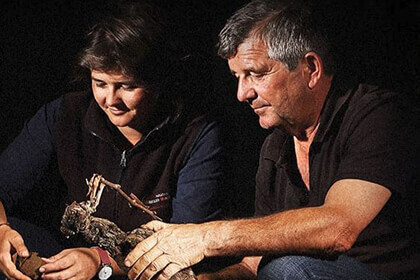 Armand Rousseau: A Family Business in Gevrey-Chambertin
Before World War I, Armand Rousseau was a wine broker based in Gevrey, working as a middle man between local growers and the merchants of Nuits-Saint-Georges and Beaune. Relying on his insider knowledge of the different vine parcels in the area, he began purchasing land with which to build his own domaine, replanting many of the vines lost during phylloxera. In the beginning, he sold the grapes planted in bulk to a local merchant. But during the 1930's, the influential magazine editor and restaurant consultant Raymond Baudoin persuaded Rousseau to set aside some of his wines and keep them for estate bottlings. Taking this advice, Rousseau built up a small but loyal clientele through restaurants and soon after began exporting. But in 1959 the winemaker died tragically in a car accident and it was up to his son Charles, born in 1923, to expand the estate.
When Charles Rousseau first took over, the domaine consisted of only 6.5 hectares. Over time, he began adding carefully selected plots, including a parcel in Clos de Beze in 1961, in Clos de Roche in 1965 and 1975, in Chambertin in 1968, in Clos de Ruchottes in 1978 and more in Chambertin in 1983. The estate today includes 2.56 hectares in Chambertin, 1.42 in Clos de Beze, 1.06 in Clos de Ruchottes, 0.53 in Mazis, 1.37 in Charmes and Mazoyeres, 2.22 in Clos Saint Jacques, 1.48 in Clos de la Roche, 60 ares in Cazetieres, 47 ares in Lavaux-Saint-Jacques and 2.21 in Village Gevrey. Of the total 15.33 hectares, the estate boasts 3.77 hectares of Premier Cru vines and 8.51 hectares of Grand Cru.
Charles's son Eric Rousseau, born in 1957, has since taken over from his father. He continues to run the estate with the help of his daughter Cyrielle Rousseau, practicing a very careful wine-making that has earned the estate the reputation for producing some of the best wines in Burgundy's Cote D'Or. Strong values of simplicity and hard work have been faithfully transmitted from one generation to the next, with each one reinforcing the family's signature style.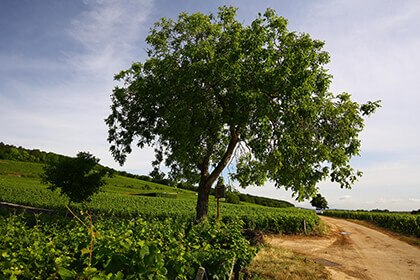 The Vines of Armand Rousseau, a Mosaic of Climats in Burgundy
As all of the best Burgundies, those of Armand Rousseau begin with terroir. While Rousseau selectively replants around one sixth of a hectare of vines each year, the average age is kept high, roughly 60 years in le Chambertin and 45 in Clos de Beze. Old age naturally limits the yield of each vine and Eric limits it even further by pruning the vines very short and carrying out a shockingly selective grape sorting during harvest. This requires a workforce of up to 50 harvesters, depending on the vintage.
In true Burgundian style, each vine is treated as an individual, with careful attention paid to the "climat" in which it grows. The soil type varies from one plot to the next, comprising Bathonien Premeaux limestone upon fine alluvial scree in the 3-hectare Mazy-Chambertin Grand Cru and Middle Jurassic limestone/clay-limestone soils upon big blocks of stone in Clos de la Roche Grand Cru, the only appellation located outside of the Gevrey-Chambertin commune, in Morey-Saint-Denis. These soils have always been thoroughly ploughed here, with no chemical herbicides used. The vineyards are managed completely organically, except for the occasional anti-disease spray. And, as elsewhere in Burgundy, Pinot Noir is chosen as the grape variety through which to offer a genuine, honest expression of these complex terroirs.
Armand Rousseau: Careful Winemaking and Signature Style
Following a very selective harvest, the vinification takes place in open vats with 100% of the grapes destemmed but up to 15% of stems kept, depending on the characteristics of the parcel and vintage. Eric prefers not to use too much stem, as this practice can result in an unwanted bitterness in the finished wine if the stems are not ripe enough. A long vatting of about 18-20 days in stainless steel tanks at maximum 31 ° to 34 ° C is punctuated with pump-overs and punch-downs are regular intervals. This results in a greater extraction of colors, tannins and aroma compounds from the otherwise thin-skinned Pinot Noir. Grapes from vines of different ages are vinified together, the idea being that each generation brings its own personality to the wine, in much the same way each generation of Rousseau has brought his or her own touch to the family business. Following alcoholic fermentation, the wines are pressed gently in a pneumatic press and then decanted for a period of 48 hours. They are then transferred by gravity into fresh vats or oak barrels, where they undergo a natural malolactic fermentation.
Rousseau matures the best vintages of his Chambertin, Chambertin Clos de Beze and Gevrey Chambertin Clos Saint Jacques (who he considered the better of his Grand Crus) in up to 100% new from oak, while the rest of the top wines get up to 60% new oak.
The wines of Armand Rousseau have become known for their signature style, their class and their great concentration, especially easy to detect in the best, most structured vintages, like 1999, 2002, 2005, 2009, 2010, 2012 and, most recently, 2015. Since Eric took over from his father, critics have noticed a higher degree of consistency across the entire Armand Rousseau portfolio. Nevertheless, the signature style of the family has barely changed from one generation to the next. These beautiful Pinot Noir cuvees all have in common a subtle but recognizable blend of elegance, nobility, density, a smooth mouthfeel and touches of spice complementing the pure fruit.