Sancerre wine. Situated in the heart of the Loire Valley right in the center of France, the appellation of Sancerre has become well known for its slightly savory, flinty, highly aromatic Sauvignon Blanc wines. The producers of this area pride themselves on the unique soil types into which their vines stretch their long roots: a combination of chalk, limestone-gravel and flint, responsible for that certain smoky gun-flint aroma in a classic bottle of Sancerre white. The appellation has also recently experienced a red revolution, with several winemakers preferring to produce Pinot Noir in the Burgundy style. Find the crisp Sauvignon Blanc and smooth Pinot Noir wines of Sancerre, the perfect complement to the famous goat cheeses also hailing from this region.
The Geography and Terroir of Sancerre Wine
Perched atop a bean-shaped hill overlooking the Loire River is the historical town of Sancerre. The surrounding viticultural area, which has adapted its name from the town, extends over 15 miles of hills on the Left Bank of the river, right across from the Pouilly Fumé appellation, towards the eastern edge of the Loire Valley wine region. The vineyards included in the Sancerre appellation are actually closer to Burgundy's Cote d'Or area than to other Loire appellations, like Touraine and Anjou. This results in several similarities in terroir, which ultimately translates into similarities in wine style as well. A significant distance of over 300 miles between Sancerre and the Atlantic Coast gives the former a continental climate rather than the more maritime climate enjoyed by the other Loire Valley appellations. This results in short and very hot summers and long, cold winters, often with risk of frost in the spring. The best vines in Sancerre tend to be planted on south-facing slopes, at elevations of 655 to 1300 feet. While the classic white Sancerre is known for a bracing acidity, pungent gooseberry aromas and minerality, wines produced from the warmer west-facing vineyards planted in chalky soils tend to offer more citrus peel and passionfruit notes.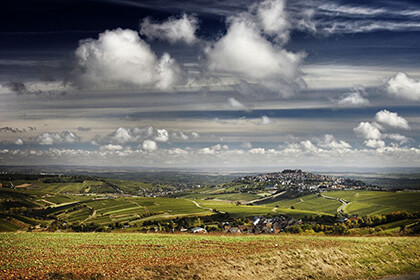 You can not discuss the terroir of Sancerre, on the Left Bank of the Loire River, without mentioning the signature soils forming the appellations unique terroir. Located only 50 miles southwest of the Burgundian appellation of Chablis, Sancerre shares the same outcropping of Kimmeridgian chalk soil to which the signature character of Chablis Chardonnay is often attributed. Around 40% of the vineyards are planted on chalky clay and limestone soils characterizing the western part of the region. These are locally referred to as terres blanches and are considered some of the best terroirs of Sancerre. Around 20% of the region's terroir is dominated by a very special flint soil called silex, which gives many Sancerre Sauvignon Blanc wines a certain smoky, gunflint aroma and signature minerality. You may see that this distinctive tasting is more evident in wines from the eastern vineyards, with grape vines planted closer to the river.
The Grape Varieties of this Appellation: Pinot Noir to Sauvignon Blanc, and Back Again
While mention of the Sancerre appellation, no doubt, conjures up images of crisp, smoky whites, did you know that this region used to produce more reds than whites? In fact, it was only in the past few decades after the Sancerre appellation was created in 1936 that Sauvignon Blanc gained fame in this area. Historically, Sancerre was an administrative center linked to the Duchy of Burgundy, trading with the cities of Bourges and Orleans, producing a market for Pinot Noir and Gamay wines. At this time, white wines from Sancerre were made from Chasselas, instead of Sauvignon Blancs.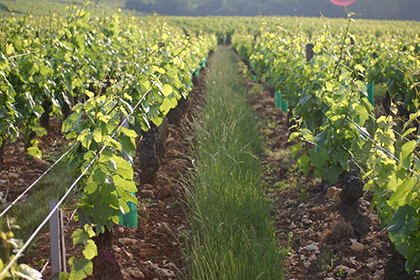 At the end of the 19th century, the phylloxera epidemic swept through the Loire Valley, devastating the grapes and vineyards of Sancerre. When the vineyards were re-planted, Sauvignon Blanc grafted more easily onto American rootstock than any of the other varieties that were more prominent in this region before. Also, because of tightening restrictions on the sourcing of grapes in Champagne, Sancerre was no longer allowed to provide Pinot Noir grapes to their neighbors to the north. Following World War II, Sancerre produced wines became known as accessible, easy-drinking white wines and between the 1970's and 1980's, the region further elevated its reputation. While many of the Loire Valley appellations had to struggle to hang on against challenges posed by international competitors, Sancerre has had a somewhat easier time maintaining its good reputation, since the dry, mineral, subtly smoky Sauvignon Blanc wines align with the style demanded by the modern consumer.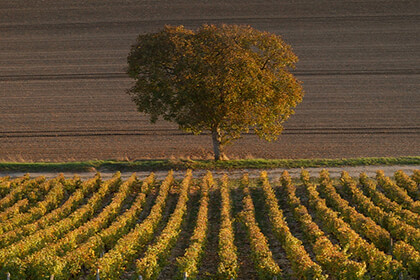 Nevertheless, many several Sancerre winemakers have recently decided to go back to the region's original varietal, Pinot Noir. Today the viticultural area of Sancerre is planted with around 20% Pinot Noir, used to make some serious red and rosé wines. Producers like Jean-Laurent Vacheron, who runs a family estate using biodynamic practices, make Pinot Noir wines in a Burgundian style, by making their own compost, sorting with obsessive attention to detail, hand-harvesting vineyards, vinifying harvests by parcel, cold smoking in whole, un-stemmed bunches. Yields are kept low to concentrate the wines. Typically, the higher thermal amplitude in Sancerre makes for Pinot Noir wines which have more fresh raspberry and cranberry aromas, rather than the cherry and spice of Burgundy. While only a small percentage of these Sancerre red wines are still exported today, these - often organic - red and rose wines are receiving more and more international attention.
How to Enjoy A Bottle of Wine from this Appellation
While Sancerre is a relatively small appellation, it produces wines that vary in flavor profile. While some tend to show more pungent quince, gooseberry and grassier notes, others offer "riper" fragrances of Meyer lemon and poached pear in a richly textured wine. The use of oak to age these French wines can also contribute touches of brioche or straw to the final aromatic palette. The perfect bottle of Sancerre will thus depend on personal preference. The villages of Chavignol, Menetreol and Bue are known for high quality Sancerre wines, easily to recognize on the label.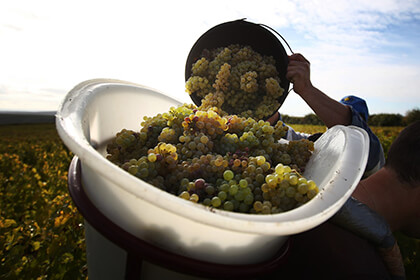 In general, Sauvignon Blanc wines from Sancerre tend to be very versatile in their food pairing, making for an excellent match to dishes like roast chicken with tarragon and thyme, grilled salmon with parsley and lemon, baked cauliflower and zucchini gratin. The most classic food pairing, however, is a chilled glass of Sancerre wine with Crottin de Chavignol, a small, round goat cheese produced in the village of Chavignol. Try pairing fuller bodied, "riper" Sancerre to complement younger Crottin de Chavignol cheeses, which tend to be more funky and pungent. As these cheeses age, they become richer and nuttier in flavor, perfect for an oakier Sancerre or perhaps even a Pinot Noir from this appellation. Sancerre wines also go beautifully with a wide selection of other cheeses, including Camembert, Brie, Gruyere, Swiss, Cotija and Monterey Jack.