If the winemakers of Napa Valley's single-estate Cabernet Sauvignon are architects of structure and terroir-driven profile, Dave Phinney is like a painter, forever seeking to diversify his palette and blending grapes of different varieties, vineyards, appellations and even countries to produce works of art that are truly unique. Gracing each bottle in his Orin Swift line (know for beautiful wines like Machete and 8 Years in the Desert) is an eye-catching label that expresses the true character of the liquid inside – a rare silver coin, a collection of graceful mannequin busts, a collage of old photographs… These wines each have their own story to tell. They age gracefully in the bottle, just waiting to be uncorked and listened to and enjoyed.
Dave Phinney: The Story of the Man Behind the Orin Swift Brand
Orin Swift Cellars is the massively popular brainchild of a man by the name Dave Phinney, who first fell in love with winemaking during his semester spent studying abroad in Florence, Italy. Returning back home to finish his political science degree at University of Arizona, Phinney decided to change career paths and become a winemaker instead of going to law school, as he had originally planned to do. Did this decision lead to an incredible life experience ? Surely. He started by planting experimental blocks of Petite Sirah and Zinfandel in Tucson, with the help of his professor, and sent out resumes to producers in Napa Valley, where he dreamed of working one day.
Phinney was hired by Robert Mondavi Winery to fill a 3:30pm-1:00am shift, doing punch downs and pump-overs in an all-Latino crew. Years back, in 1998, Phinney also produced the first vintage of his own wine from a half a ton of grapes. Unfortunately, these were bought from the wrong part of a good vineyard – a lesson in the importance of fruit selection that the young winemaker would come to appreciate with time. Phinney chose to name his label after his parents, world-travelers and intellectuals who had inspired him at an early age to be open-minded to other cultures. "Orin Swift" is a combination of his father's middle name (Orin) and his mother's maiden name (Swift).
Soon after, Phinney moved to work at Whitehall Lane with Dean Sylvester, who would teach him winemaking over the course of 5 years. It is here that Phinney met his future wife Kim Leonardini, the daughter of the winery owner Tom Leonardini. During his time with Sylvester, he adopted a holistic approach to winemaking, aiming to produce consistently delicious wines with robust aromatics and a generous mouthfeel. Rather than focusing on site-specific wines, he began a thorough study of Napa's different vine plots, seeking to produce wines that blended across grape varieties, appellations and counties. In 2000, Phinney made the first vintage of "Prisoner," 385 cases of a 5-varietal blend, containing Zinfandel, Cabernet Sauvignon, Syrah, Charbono and Petite Syrah. The label was an eye-catching etching of a prisoner drawn by the famous artist Goya, the first of many stand-out labels that would contribute enormously to Orin Swift's success.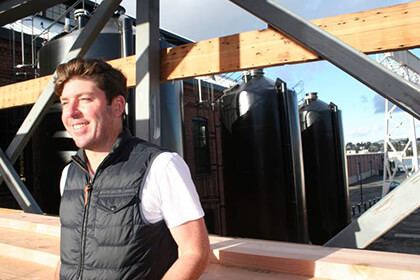 While gradually building his portfolio of vineyards with carefully chosen plots in California and forming close bonds with vintners across several different counties, Phinney also travelled the world, searching for even more grapes to include in his blends. On his constant search for innovation, he established "Locations," a line of wines made from grapes of different varietals, appellations and vintages in various geographical regions, including Spain, France, Italy, Portugal, Argentina, New Zealand, Oregon, Washington and Texas. He also purchased 300 acres of Grenache, Carignan and Syrah and built a winery in Maury, France to produce his "D66" label of old-vine Grenache. In California, Phinney has expanded his land ownings to 250 acres in the Foss Valley region of the Atlas Peak AVA (Cabernet Sauvignon), the 8-acre Old Crane vineyard in St. Helena (old-vine Zinfandel), and 250 acres in Alexander Valley. Today, the Phinney lineup is vast, featuring sites personally chosen by the passionate winemaker himself. Each wine tells an intriguing and unique story, beautifully represented by its artistically creative label.
In 2016, Phinney sold the Orin Swift Cellars brand and tasting room to E&J Gallo Winery. Having worked with the Gallo family for over a decade, the founder remains very optimistic about the acquisition, excited to have a company for which he has so much respect "become the steward of the brand that bears my [his] family's name."
The Wines of Orin Swift Cellars
Pin-pointing a signature Dave Phinney style seems an impossible task, given the vast diversity of the brand's portfolio. To better understand the producer, it helps to look at each wine as its own individual creation.
The Orin Swift Mercury Head, for example, is an ode to Phinney's childhood. An avid collector of rare coins, his favorite was always the Winged Liberty Head dime, designed by Adolph Weinman and depicting young Liberty with her winged Phrygian cap. Nicknamed "Mercury Head," one of these coins now serves as the label for Orin Swift's most expensive single-varietal Cabernet Sauvignon, sorted from the very best Napa Valley parcels in Phinney's portfolio and aged 18 months in French oak (around half of which is new). Mercury Head has become well known among collectors for its rich black fruit aromas (cassis, black cherries and blueberries) and for its beautifully integrated tannins that soften over the wine's long evolution in the bottle.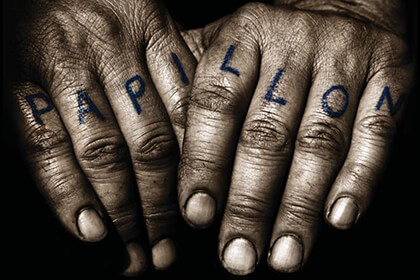 Nevertheless, Phinney's style is more closely linked to red blends, and the Orin Swift Papillon is a great example of just that. This Bordeaux-style blend comprises Cabernet Sauvignon, Merlot, Petit Verdot, Malbec, Cabernet Franc and Petite Sirah, sourced from high-quality vineyards all over Napa Valley, including the celebrated Atlas Peak and St. Helena AVA's. The wines is aged in French oak barrels (again, around half new) for 15 months to produce an inky, dark garnet wine with ripe blackcurrant and blackberry coming through on the nose and a plush, layered, dense texture on the palate. The label is photographed by Phinney's friend and fellow winemaker Greg Gorman, and depicts the well-worn hands of Vince Tofanelli, a third-generation grape grower. The image is meant to reflect the way each finger of a hand contributes to the function of the whole, as each variety comes together to form the final blend.
Somewhere between the latter two is the Orin Swift Palermo, in which Merlot and Cabernet Franc play a supporting role to Napa Valley's signature Cabernet Sauvignon. The fruit is sourced from the warmer Calistoga and St. Helena AVA's, the cooler Coombsville and Oak Knoll, the unique and varied microclimates of Pope Valley and Atlas Peak, and even the most prestigious Rutherford and Oakville terroirs. Along with the ripe cassis and blackberry typical of Napa Cabernet, this wine offers hints of cocoa and fir on the nose, and an integrated, smooth minerality on the palate. Ten months of aging in French oak barrels (35% new) lends the wine hints of wood, while still allowing the fruit to shine through. The Palermo label is a photograph of a mummified priest by Vincent Musi taken from a story about the catacombs in Palermo, Sicily that Phinney once saw in National Geographic.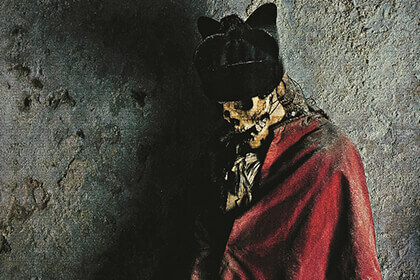 Perhaps the most representative of the Phinney's winemaking ideology is the Orin Swift Abstract cuvee, a Rhone-style blend of Grenache, Syrah and Petite Sirah aged for only 8 months in a combination of new (30%) and seasoned oak. The Abstract label is a collage of over 230 images collected over several years (photos of Hemingway and old punk rocks bands among them). Similarly, the blend for this wine begins with 200 potential wines from different plots from various vineyards in different appellations across California. Months of thorough tasting eventually limit them down so only the best make it into the final blend. With its explosive bouquet of raspberries, Bing cherries, strawberries and charred meat aromas, this wine is a true synthesis and a fabulous representation of California's diverse terroir.