The story of Anthill Farms begins with a breezy road-trip up the Pacific to Willamette Valley in Oregon. It was during this excursion that three winemaker friends first hatched a plan to start their very own wine business: producing fine Pinot Noir on the Northern Coast of California. Since 2004, Anthony Filberti, David Low and Webster Marquez have expanded their operation from 8.5 barrels to around 1,400 cases per year. The three founders have nevertheless kept Anthill Farms Winery small enough to maintain focus on quality, resulting in some of California's finest new-wave Pinot Noir. The portfolio invites Pinot Noir lovers to taste eight single-vineyard creations, genuine expressions of the Far Sonoma Coast and Mendocino County.
Anthill Farms: The Story of Three Wine-Loving Friends
Anthony Filberti, David Low and Webster Marquez first met in 2003, while working in Sonoma for Williams-Selyem. A native of Sonoma, Filberti learned about winemaking during a stint at Bergstrom Winery in Oregon, continuing his career at Hafner Vineyards in Alexander Valley before arriving to Williams-Selyem. Originally from Kansas, David Low first embraced the grapevine while studying at University of California Berkeley and, after a few years working in computer programming, he returned to winemaking. Webster Marquez grew up on the East Coast, working at Jefferson Vineyards as an assistant winemaker before moving out to Sonoma County.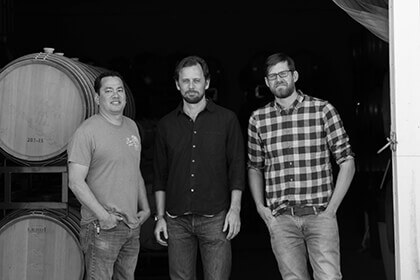 United by their shared passion, the three budding winemakers decided to venture out to the vineyards of Oregon. In the Willamette Valley AVA, they found wineries of modest scale crafting artisanal cool-climate Pinot Noir in the Burgundy style. Inspired by the winemakers they met and wines they tasted along the way, the three amigos returned to Sonoma with ideas of starting their own shared business. Shortly after, they began purchasing fruit from around Sonoma and Mendocino Counties and creating their first experimental wines at the Papapietro Perry Winery, which had agreed to renting a space to them, rent-free. In just a few years, this collaboration grew from just a hobby into a small yet serious business named Anthill Farms. The winery's range of offerings expanded over time to include eight single-vineyard Pinot Noirs, along with two appellation wines, and - if the vintage allows for it - two or three Syrahs and a Chardonnay.
Anthill Farms: Eight Terroirs, Eight Pinot Noirs
The Anthill Farms range includes eight single-vineyard, cool-climate Pinot Noirs made from eight different vineyards in Sonoma and Mendocino Counties. Each of these flagship wines is made in a way to allow for a genuine expression of terroir and vintage. While Pinot Noir is widely considered one of the most complicated grape varieties to cultivate successfully, the Anthill Farm team also considers it the most "transparent," in that it is especially adept at communicating the character of its terroir of origin through its bouquet and palate. Each Anthill Farms cuvee invites Pinot-lovers to meet a vineyard, and each vineyard is carefully selected to form part of the Anthill Farms portfolio.
This patchwork of collaborating vineyards includes, for example, the highly mineral, slate-based Baker Ranch vineyard in the Anderson Valley of Mendocino County, where the soils have an unusually high pH level and produce wines with exotic aromas of cherry liqueur, green tea, jasmine, and fresh mushrooms. The 20-year-old vines of Campbell Ranch Vineyard, located just a few miles from the Pacific Ocean, enjoy a cool, coastal climate and sandy Goldridge soil, producing concentrated, complex and powerful coastal Pinot Noir, with hints of fir bark, garrigue, and osmanthus tea.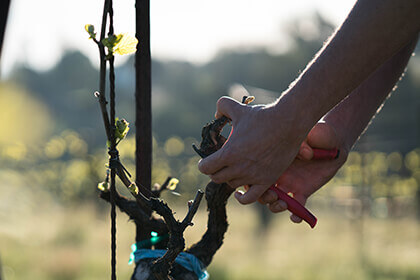 In Mendocino County, Anthill Farms has expanded its Anderson Valley range to include wines sourced from a variety of other vineyards. These include the 2-acre Abbey-Harris Vineyard sitting at 900 to 1100 feet and Demuth Vineyard at 1400-1600 feet, where the intense afternoon winds and cool temperatures lend a perfumed elegance and great depth to the wines. One of two appellation wines produced by Anthill Farms, the Anderson Valley Pinot Noir offers a faithful expression of this remote and very diverse wine region. Elsewhere in Mendocino County, the remote Comptche Ridge Vineyard is home to a dry-farmed mix of fine sandy-clayey soils, producing youthful wines with firm raspberry and bitter cherry flavors.
Within Sonoma County, Anthill Farms works with several other vine growers on the Sonoma Coast, including the foggy 3-acre Harmony Lane vineyard and Peters Vineyard. In the Russian River Valley, the team also works with Tina Marie Vineyard, located in the Green Valley appellation, where the dense plantation of vines lowers yields, resulting in beautifully lushness and natural poise in the vines from there. Most recently, they have also began working with Balinard Vineyard, planted in the mid-2000's on what was historically an apple orchard. Anthill Farm's second appellation wine is the Sonoma Coast Pinot Noir, made from grapes sourced from two separate sites of the appellation: one on the low coast and the other on the high coast.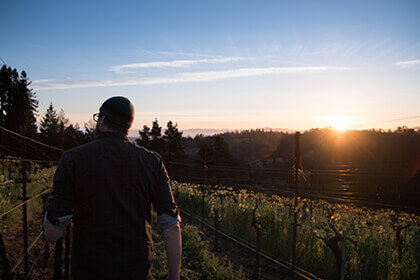 In certain vintages, Anthill Farms also makes a Chardonnay from Peugh Vineyard in the Russian River Valley, an appellation Syrah from Sonoma County and two single-estate Syrah wines (from the Campbell Ranch and Peters Vineyards). While the trio does not own the vineyards from which they source their fruit, they farm many of them and maintain very strict control over viticultural practices used to cultivate them.
Hands-Off, Minimal Intervention Winemaking at Anthill Farms
At Anthill Farms, a minimal intervention approach to winemaking is taken as a way to ensure a terroir-driven expression in the finished product. After arriving to the Papapietro Perry winery, some of the grapes are crushed but some clusters left whole in order to enhance aromas. While some of the fruit is destemmed, stems are added back into the vat, depending on the nature and needs of the fruit. The juice is cooled to delay alcoholic fermentation with the long maceration allowing a fuller extraction of flavors and aromas. The Pinot Noir is handled very gently, without ever being racked, fined or filtered before bottling. Always aiming to achieve in their wines a freshness of flavor and fine acidity, the winery team limits the amount of new oak to only around 30%, relying on barrels of one or two previous uses instead. So, while some oak is detectable in the background of the full flavor palate, the foreground is reserved for expressions of grape variety, terroir and vintage. At Anthill Farms, Pinot Noir is treated almost like a white grape, with plenty of attention paid to limit oxidation during each step of the winemaking process.
A combination of carefully chosen terroirs and minimal intervention winemaking results in a range of Pinot Noir wines that have become the favorite of many Californian restauranteurs. The Anthill Farms signature style can be described as fresh and seductive, with a lively acidity and seamless representations of local terroir. These Pinot Noirs lend themselves as the perfect companions to a wide range of dishes as ideal food-pairing wines.