Rather than coercing the fruit to follow a predetermined style, winemaker Andy Smith treats the fruit with a "light touch," allowing terroir, grape variety and vintage to fully manifest themselves in the estate's wines. The result is a gorgeous portfolio of red and white bottling from a wide range of grape varieties, cultivated with care in DuMOL's estate-owned plots or sourced from California's most prized vineyard parcels.
The Birth of DuMOL in the Russian River Valley
Wine lovers Michael Verlander and Kerry Murphy first met in 1990 at Verlander's restaurant in Walnut Creek, California. Murphy had been an adamant wine collector and had travelled to France with his family on several occasions, tasting the wines of Burgundy and Bordeaux along the way. Having sold his family's tire business to Goodyear in 1987, he was looking for a new challenge and to follow his passion. Murphy and Verlander decided to partner up to establish their own winery in California.
After a long search for the ideal winery location, they settled in the Russian River Valley of Sonoma County, where they founded DuMOL in 1996. The operation was named after the children of the founding winemakers, Duncan and Molly, and its aim would be to emulate some of the great wine styles of France. In their debut vintage, 1996, Verlander and Murphy produced 300 cases in total, split evenly between the Burgundy grape varieties, Chardonnay and Pinot Noir.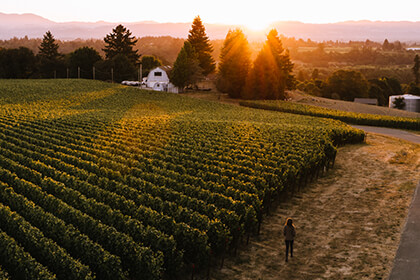 In 1999, the talented Andy Smith joined the DuMOL team as winemaker and viticulturalist, eventually becoming a partner in 2005. With previous experience winemaking in New Zealand, Australia and for Paul Hobbs in Sonoma, Andy Smith dedicated himself fully to the project, helping to elevate the wines of DuMOL to the excellent reputation they enjoy today.
The new, environmentally friendly DuMOL winery in Conde Business Park in Windsor was constructed in 2008, becoming the first "green facility" in the area. This spacious 19,600-square-foot facility has the capacity for up to 20,000 cases. However, DuMOL produces only around 15,000 cases of highly sought-after wine per year. The DuMOL portfolio is best known for terroir-driven, artisanal, cool-climate Chardonnay and Pinot Noir, though they also produce Syrah, Viognier and a Napa Valley Cabernet Sauvignon. Recently the team has also set out to produce Chenin Blanc and Mencia.
In the Densely Planted Vineyards of DuMOL
At DuMOL, it's all about the vineyard. As a self-proclaimed "vineyard up" winery, the team stays very close to the vines, taking time to learn the character of each plot and how best to highlight the latter at the winery. The specific soil type, microclimate, vine age, vine clone selection and many other variables unique to each vineyard determine the way to care for each one on a one-by-one basis.
The estate vineyards span 10 hectares (25 acres) in the Green Valley of California's Russian River Valley AVA, a collection of small select parcels across more than 25 singular vineyard sites. These vineyards are situated on a set of east-facing plateaus with fantastic sun exposure and cool afternoon breezes from a fog that comes in from the south. The terroir is characterized by a diverse mix of soils, including classic Goldridge sandy clay loam at the heights of the plateau, sandy and shallow soils on sandstone subsoils in the middle and an iron-rich Altamont soil in the lower areas of the plateau.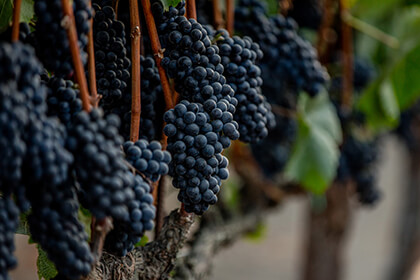 The vines are planted according to European density parameters at 3,630 vines per acre, over three times the 1,200 vines per acre typical of Northern California. While planting at such a high density, one of the highest in North America, does make cultivating the vineyard very labor-intensive, it also helps ensure high quality fruit. This is because high-density planting forces the vines to stretch their roots deeper into the soils in search for nutrients. This, in turn, keeps the fruit clusters quite small, concentrating the aromas and flavors therein.
The DuMOL team also works with a handful of trusted growers in the Russian River Valley, Sonoma Coast and Carneros. The sourcing contracts are long-term, and grapes are paid for by the acre, which helps ensure a limited yield of concentrated, high quality grapes.
A "Light Touch" Approach at the DuMOL Winery
The DuMOL winery, constructed in 2008, is an environmentally-friendly "green" facility, running on 100% solar power and home to a bioreactor system that reduces wastewater impact from the processing activities of the winery to a substantially low level.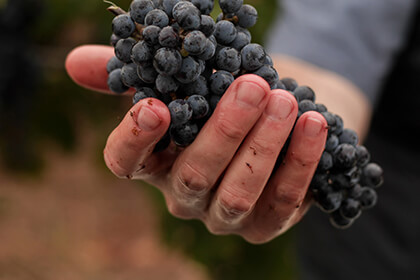 At DuMOL, each unique bottling is considered to be "built in the vineyard" rather than in the winery. Andy Smith and his team carry out a very "light touch" winemaking in order to allow the natural characteristics of each terroir to fully shine through in the glass. So, there is no specific "technique" used. Each parcel is treated as its own unique entity and vinified in a way that best suits its needs. The winery is designed with this parcel-by-parcel vinification in mind, and is home to a collection of customized small-lot fermentation tanks, as well as a terracotta amphora from Tuscany.
DuMOL | A Stellar Line-Up of Terroir-Driven Wines
The DuMOL portfolio comprises a wide selection of single-variety red wines and white wines made from Pinot Noir, Chardonnay, Syrah, Viognier, Cabernet Sauvignon, Chenin Blanc and Mencia. The style of each is determined strictly by terroir of origin, the soil type and climate in which the vine is grown. The winemaking is consistently delicate, and patiently adjusted to the needs of each batch of grapes.
The DuMOL Wester Reach Pinot Noir, for example, comes from a beautifully harmonious combination of four different vineyards in the Russian River Valley and is aged in 40% light to medium toast new French oak barrels for a period of 12 months, followed by 3 months in tank. This is a dynamic and lively Pinot Noir with a noticeably coastal style at the beginning of the mouth, where it is sleek, linear and precise. Eventually, it reveals delicious red, black and blue fruit flavors, as well as savory elements on a complex and layered palate.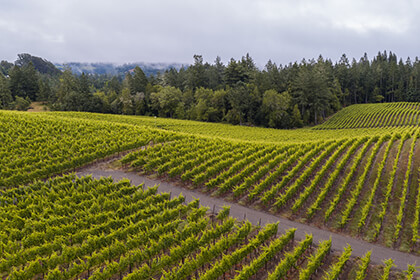 The DuMOL Wester Reach Chardonnay is made with fruit from five different vineyards in the Russian River Valley, from vines aged 43 years on average. This is a barrel-fermented Chardonnay with full malolactic fermentation, also aged for 12 months in 30% new to medium toast new French oak barrels and 3 months in tank. A wine with a gorgeous natural concentration of flavors and a mineral-laden, pithy character; it expresses a firm and serious character on the mid-palate, revealing a citrus oil fragrance on the finish.
The DuMOL Wild Mountainside Syrah is a gorgeous blend of three vineyards, offering aromas of black cherries, boysenberry, violet, lavender and green peppercorns on the nose. Meanwhile, their Napa Valley Cabernet comes from four vineyards and offers a beautifully harmonious and layered texture, and aromas of plum, graphite and violet.