For wine-lovers seeking to rediscover Californian Zinfandel - a wine that, though at times misunderstood, has established itself as a true American staple - the Turley Wine Cellars portfolio is certainly a must-try. A dedicated steward of some of California's oldest vineyards, Founder Larry Turley set his focus on recovering historic plots, converting them to organic, and producing from them a collection of wines that exude terroir in the glass. Under the guidance of Winemaking Director Tegan Passalacqua, the Turley team today produces 47 distinct wines from over 50 different vineyards, mostly single-vineyard expressions of old-vine Zinfandel and Petite Syrah. Full-bodied, robust and built to age, these wines linger long on the palate, recounting the story of their rich heritage.
From Frog's Leap to Turley Wine Cellars
Originally working as an emergency room physician, Dr. Larry Turley decided to pursue his passion for wine after meeting John Williams, soon-to-be winemaker at Spring Mountain. Together, Williams and Turley founded Frog's Leap Winery and produced their first commercial vintage, using grapes purchased from Spottswoode Winery, in 1981. Eventually, the wines of Frog's Leap were produced in a winery just north of the town of St. Helena. When Larry sold his shares in Frog's Leap Winery in 1993, he kept this winery, along with a 5-acre property which he had acquired in 1974. He founded Turley Wine Cellars later that year.
The name Turley is one well-known in the world of California wine. Today, Larry and his wife Suzanne Chambers own three wineries (this original one in St. Helena, one in Templeton, Paso Robles and a third in Amador County). Suzanne Chambers also runs Chambers & Chambers Wine Merchants, which she co-founded with her father, Jack, in 1973. Larry Turley's sister Helen Turley is a very successful, highly acclaimed consulting winemaker, with experience at some of Napa's most prestigious wine estates, including Colgin Cellars. Helen helped her brother put Turley Cellars on the map, working there as winemaker until 1995, after which Ehren Jordan took the reins. Since 2013, Tegan Passalacqua has held the positions of Director of Winemaking and Vineyard Manager at Turley Wine Cellars.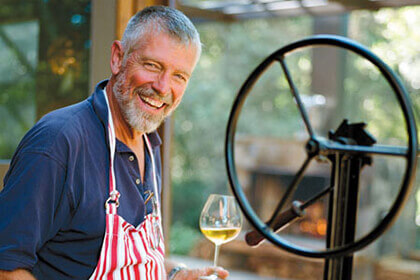 Upon leaving Frog's Leap winery to start his own project, Larry Turley's wish was to produce artisanal, boutique wines from old vines in a much smaller, more intimate production size. Upon founding Turley Wine Cellar, he discovered a passion for the Zinfandel grape, especially old-vine Zinfandel planted as far back as the late 1800's. A dedicated steward of some of California's oldest vineyards, Turley focuses his energy on restoring these historic plots, which have so much left to offer. He continues to produce terroir-driven, distinctive wines that tell the story of their rich heritage.
Turley Wine Cellars: A Collection of Terroirs
Today, Turley Wine Cellars produces 47 different wines from over 50 different vineyards, around half of which are estate-owned and the other half in long-term lease agreements between Larry Turley and like-minded local winegrowers. The focus at Turley has always been the recovery of historic Californian vineyard parcels to produce singular wines from Zinfandel and Petite Syrah. Some of these vineyards are actually over 100 years old, including the Hayne and Ueberroth vineyards, which were planted in 1902 and 1885, respectively.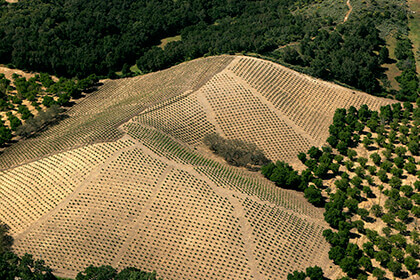 In order to achieve higher quality while also respecting the land, all of the vineyards with which Turley works are either certified organic by California Certified Organic Farmers, or at some stage in the process of conversion to organic. To produce the wines of Turley Wine Cellars, Tegan Passalacqua relies exclusively on naturally-occurring indigenous yeast.
The Wines of Turley Wine Cellars
The Turley Wine Cellars portfolio is made up of 47 different wines, each with its own personality. And while the specific characteristics of each wine depend on grape variety and terroir of origin, the Turley signature style seems to be one that embraces the full-bodied, robust texture and fruit-forward profile of Zinfandel and Petite Syrah grown in the hot climate of California. The fruit is left on the vine long enough to fully ripen, which can often lead to very high levels of alcohol in these wines.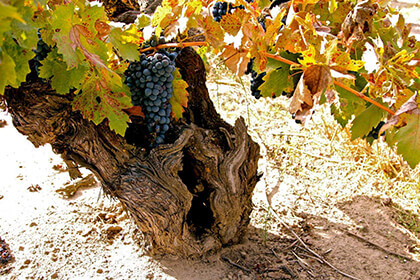 Because the Turley Wine Cellars portfolio is so varied, however, there are many different styles and price-points represented. For example, the Turley Wine Cellar's Juvenile Zinfandel is an approachable, easy-going single-varietal Zinfandel produced from younger vines (from 6 to 25 years old), planted in old vineyard sites. This cuvee blends the terroirs of 18 different vineyards (including some of California's best, such as Hayne, Pesenti, Fredericks and Kirschenmann), offering a beautiful overview of the region in a balanced, varietal-driven red wine.
Similarly, the Turley Old Vines Zinfandel blends Zinfandel harvested from old vines (between 41 and 129 years old) from many different sites in California, including Napa, Sonoma, Lodi, Mendocino, Amador, Paso Robles and Contra Costa. In this case, fruit is taken from vineyard sites that are either too small to produce a single-vineyard cuvée or that are relatively new to the Turley portfolio. By blending fruit from several different sites, this wine offers a beautiful representation of Californian old-vine Zinfandel.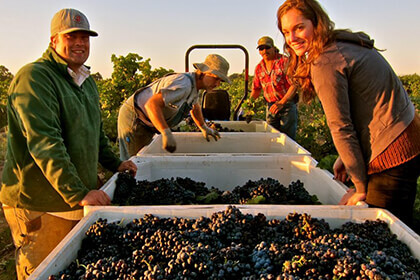 Turley's Kirschenmann Vineyard Zinfandel is produced from ungrafted vines planted in 1915 in a terroir of silica-rich sandy soils in the Mokelumne River AVA. Meanwhile, the Pesenti Vineyard Zinfandel comes from the limestone-based soils of Turley's estate-owned vineyard in Paso Robles, where the vines were first planted in the 1920's. The limestone soils lend a pleasant brightness, chalkiness and floral quality to the Zinfandel from this site.
And for those looking to taste some of the best Petite Syrah in California, the Hayne Vineyard Petite Syrah, from vines planted in 1953, offers a wonderful tasting experience. The Turley Wine Cellars Estate Petite Syrah is another classic, with a dark, brooding nose of luscious black fruit jam, blue florals and exotic spices. Certified organic, this single-variety Petite Syrah combines firm, chewy tannins and a generous acidity with a long, lingering finish. A wine to be decanted before serving and enjoyed with boldly flavored dish, like a slow-cooked beef pot roast or seasoned rack of lamb.