"Voluptuous and sexy." "Viticultural nirvana." "The perfect wine." Superlative abound when it comes to the wines of Colgin Cellars, a true California cult wine classic and a favorite of wine critics since its very inception, not too long ago. When Ann Colgin founded her namesake business in 1992, her aim was to produce small batches of hand-crafted fine wines from precious hillside terroirs, with the same meticulous attention to detail she had paid to her career in the fine arts. Today, the Colgin Cellars portfolio continues to seduce wine lovers around the world with intense and layered Cabernet Sauvignon and mouthwatering, savory Syrah, some of the most sought-after references produced in Napa Valley.
The Birth of Colgin Cellars
A true renaissance woman with a myriad of interests and passions, Ann Colgin began her professional career in fine art, earning an M.A. from New York University and serving as President of Fairchild's Fine Arts Inc. In 1992, she founded Colgin Cellars with the aim to produce small batches of hand-crafted fine wines from the precious hillside vineyards of the area of St. Helena. The first few vintages of Colgin Cellars were produced from grapes purchased from a nearby winegrower in the Herb Lamb Vineyard at the foot of the Howell Mountains, and vinified at a cooperative in Napa Valley. Eventually, in 1996, Ann purchased her first parcel of the Tychson estate, which she gradually expanded throughout the years. With the help of famed viticulturalist David Abreu, she replanted the vineyard with Cabernet Sauvignon, Cabernet Franc and Petit Verdot. This historic vineyard was actually first planted in 1881 by Napa's very first female vintner, Josephine Tychson, but the vines were pulled during Prohibition. Included in Colgin's purchase was the small Victorian cottage built by Tychson and her husband, which was restored by Ann and today serves as her place of residence.
In 1998, Ann and her husband Joe Wender purchased the IX Estate, which is today home to the Colgin Cellars winery. Completed in 2002, the Colgin Cellars Winery is situated at the northern end of the IX Estate, high above Lake Hennessey, in the Pritchard Hill area of the St. Helena AVA. A true work of art, the winery is home to a harmonious combination of classic design and state-of-the-art technology, showcasing the winemaker's craft against a majestic Napa Valley backdrop. The iconic red wines of Colgin Cellars have become true cult classics, earning the remarkable 100-point rating from Robert Parker for the 2002, 2006, 2007, 2010 and 2013 vintages and 90+ ratings for every other vintage. The flagship Colgin Cellars Cabernet Sauvignon blend has been compared by Parker to some of the finest Pauillac wines in Bordeaux's best vintages.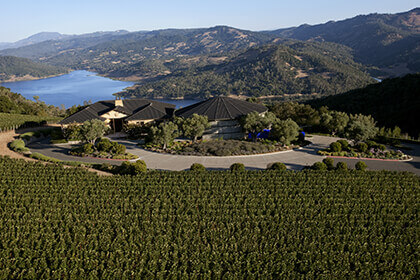 In addition to running her winery with her husband, Ann also remains very active in the world of wine as a consultant and wine auctioneer to the Sotheby's Wine Department, where she has helped develop many important charity wine auctions. Ann also routinely donates rare large format bottles or verticals from Colgin to raise money for important causes, which include health care, the arts and community services. In November of 2017, French luxury giant LVMH acquired a 60% share of Colgin Cellars, with the remaining 40% still belonging to Ann Colgin.
The Terroirs of Colgin Cellars: Cradles of Award-Winning Cult Wines
Today, Colgin Cellars produced wine from three different areas within the St. Helena AVA – the IX Estate Vineyard, the Cariad Vineyards and the historical Tychson Hill Vineyard.
The IX Estate Vineyard
The Colgin Cellars IX Estate Vineyard (or "Number 9 Estate") is a 20-acre property carved out on a broad slope of the St. Helena hill with elevations ranging from 1150 to 1350 feet above sea level. Situated above Lake Hennessy in the Pritchard Hill area, the IX Estate Vineyard is home to the Colgin Cellars Winery. Vines of Cabernet Sauvignon, Merlot, Cabernet Franc, Syrah and Petit Verdot grow here in volcanic soils, rich in iron, clay, rocks and fast-draining gravel, enjoying an agreeable climate year-round.
From this precious plot, which Robert Parker has referred to as "the closest thing to viticultural nirvana as I've ever seen" Colgin Cellars produces its flagship IX Estate Cabernet Sauvignon cuvee, a Right Bank Bordeaux style blend of Cabernet Sauvignon, Merlot, Cabernet Franc and Petit Verdot, which has become known among wine critics for its extraordinary intensity, purity and very long, persistent finish. This vineyard also gives rise to the "IX Estate Syrah," a Northern Rhone style single-varietal Syrah wine made from low yielding clonal selections originally taken from the appellations of Cote-Rotie and Hermitage. In fact, the decision to plant Syrah in this vineyard was quite a risk, since the same parcels could instead have been planted to Cabernet Sauvignon, which (when from Napa Valley) tend to fetch higher price tags. Nevertheless, Ann insisted on this small plot as a kind of personal side project. Presenting an incredibly nuanced and dramatic aromatic bouquet of cured meat, black pepper, luscious black fruit and coffee, the Colgin Cellars Syrah has since become one of the most sought-after examples of California Syrah.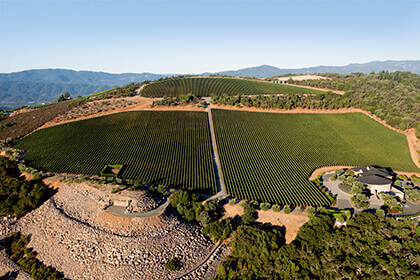 Cariad Vineyards
The Colgin Cellars Cariad Vineyards comprises three main vineyard plots - the Madrona Ranch, Howell Mountain and Thorevilos – and are owned by David Abreu. The fruit harvested from these three beautiful parcels are vinified as a blend of Cabernet Sauvignon, Merlot and Cabernet Franc to produce a Bordeaux-inspired wine named "Cariad," known for its great power and structure, its seductive texture on the palate and remarkably long finish.
Tychson Hill Vineyard
Finally, the Tychson Hill Vineyard, restored by Ann Colgin in 1997, is home to roughly 4 acres of Cabernet Sauvignon and several rows planted with Cabernet Franc and Petit Verdot. Here, the vines stretch their roots deep into a rocky, east-facing slope, where some of the rarest volcanic soils of Napa Valley can be found. This soil, known as Aiken Very Stony Loam, endows the wine produced from this vineyard with a certain earthy, floral quality, which has become their signature. The "Tychson Hill Vineyard Cabernet Sauvignon" is powerful and elegant, with intense, layered aromas of dark fruit, graphite and florals. The 2002 vintage was the first to achieve a 100-point rating by Robert Parker.
Winemaking at Colgin Cellars
Vintages 1992 to 1999 at Colgin Cellars were produced by the award-winning winemaker Helen Turley, who was succeeded by Mark Aubert in 1999. Winemaker Allison Tauziet came on board as assistant in 2005 and, in 2007, was promoted to head winemaker.
Colgin wines have terroir at the heart, with the winemaking adjusted to the specific needs of each plot, vintage and varietal. In the gravity-fed Colgin Cellars winery, the fruit usually undergoes a short cold soak with the total maceration time on skins varying between 25 to 30 days, depending largely on vintage. As the fruit harvested is usually naturally concentrated in flavor, the extraction is rather gentle, taking place at moderate to low temperatures of 80-90 °F. Colgin Cellars has long favored a parcel approach to winemaking, with each parcel and varietal vinified separately and only later blended with tremendous care.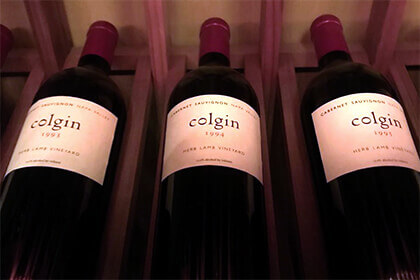 The aging is different for each cuvee, with most of the Cabernet Sauvignon blends aged in 100% new French oak barrels from Taransaud, while the IX Estate Syrah is aged in around 75% new oak barrels and 25% oak barrels with one previous use. As Tauziet claims, it all depends on balance, with new oak helping to shape the magnificent structure of these wines and to help them acquire finesse, while some older oak will allow certain wines to maintain their natural fruit and freshness.