Let's take a closer look at how rosé wine is made, the different types of this wine around the world and information on ways to shop for the bottle type that best matches your taste. If you are looking for a specific rosé wine, please do not hesitate to contact us directly.
A quick introduction to rosé wine
Rosé wines have certainly evolved over time. This emblematic drink dates back to ancient Greece, when people would blend red and white varietals to produce a watered down pink wine. Rosé wines as we know them today were first produced in the Middle Ages by the Romans who migrated to Provence, which undeniably remains the best-known region for the best rosé wines today.
Rosé gained its glamorous reputation in the 19th century, when the south of France became a tourist hotspot, and word of these wonderful wines spread worldwide. It didn't take long for multiple wine regions outside of France to begin producing their own rosés, making it the widespread wine it is today. Like its red and white counterparts, rose wine is delightfully diverse; these wines can be made from almost any red varietal and are enjoyed either dry or sweet, still or sparkling.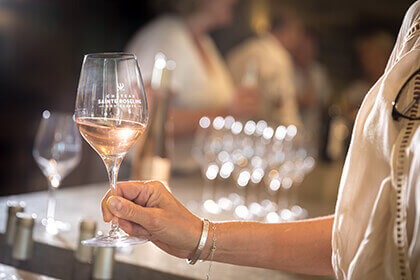 What gives rosé wines their color?
Though there is a pink hue common to every rosé, these wines may range from anywhere between a shimmering salmon to a pretty pink typical to Provence, or even a darker shade closer to magenta (often seen in rosés from Tavel, for example). The color of rosé wines seems to lie between those of rich reds and fine whites, leading to the misconception amongst some that rosé is made from mixing the two. However, these pink wines are usually produced from one of three methods specific to rosé wine production.
For the maceration method, the crushed grape skins soak in the grape juices for anywhere between two to 24 hours, allowing the anthocyanins (naturally occurring color pigments) from within the skin to leach out and dye the grape must. During this process, tannins and flavor components are also transferred into the juice. This method is similar to the one used for red winemaking, though rosé production using maceration usually takes much less time; hours as opposed to the days or weeks for red. A rarer but just as effective method is the saignée (French for "bleeding") method, where a small amount of grape juice from red winemaking is "bled off" from the must and put into a new vat, where it is left to ferment by itself and produce rosé. Last but not least, the blending method, as the name suggests, is when a bit of red wine is added to a vat of white wine, dyeing the color pink. In France, this last method is only allowed in the Champagne wine region, where sparkling rosés can be made from a blend of Pinot Noir and Chardonnay.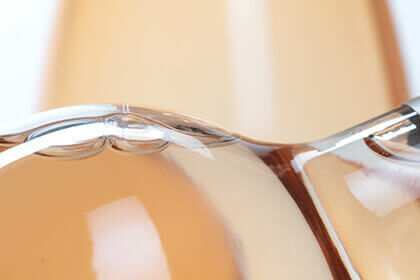 Rosé Wines from Provence
The sunny Provence wine region in southeast France is the spiritual homeland for rosé wine production, with nearly 90% of the wine production here being dedicated to dry rosé. With a beautiful diversity of soils and a landscape of sloping hills and magnificent mountains, Provençal vineyards truly paint a picturesque image. Here, the warm Mediterranean climate and the Mistral wind (which prevent disease and cool down the vines), creates an environment perfect for cultivating wine grapes. Provence is home to a wide range of well-known rosé brands, including Miraval and Whispering Angel.
The largest of Provence's nine AOC appellations is Cotes de Provence, which is also the region's most diverse in soil types and microclimates. The rosés produced here are floral, fruity and fresh, with delicious flavors and a light pink color. More to the east and closer to the coast is the La Londe wine region, where producers make crisp and dry rosés from, for the most part, Cinsault and Grenache grapes. Full-bodied rosés are produced using the Tibouren varietal in the mountainous Frejus area, easily recognizable by their salmon and copper colors peeping through the bottles.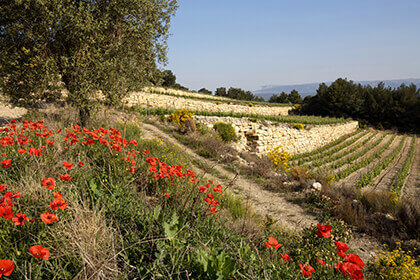 In the west of the Provence wine region is Coteaux d'Aix en Provence, which produces blends of Cinsault, Counoise, Grenache, Mourvedre and Syrah. At the heart of the region is Coteaux Varois de Provence, which produces rosés using similar blends, although they also sometimes include Rolle. For an intense rosé, Cassis is a top choice, while the darker rosés from Bandol stand out for their finesse and incredible aging potential. The powerful Mourvedre varietal reigns in Bandol, a grape which is cultivated with much patience due to its late ripening. The resulting rosé from this varietal is worth the wait, however, producing a world-class wine with undeniable aging potential.
Rosé Wines from Tavel
Over in the Southern Rhone Valley, the Tavel wine region is the oldest and one of the best for rosé, and has dedicated itself entirely to the production of this pink wine. Like Provence, Tavel enjoys a warm and breezy Mediterranean climate, where the strong sun is balanced by the Mistral wind, creating ideal conditions for vine development. This unique zone possesses a fantastic variation in soil types, ranging from sandy to limestone and even galets roulés (rolled pebbles), typical to some of the top wine regions in France. Traditionally a wine of aristocrats, Tavel rosés are a concentrated, deep pink in color, with a richness that reflects on the indulgent, full-bodied and fruity palate, which offers plenty of flavor content. With age, these wines develop a splendid spice and minerality. The main varietal used here is Grenache (both red and white), which is blended with Mourvedre, Clairette, Picpoul and Syrah amongst others.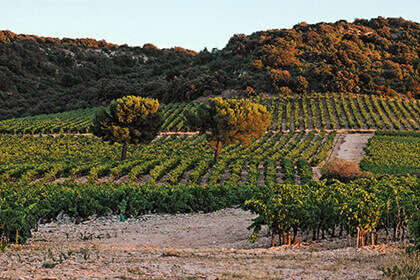 Rosé Wines from Corsica
One of the only wine regions to use the saignée (bleeding) method for its rosés, this beautiful island nestled between France and Italy is home to a myriad of varietals, most of which are indigenous. Grapes grown here benefit from a sunny climate, mountainous influence and rich soils, producing aromatic, mineral and fine rosés. The Patrimonio appellation produces rosé wine primarily with the native Nielluccio (Sangiovese) grape, which is usually blended with varietals such as Grenache and Vermentino. Further down south, rosés from the Ajaccio appellation uses Sciacarello as its main varietal, giving way to soft and fragranced rosés.
Rosé Wines from The Loire Valley
The Loire Valley, though perhaps best known for its red and white wines, also produces wonderfully fresh and fruity rosés in its cool climate. At the heart of the Loire Valley, the Chinon appellation uses Cabernet Franc to produce ripe monovarietal rosés. Rosé de Loire is an AOC spread across the Anjou-Saumur and Touraine appellations, producing clear and fruity wines that are light and fresh on the palate. In particular, Anjou accounts for around half of the region's wine production, producing mostly dry rosés from Grolleau and Cabernet Franc, though slightly sweeter options also exist, such as Rosé de Anjou. These rosés are best enjoyed young.
Other Rosé Wine Regions
While the rosé wines of France seem to be the most prominent worldwide, there are many other regions in both the Old and New World that produce noteworthy rosés. In Spain, for example, rosé wines (locally known as Rosado) are made from Grenache (Garnacha), Mourvedre (Monastrell) or Tempranillo. The three varieties are often blended together to create a bright pink wine, which tends to be very dry on the palate. Rosé takes a sparkling form in the Penedes region of Catalonia, where Macabeu, Xarel-lo, Parellada and Monastrell varieties are blended to make Rosé brut Cava.
In the New World, fantastically fresh and fruity pink wines are produced in Australia, New Zealand, South Africa and England, just to name a few countries. Several domestic versions of rosé are even available in the United States, including Pinot Noir and Gamay rosés from cooler regions like Oregon and the Sonoma region of California. Other American rosés include ones made with Syrah in Napa Valley, and Merlot blend or Pinot Noir rosés from Long Island, which are often pale pink and Provençal in style.
Food and Wine Pairings
Rosé wines are especially popular to consume chilled in the summertime. These are easy-drinking, delicious wines with less tannins due to a shorter maceration period and they are available in a wide array of shades, ranging from the bone-dry onion skin pink Provençal rosé to medium-dry Cabernet Franc rosés of the Loire and sweeter White Zinfandel blushes from the US.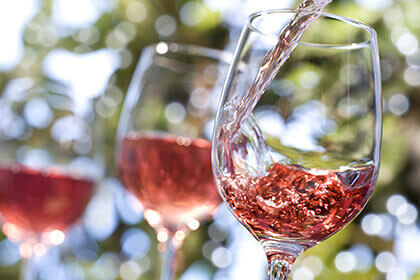 And while rosé wines are a fantastic easy-drinking choice for a light aperitif or party, they also work beautifully with a wide range of food pairings. In general, these wines tend to match light summer dishes, though the style and flavors of each rosé should be considered in choosing the right food with which to serve it. For example, rosé wines that are lighter in style will pair with delicate dishes, like a Salade Nicoise (with tuna and anchovies), sushi, fresh seafood or quiche with leeks. Fuller bodied rosé wines from Bandol or Tavel have enough body to stand up to dishes with more seasoning – for example, grilled chicken with black pepper, charred vegetables or pasta with red sauces. Meanwhile, rosés of the New World, which tend to be riper and slightly sweeter, pair wonderfully with spicy, warm-climate dishes, like Indian curry specialties or spicy Mexican food seasoned with chili peppers.