At a time when harsh trade restrictions were stifling its growth in Cahors, the grape travelled on the ships of French immigrants to Argentina, where it thrived in the super-high-altitude vineyards of Mendoza and eventually became the country's flagship grape. Today, this dark-skinned grape produces a variety of beautiful wines, including the classic high-altitude expressions from Argentina (loaded with blackberries, black plums and black cherries, along with touches of cocoa, leather and violets), as well as the more restrained, earthy and savory expressions of Cahors, where it is locally known as Cot. These are also wines that are known for the ease with which they pair with food. Serve an Argentine Malbec with a char-grilled buffalo burger or a French Malbec with braised lentils sprinkled with nutty aged Parmesan.
The Fascinating History of Malbec Wine
The first written record of the Malbec variety dates back to the 16th century, when it was known as Auxerrois and widely planted in the Cahors winegrowing region of southwestern France. At this time, the wines from this grape variety were produced in Cahors and shipped downriver to Bordeaux, whence they were subsequently exported to England, where demand for French wine has always been significant. Historically, the wine merchants of Bordeaux would sell off all of their own wines before they touched the Cahors, which meant that the latter would be put on hold and sold at lower prices than Bordeaux wines. While these restrictions were eventually lifted, Malbec's reputation suffered and plantings were significantly decreased. It was replaced largely by the more popular Cabernet Sauvignon grape. Much of what was still left of this grape after the phylloxera vine epidemic and the financial hardships of the 20th century was wiped out in the devastating frost of 1956. Nevertheless, some Bordeaux producers continued including Malbec grapes in their blends.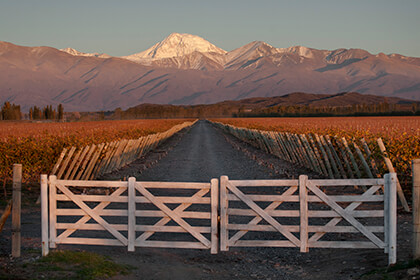 It was during the mid-1800's that Malbec got a "second chance," when it was brought by French immigrants to Argentina and planted widely there, under the direction of French agronomist Michel Pouget. In the century that followed, economic turmoil led to many Malbec vines being pulled up and replaced by high-yielding varieties used to produce bulk wine. Nevertheless, Malbec was rediscovered in the later 20th century and has since then become the flagship grape of Argentina. The grape has thrived in the dry and sunny climate of this country, particularly in the high-altitude areas of Mendoza's Uco Valley and Lujan de Cuyo.
The "renaissance of Malbec" and the grape's success in Argentina has prompted winemakers all over the New World the invest in this variety. In the 1990's, winemakers in California started using it to produce Bordeaux-style "Meritage" blends. This red grape can today be found all over the United States, as well as in Chile's Central Valley, Australia's Clare Valley and Langhorne Creek, New Zealand, South Africa and beyond.
The Physical Characteristics of this International Grape
Malbec is a deep and inky, almost black-blue variety of red wine grape, known for its particularly thick skins, which require plenty of sunshine to fully ripen. Under the right conditions, the grape ripens half-way through the growing season, producing relatively high yields. It is, nevertheless, highly susceptible to early frost and prone to coulure (failure to flower because of weather conditions).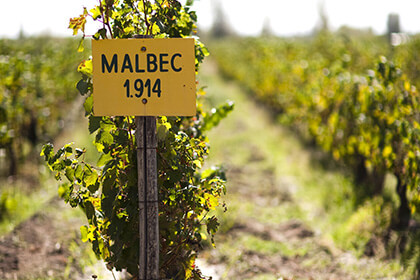 It is widely believed that the Malbec grapes brought over to Argentina were early massal selections of pre-phylloxera stocks, which no longer exist in France. These "Argentine Malbec" grapes tend to have tight bunches of smaller berries with softer tannins, while the post-phylloxera "Cot" grapes (the local name for Cahors Malbec) are larger with more overt tannins.
The Grape in its Adopted Home: Argentina
Today, Malbec is the most widely planted grape of Argentina, responsible for roughly 76,700 acres of plantings in total. This represents almost 75% of the global acreage dedicated to this grape. Most of the country's high-quality wine production is concentrated in the Mendoza region at the foot of the Andes Mountains. While the grapes planted at lower elevations can struggle to develop the acidity necessary to make an age-worthy and balance wine, higher-elevation grapes enjoy wide diurnal temperature shifts between cold nights and hot days, which allows the fruit to conserve its natural acidity. This explains why some of the greatest Malbec wines (those of Familia Zuccardi and Catena Zapata, for example) come from high-elevation areas of Mendoza, like Lujan de Cuyo, the Uco Valley and San Juan.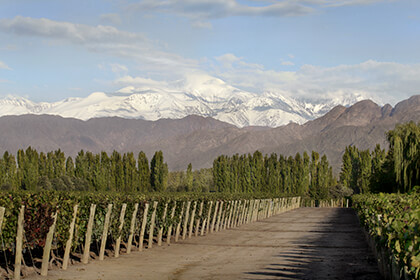 Argentine Malbec tends to be very fruit-forward, recognizable by its intense aromas of black cherries, plums and blackberries. The black fruit aromas are complemented nicely with nuances of leather, cocoa, black pepper and touches of mocha and blueberries from oak. When grown at higher altitudes, Argentine Malbec wines also exhibit a distinctively elegant floral touch, particularly reminiscent of fresh violets. While lower-altitude wines have thinner skins and produce wines with milder tannins, higher-altitude wines (like those of Salta) have thicker skins, resulting in a more tannic, deeper and more intensely flavored profile. High-altitude Malbec has plenty of acidity to balance the rich fruit flavors and to contribute remarkable aging potential to the finished wines.
Argentine Malbec is the ideal pairing with a wide range of boldly flavored dishes, from red meats and portobello mushroom burgers to dark chocolate desserts.
The Grape at its Origin: France
Malbec is believed to have originated in the Cahors region of southwestern France, where it legally must constitute at least 70 percent of the blend for any wine labelled AOC Cahors. Cahors is the only region in the country where it is produced as a varietal wine, though it can also be blended with up to 30% Merlot or Tannat. Additionally, it is used as one of the six grapes in Bordeaux blends, particularly the Bourg and Blaye appellations on the Right Bank of the Bordeaux region. Malbec is also sometimes blended with Cabernet Franc and Gamay in the Loire Valley, to produce the red wines of Anjou, Touraine and sparkling Saumur, for example. Altogether, Malbec represents roughly 15,000 acres of vineyards in France.
Unlike the more exuberant, dark-fruit-forward Argentine expressions of this grape, French Malbec tends to be a bit more restrained in its character. Fruit flavors of redcurrants, raspberries and red plums are accented by nuances of leather, as well as a slightly savory and bitter touch and a certain green quality. These wines tend to have higher acidity, lower alcohol and they are usually more tannic than their Argentine counterparts.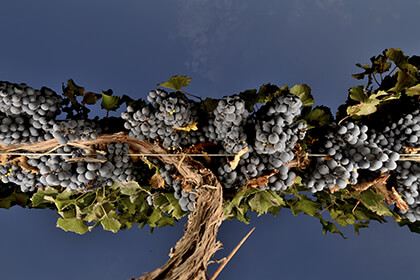 The earthy quality of French Malbec will allow this wine to pair nicely with aged cheeses and nut-based dishes, along with braised lentils or a char-grilled buffalo burger with mushrooms and blue cheese. Black beans and rice are another great food pairing.
How to Best Enjoy these Wines
Like most medium-to-full-bodied red wines, Malbec should not be served at room temperature but with a very slight chill of 60-65°F to let the wine reveal its full depth of flavor. Serving this wine in a glass with a wide bowl will allow it to reveal its intense aromas of fruit, while the large size of the glass will soften the touches of earth, spice and savory nuances. Decanting for around 30 minutes will benefit most Malbec wines, helping them to unlock their aromas.