A Winemaker in Napa Valley Since 1977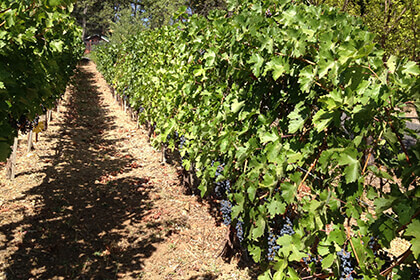 Robert Foley first visited the wine region with his father in 1964. Passionate about winemaking, but only as a hobby, his father was looking to buy some root-stock with which to start growing grapes and consulted with Dr. Harold Olmo at UC Davis for advice on how to best do so. Shortly after, Foley's neighbor Bill Miller, a distributor of wines from Inglenook, took Robert to taste a rare Charbono wine at Inglenook Winery in St. Helena. It was this wine that encouraged Robert to enroll at UC Davis, from where he graduated with degrees in Oenology and Viticulture. In 1977, he began his career, working at several highly regarded wineries, including Pride Mountain Vineyards, Switchback Ridge, Markham, Hourglass, Paloma, Engel Family, School House, Dos Lagos and Padis. He also began custom-crushing to make his own wines from purchased fruit at local wineries in Napa Valley. In choosing the right wine-growers to source his grapes from, Robert focused on those with hillside properties, with plenty of sunlight and excellent water drainage.
Eventually Robert found a property at 2,000 ft on Howell Mountain and moved there in 2006, adding to the property until it included 5 acres in total. Here, with the help of vineyard manager Hector Lopez, he began producing very well concentrated, age-worthy wines from Cabernet Sauvignon and Merlot. It is here with Hector's "golden touch" that he produced the Howell Mountain Cabernet Sauvignon, one of the winemaker's favorites.
Claret: A Robert Foley Signature
In 1998, Robert produced the first wine under his label, his flagship Claret. This is a blend of mostly Cabernet Sauvignon with Merlot and some Petit Verdot, produced in the style of Bordeaux's Left Bank. The grapes are taken from three of Napa' most celebrated terroirs, which are both cleverly expressed in the finished wine. On the eastern side of Napa Valley, the vineyards of Howell Mountain are planted at 2,000 ft and enjoy rich volcanic soils, a dramatic exposure and high degrees of thermal amplitude which lend a very firm tannic structure to the Claret. Mount Veeder, on the other hand, is home to both volcanic and ocean floor soils, and the vineyards are surrounded by a wild forest, which contributes touches of menthol and spice to the wine. Finally, the vineyards of Calistoga enjoy higher temperatures and earlier ripening, adding body and alcohol to the blend. The combination creates a beautifully balanced and even wine with aromas of ripe black cherry and touches from the French oak in which they age. In 2005 Robert Foley bottled his first single-varietal Merlot, made with grapes from Howell Mountain and Calistoga vineyards.
Pinot Noir: Burgundy to Napa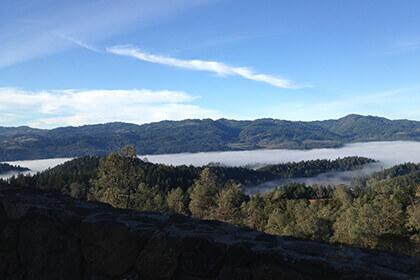 Throughout his time working at the wineries of Napa Valley, Robert often came across Pinot Noir and eventually began to believe in the enormous potential this variety had when paired with the terroirs of California. As a founding winemaker at Markham Vineyards, he had worked with several Pinot Noir clones and Gamay. At School House Vineyards, one of the Valley's oldest producers, he had also made Pinot noir wines. In order to find out more about how to grow and manage this notoriously sensitive variety, Robert took a trip to Burgundy and met with several producers of Pinot Noir in the region. Back in Napa, a friend introduced him to Lee Hudson, a highly respected grower of this varietal in the Carneros region, who became the official supplier for the Robert Foley Pinot Noir. This wine, whose first vintage was 2010, is aged for one year in 100% new Burgundian oak barrels and another in bottle before commercialization. With generous aromas of strawberry and raspberry balanced with hints of toast from oak, this wine delivers a beautiful natural acidity, fine-grained tannins and long, elegant finish on the palate.
Charbono: A Varietal Muse
It was a barrel-tasting of 1968 Inglenook Charbono that, in the year 1969, first inspired Robert Foley to produce wine. Years later, the winemaker searched high and low to find this rare varietal to which he wished to pay homage. The first cuttings of Charbono were brought to the Calistogo area of Napa Valley from Savoie in the French Alps in the 1880's, before the varietal was wiped out in Europe by phylloxera just a few years later. In Calistoga, Inglenook Winery began to use Charbono grown by the Heitz Family for blending with Cabernet Sauvignon. However, they also small amounts aside to be bottled as a varietal wine and it is exactly this limited selection that Robert tasted in 1969. Charbono is a varietal that does well in regions like Calistoga, characterized by dramatic temperature swings. Since the grapes stop producing sugar around the end of the summer, before the skins reach full maturity, wines of Charbono tend to be lower in alcohol, offering great acidity and fruit with a light to medium body. Despite all of its great qualities, Charbono was virtually unknown and certainly not in high demand in Napa Valley. So when Robert approached the Heinz Family to purchase their fruit, the latter were happy to oblige. Only around 70 acres of this variety is grown all over the world and half of that in Napa. Currently, Robert Foley is the largest producer of Charbono wine in the world. These wines present a deep, opaque ruby color and beautiful aromas of fruit jam and vanilla.
Robert Foley's identity and winemaking philosophy are perhaps best represented by his Griffin cuvee, named after the Foley family crest pictured on all of the wines under his label. The griffin is a mythical creature that combines the powers of the lion and the eagle, in the same way that Robert combines fruit from the best terroirs of Napa Valley to produce powerful wines. The Griffin blend changes each year, depending on the performance of the different varietals in each vintage.