Though sometimes slightly strict at the beginning, his famed whites age gracefully in the bottle, relaxing over time to reveal a tactile and generous profile, marked by fresh or ripe citrus, white fruit and a mineral touch in the glass.
Pierre-Yves Colin-Morey | From His Father's Domaine to His Own
The eldest son of famed Burgundy producer Marc Colin, Pierre-Yves Colin was practically born into the vineyard. Having studied enology in Beaune and honed his skill at wineries in the Northern Rhone Valley, the Loire and Languedoc, he began his work as winemaker at his father's estate, Domaine Marc Colin, in 1994. From the outset, Pierre-Yves followed a natural, minimal-intervention approach to viticulture, eliminating the use of herbicides and plowing as a way to deepen root systems.
While still working at his father's estate, Pierre-Yves established a négociant business in 2001 together with his wife Caroline, daughter of another well-known Burgundy producer named Jean-Marc Morey. This operation, which initially focused on tiny quantities of fine purchased wines, would form the foundation of the couple's proprietary Pierre-Yves Colin-Morey estate.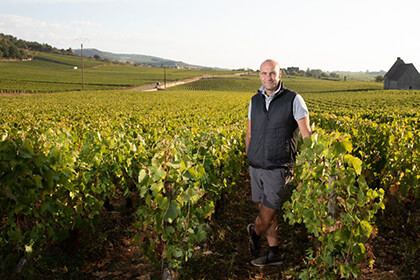 After the 2005 vintage, Pierre-Yves left his father's domaine to establish his own label with 6 hectares (15 acres) of vineyards inherited from his family. In 2006, he invested in a new press and today he produces almost 70% of his bottlings from his own vineyards and the remaining 30% with grapes purchased from known and trusted producers in top Burgundy appellations. Already recognized as a rising star while working at his father's domaine, Pierre-Yves Colin has over the past few years earned a reputation as "one of the most gifted winemakers of his generation," producing outstanding, mineral-driven white wines (and a few Pinot Noir bottlings). These are wines sought-after by Burgundy lovers around the world.
Pierre-Yves Colin-Morey | Estate-Grown and Purchased Grapes
Roughly 70% of the beautiful, terroir-driven bottlings of Pierre-Yves Colin-Morey are produced from 6.5 hectares of sustainably and organically cultivated estate vineyards. The latter are located in the St. Aubin area (including Premiers Crus of Chateniere, Remilly and Champlots) as well as Chassagne-Montrachet area (including Premiers Crus Chenevottes and Caillerets) in the Burgundy region of France. The remaining fruit is purchased from trusted producers in top Burgundy appellations, including some Grands Crus like Batard-Montrachet, Puligny-Montrachet and Corton-Charlemagne.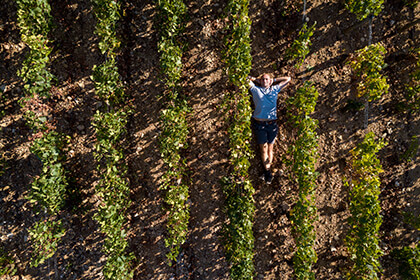 The Pierre-Yves Colin-Morey estate is known mostly for its white wines made from Chardonnay, though they do produce some red wines and rosé wines with Pinot Noir from Saint-Aubin and Santenay.
In the winery, Pierre-Yves does not differentiate between his own and purchased grapes. The latter are sourced exclusively from producers whose viticultural approach meets his exacting standards and are handled with the same care as fruit from estate vineyards.
In the Winery of Pierre-Yves Colin-Morey
The Pierre-Yves Colin-Morey winery is situated below the winemaker's home in Chassagne-Montrachet. Here, the white grapes are whole bunch pressed into barrel and then left to undergo alcoholic fermentation exclusively with naturally occurring native yeasts. The cellar is no longer heated in the winter, thus delaying malolactic fermentation, which finishes 8-9 months after the harvest. In some of the batches, malolactic fermentation is blocked altogether, in order to avoid the wines from becoming too ripe.
The wines are left on their lees for a long time (up to 18 months), during which batonnage (the stirring of the lees) and racking are strictly avoided. This long period of maturation allows the wine to preserve the aromatic intensity and purity of the fruit, while also setting them up for long-term aging in the bottle.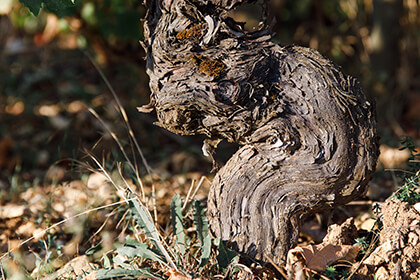 Pierre-Yves Colin-Morey stands out among Burgundy producers for an unusual choice of aging vessels, preferring to use large 350-liter demi-muid barrels of new oak on roughly 80% on the wines. So, while the top wines are aged in new oak, the size of the barrel minimizes oak influence, as well as helping to delay malolactic fermentation.
The wines are not filtered before bottling and the bottles of Premier and Grand Cru wines are sealed with soft wax to avoid oxidation. The wines of Pierre-Yves Colin-Morey are known to age gracefully in the bottle, evolving beautifully for over a decade after harvest.
Pierre-Yves Colin-Morey | Wines and Wine Styles
The Pierre-Yves Colin-Morey portfolio offers a fascinating adventure across some of Burgundy's most prized appellations. These wines are terroir-driven to the core, with style depending largely on vineyard or vineyards of origin. Though some of them may be slightly strict at the beginning, they age beautifully in the bottle, relaxing to reveal a myriad of aromas. The Pierre-Yves Colin-Morey Saint Aubin Village « Le Banc », for example, blends fruit from multiple parcels in the same village lieu-dit, offering on the attack a tart acidity that relaxes into flavors of fresh yellow citrus.
The Pernand Vergelesses Premier Cru "Sous Fretilles" offers the expression of a sunny plot of Chardonnay on a plateau at 300m of elevation. This beautiful Burgundy exudes ripe citrus, white florals and confit lemon on the nose, revealing a fuller-bodied palate with a seductively creamy texture from lees-aging. Pair this wine with a rich and creamy fish or game dish, a salmon terrine or a creamy veal and mushroom stew.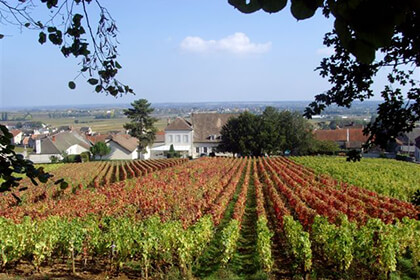 Meanwhile, the Pierre-Yves Colin-Morey Chassagne-Montrachet Premier Cru "Baudines" presents a cooler, more restrained profile, with a nose combining tart green apple, a crushed stone minerality and rose petals fragrances. The palate is classic for its appellation, revealing a medium weight and steely, mineral-driven profile, followed by a clean, dry, lingering finish. This Burgundy white will go best with more delicately flavored dishes, such as steamed halibut with ginger.
And for the lightest summertime dishes or aperitifs all year round, the Pierre-Yves Colin-Morey Rosé de Pinot Noir is a special treat, indeed. This 100% Pinot Noir direct-press rosé is made from 55 year old vines from a single lieu dit in the Hautes Cotes de Beaune and aged in large 2-3 year old barrels. This is a refreshing and mineral Burgundy rosé, with a nose of cherries, plums, tomato leaf and subtle barnyard aromas.