The History of Domaine Laroche
The story of Domaine Laroche begins in 1850, when a vineyard laborer by the name of Jean Victor Laroche purchased his first small plot of vines in Maligny, near the village of Chablis. The estate expanded slowly through a series of modest expansion as it was passed down from father to son over the three generations that followed. By the mid-1960's, it totaled roughly 6 hectares (or 14.8 acres). It was in 1967 that Henri Laroche inherited Domaine Laroche. By this time, the Chablis appellation had fallen into decline due to a series of challenges, beginning with the increased competition for the Paris market brought on by the new railway in 1856. The vineyards had also suffered significantly from phylloxera, powdery mildew and persistent spring frost. Nevertheless, Henri Laroche dedicated himself to saving the family vines, eventually passing them to his son Michel Laroche.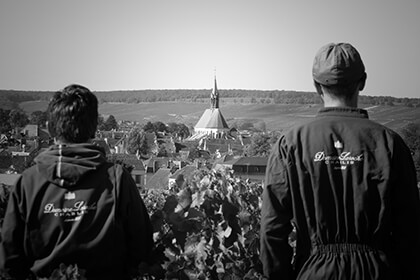 Convinced of the tremendous potential of Chablis wines from an early age, Michel Laroche joined the family business after completing his studies in Oenology in Dijon. Over the next two decades, Henri and Michel would expand the estate significantly with the purchase of plots in the best "climats" of Chablis. Michel Laroche dedicated himself fully to improving the quality of Domaine Laroche, carefully controlling the yields of his vines and introducing modern equipment both in the vineyard and winery. In 1985, Michel purchased L'Obediencerie, a historic monastery whose monks made the very first wines of Chablis back in the 9th century. This ancient building, representing the very spirit of the appellation, now houses the aging cellars and offices of Domaine Laroche.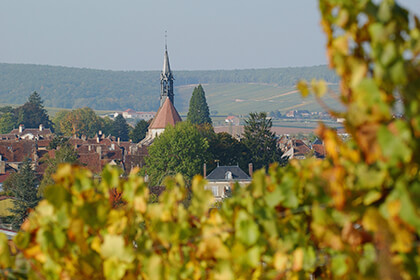 It was Michel Laroche who in 2000 founded the Union des Grands Crus de Chablis, an organization tasked with promoting and controlling the quality of Chablis wines. The estate is still closely involved in the actions of the Union as one of the most important references of the Chablis appellation. In 2011 Grégory Viennois became the Technical Director of Domaine Laroche, helping define and further enhance the distinctive style the estate's wines. Today, Domaine Laroche is undergoing conversion to organic viticulture.
In the Vineyards of Domaine Laroche
Today, Domaine Laroche comprises roughly 90 hectares (222 acres) across the Chablis appellation of Burgundy, including 6 hectares (14.8 acres) of Grand Cru vineyard (including Les Bougros, Les Blanchots and Les Clos), 21 hectares (52 acres) of Premier Cru vineyard (including Les Vaudevey and Les Vaillons), and 63 hectares (156 acres) in the village appellation of Chablis. Notably, almost 70% of the production of Domaine Laroche is dedicated to village-level Chablis wines, including the estate's flagship cuvée Saint Martin.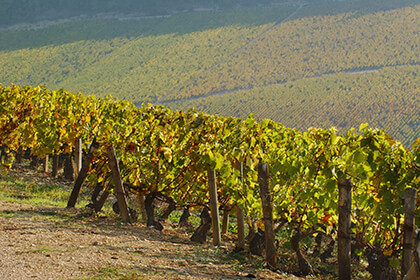 The vineyards of Domaine Laroche are dedicated to the flagship grape variety of Chablis, Chardonnay. The vines grow in the appellation's distinctive Kimmeridgian soils, which blend chalk, clay and fossilized oyster shells. This unique soil is responsible for the world-renowned style of Chablis Chardonnay: crisp and precise white wines with a tell-tale minerality. In a cold climate like Chablis, the threat of frost is ever-present, so the vines of Domaine Laroche are pruned twice in order to prevent early budburst. Yields are controlled through systematic debudding and green harvest when necessary.
Since early on, the Domaine Laroche philosophy has included a large-scale approach to sustainability and environmentally friendly viticulture. The vines are treated in a way to improve their natural balance and their natural immunity against pests and diseases. Out in the vineyards, chemical herbicides, pesticides or anti-botrytis treatments are replaced with natural treatments, like nettles and valerian.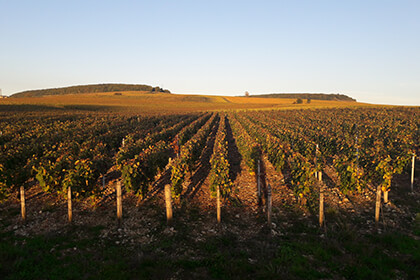 The estate's viticultural philosophy revolves around the concept of one-man plots, which means that a single person is entirely responsible for looking after each vineyard parcel, from pruning to sorting of the harvested fruit. This ensures maximum attention spent on each plot, to produce wines of greater quality and typicity.
In the Domaine Laroche Winery
Environmentally friendly viticulture is complemented by a minimal intervention approach in the Domaine Laroche winery, which employs sustainable practices like reducing power consumption significantly and relying on rainfall water.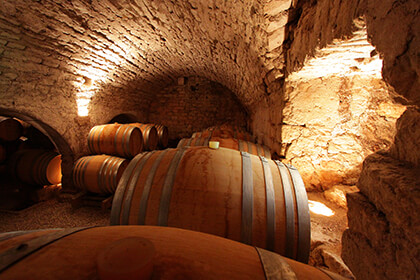 Fermentation typically takes place in stainless steel tanks, except for the Grand Cru and Premier Cru wines, which are vinified partly in barrels to lend a wine a subtle touch of oak and oxygenation. The natural characters of the fruit and the pure expression of terroir are protected at all costs. In fact, to maintain this purity, Domaine Laroche became in 2001 the very first Burgundy producer to switch his entire portfolio to screwcap closures rather than cork, even for the Grand Cru and Premier Cru wines.
The Wines of Domaine Laroche and How to Enjoy Them
Each bottle in the Domaine Laroche portfolio is a pure, terroir-driven expression of a single grape variety – Chardonnay, in the case of Chablis. The brand is known for its crisp, lean and mineral signature style of white wine, available in a wide range from Grand Cru to Village.
The Domaine Laroche "Les Blanchots" Grand Cru is the estate's signature Grand Cru wine, coming from a terroir of layered white clay on Kimmeridgian limestone rich with ammonites. The southeast exposure of the vines allows the grapes to ripen slowly and the flavors within to develop gradually, resulting in dazzling complexity. This is a delicate and silky Chablis with gorgeous aromas of yellow orchard fruit, marzipan and mint. On the palate, it shows a nice concentration and tension, leaving behind a saline and slightly oaky finish. The Domaine Laroche "Les Blanchots" Grand Cru Reserve de l'Obedience presents a very special expression of this terroir, through a rich and generous nose of honey and butter, as well as superb complexity on the palate. Pair these Chablis Grand Cru wines with fresh seafood like scallops, or a rich and creamy potato and leek gratin.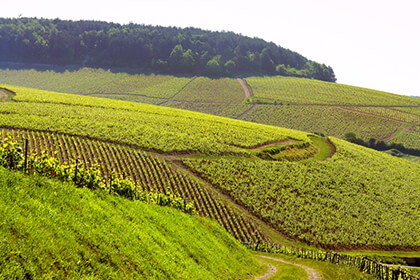 Among the most prestigious of Chablis Premier Crus, the Domaine Laroche "Les Fourchaumes" Vielles Vignes Premier Cru is produced from old vines planted on a slope with south and west exposure. This is a very elegant wine with delicate fragrances of white blossom and orchard fruit, along with that signature Chablis minerality. It will pair beautifully with a lobster salad or veal served with a lemon sauce.
The Domaine Laroche Chablis Village "Saint Martin" is the estate's signature wine, named after a generous Saint, who once sliced his coat in half with a sword to share it with a beggar. This cuvée is produced from a strict selection of the best grapes from the best plots of the estate. Extended lees-aging lends this wine a typical minerality and pure expression of the Chablis terroir. It shines just as well as an aperitif as when paired to fresh seafood, particularly prawns.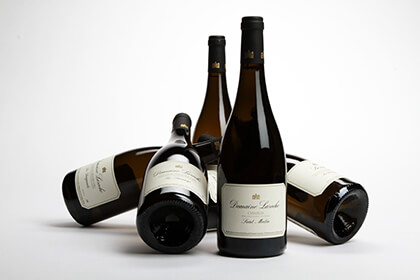 Domaine Laroche also produces a handful of wines in the Languedoc, including its Domaine Laroche Mas La Chevaliere "Pinot Noir," which reveals ripe red cherry aromas and very fine tannins. A nice cool-climate Pinot Noir to pair to a charcuterie board, for example.