From a boutique collection of Burgundy's top "climats", Laurent produces a collection of 24 bottlings, including 10 Premier Cru and 4 Grand Cru wines from the legendary crus of Clos de la Roche, Charmes-Chambertin and Griotte-Chambertin. While the estate cultivates all four of Burgundy's flagship grape varieties, they are best known for their tremendously complex and age-worthy Pinot Noir, which express with great elegance its terroir of origin in the glass.
The History of Domaine Hubert Lignier
The story of the estate begins around 1880, when Jacques Lignier acquired some small vineyard plots in the appellation of Morey-St-Denis in the Côte de Nuits area of Burgundy. This land was passed down through the generations, always from father to son: from Jacques Lignier to Jules Lignier to Henri Lignier and Hubert Lignier. It was Hubert who most significantly expanded the family's vineyard holdings by adding 8 hectares (19.7 acres) of vines in the 1960's.
In 1992, Hubert was joined by his son Romain Lignier, who would fine-tune the estate's wine production before passing away tragically in 2004. Two years later, Romain's brother Laurent Lignier joined his father at the helm of the estate, applying his technical and commercial skills to further expanding the reputation of the estate's wines. Together, Hubert and his son Laurent constructed a brand new wine cellar in the village of Morey-St-Denis.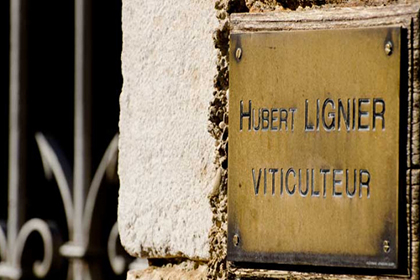 Today, Laurent Lignier (representing the 5th generation of the family at the estate) manages a total of 9 hectares (22.2 acres) of vineyards, mostly situated in the villages of Morey-St-Denis, Chambolle-Musigny and Gevrey-Chambertin. From these vines, Laurent and his father produce a beautiful lineup of 24 different wines. The estate is fully committed to a sustainable approach and organic farming, even experimenting with biodynamic techniques out in the vineyards.
Out in the Vineyard of this Burgundy Estate
Today, the Lignier family manages 9 hectares of vines (22.2 acres) in various villages of Burgundy, including Morey-Saint-Denis (where the estate is headquartered), Chambolle-Musigny and Gevrey-Chambertin. The family has also recently acquired some plots in Nuits-Saint-Georges and Pommard. From these plots, Laurent produces a collection of 24 bottlings, which features each appellation level: regional, village, 10 Premier Cru wines and 4 Grand Cru bottlings from legendary climats Clos de la Roche, Charmes-Chambertin and Griotte-Chambertin.
While Laurent produces wines from all four Burgundy varieties (Pinot Noir, Chardonnay, Aligoté and Gamay), the estate is best known for its very complex and elegant Pinot Noir wines. This grape does very well in the thin limestone and clay soils of the estate vineyards, which limit vigorous growth and allow for the cultivation of very concentrated fruit. In fact, yields are very low, ranging from 20 to 55 hl/ha, depending on the appellation and vintage conditions. When necessary, Laurent also carries out a green harvest to further limit the production of the vines. Finally, the Cordon de Royat (or spur training) system applied to the estate younger vines also helps to control yield and vigor.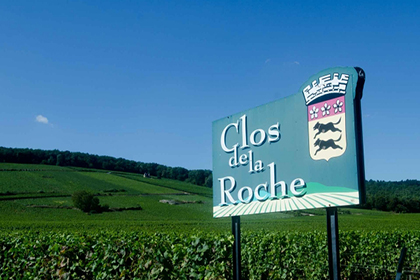 The vineyards are cultivated with "lutte raisonée" principles of sensible, sustainable viticulture, without the use of chemical pesticides or herbicides. The soils have been ploughed regularly since the 1990's. Since 2011, Laurent has carried out organic treatments in the vineyard and the team has also adapted some biodynamic viticultural practices. This follows Laurent's philosophy, by which the health of the vines depends on achieving a natural balance in the vineyard ecosystem.
Minimal Impact Winemaking at this Burgundy Estate
At the winery, the Lignier family carries out traditional winemaking techniques with a minimal intervention approach. The fruit is harvested manually and sorted thoroughly before being destemmed (although many of the wines are made with up to 25% whole clusters). The grapes typically undergo a period of cold-soaking for up to 5 days before alcoholic fermentation, which is done exclusively with natural yeasts.
The aging process is quite long, taking anywhere between 20 to 22 months, with the proportion of new oak adjusted to the unique needs of each vintage and appellation. Typically, the village wines see around 20% to 30% new oak, while the Premier and Grand Crus age in up to 50% new oak. Laurent prefers to use low-toast barrels from several different coopers to avoid either one leaving a signature touch on his wines.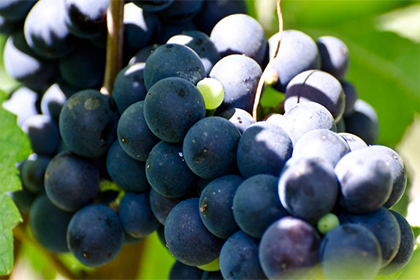 The wines are not racked after they have undergone malolactic fermentation, aging on their lees peacefully. When they are ready, they are bottled by means of a gravity-fed process, with no pumps of any kind in sight. In order to maintain the natural freshness of the wines and to allow them to age as long as possible, the wines undergo neither fining or filtration before bottling. They are bottled with minimal quantities of sulfur added.
A Stunning Selection of Burgundy Wines
The fine wines of the Lignier family enjoy a great reputation among wine lovers around the world for their remarkable depth of flavor, structure and concentration. They are remarkable fine, fresh and elegant, boasting an impressive aging potential. Each of the estate's 24 bottlings expresses a different side of the family's vineyards.
For example, the Hubert Lignier Morey-Saint-Denis Village "Trilogie" is produced from old Pinot Noir vines planted in a combination of three prized Morey-Saint-Denis climats: Chenevery, Porroux and Clos Solon. This is a very deep and dense wine with meaty and mineral nuances, which will age beautifully over 20 years or more.
Meanwhile, the Hubert Lignier Gevrey-Chambertin Village "Les Seuvrees" comes from a 1-hectare plot of old vines in Gevrey-Chambertin, producing a very straightforward wine of great brightness and tension. The Hubert Lignier Nuits-Saint-Georges "Les Poisets" is made with fruit harvested from Pinot Noir planted in 1947 at the foot of the "Les Cailles" Premier Cru. This is a wine with a seductively dark and deep red color, expressing beautiful aromas of blackberries and violets.
The Pommard Village "En Brescul" comes from younger vines planted on three terraces in the northern area of Pommard. This is a wine with an especially fresh character and strong mineral expression.