The History of the Grivot Estate
The history of the property dates back to the end of the 18th century, when Joseph Grivot decided to sell his vines in the Arcenant area of Jura to settle in Burgundy. In 1919, Gaston Grivot acquired a plot in the now world-famous Clos Vougeot Grand Cru, whose original gate still stands today. Following the death of Gaston Grivot, his son Jean Grivot took over the family estate and expanded its holdings with the purchase of a plot in Richebourg in 1984. As one of the first estates in the region to estate-bottle its wines, Domaine Jean Grivot had established a fantastic reputation by the time Jean's son Etienne Grivot (together with his wife Marielle) took over in 1990.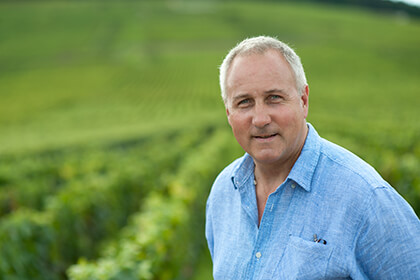 Having trained by his father's side for eight years before the transition, Etienne Grivot started out producing wines in a similar style as his father before eventually adding his own signature touch. Since the mid-2000's his focus has been on reducing yields and fine-tuning the work out in the vineyards to improve the quality of his wines. Etienne has invested in a Chenillard caterpillar tractor to work the less accessible vines and introduced a horse to help plow the estate's Échezeaux, Richebourg, "Brûlées", "Beaumonts", "Suchots", "Boudots" and some Vosne village vineyards. A massive renovation project has also recently been carried out on the estate, resulting in a modern winery with the latest technology.
Since 2017, the estate has gone through a transition, as the 6th generation of Grivot family winemakers has gradually taken over at the helm. Today, the team is led by Etienne and Marielle's daughter Mathilde Grivot and their son Hubert Grivot, who bring a fresh new approach to the family business. Etienne has stayed on to guide them. Since 2015, the wines of the Grivot family have shown enormous growth, with a particularly specular 2018 vintage.
The Vineyards of the Grivot Estate
Today, Domaine Jean Grivot extends over roughly 15 hectares (37 acres) of vines across the Vosne-Romanee and Nuits-Saint-Georges areas of Burgundy, including twelve Premier Cru plots, like the Domaine Jean Grivot Nuits-St-Georges Les Charmois and their Vosne Romanee Les Beaux Monts Premier Cru. The estate also boasts three historic Grand Cru plots: the Domaine Jean Grivot Echezeaux Grand Cru, Clos Vougeot Grand Cru and Richebourg Grand Cru plots. Additionally, the estate also produces several village wines, including their Vosne-Romanee Village.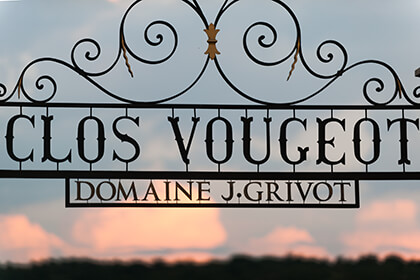 All of the vineyards are planted to Pinot Noir, except for a few rows of Chardonnay in Vosne-Romanée which go into the estate's Bourgogne Blanc, the only white wine in its lineup of 19 wines. The vines are all over 40 years old, with an average age between 45 and 50 years. They are planted to very high densities, which encourages competition between them and lowers yield, to produce very concentrated fruit. The team also carries out green harvest to reduce crop size and improve overall quality. Etienne is a firm believer in minimal impact viticulture, having completely ruled out chemical treatments. Ploughing with a horse also allows the team to minimize the damage to the soil.
Winemaking at the Grivot Family Estate
Etienne Grivot describes his signature winemaking style as somewhere between classic and modern, with the aim to achieve a balance between pure energy and a fleshy texture. At the winery, the freshly harvested Pinot Noir grapes are completely destemmed and go through a pre-fermentation cold maceration at 12-15 degrees for four to six days before alcoholic fermentation kicks off naturally in stainless steel vats. While some punch-downs (pigeage) may be carried out before alcoholic fermentation, no pigeage is applied once the fermentation process has already begun.
Following alcoholic fermentation, the wines may be pumped over once a day before being transferred to oak to age for 15 to 18 months. The aging program is entirely dependent on terroir of origin and vintage. For example, the wines of Clos de Vougeot are aged in barrels with a lighter toast but whose toast time is longer. While villages wines age in roughly 25% new oak, Premier Cru wines age in around 60% new oak and Grand Cru in around 70% new oak barrels. The barrels are made with oak from the Allier, Troncais and Bertranges forests and sourced from three different tonneliers, in order to avoid a signature touch on the wines by any one of them.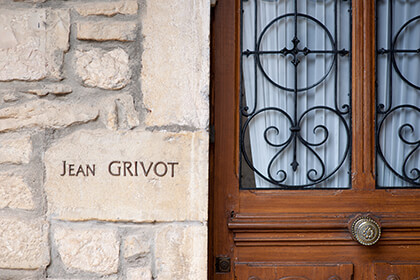 Etienne Grivot describes his judicious application of oak as similar to adding salt to a dish when cooking. When integrated correctly, the oak can help bring to the forefront the natural characteristics of the wine, accentuating the latter in a way that makes them easier to pick up. However, too much oak or oak applied incorrectly can overwhelm a wine, completely masking its personality like salt in an over-salted dish. And just like various recipes require different amounts of salt, each wine "requires" a unique oak aging program.
The Terroir-Driven Wines of the Grivot Family Estate
The Domaine Jean Grivot Pinot Noir wines are deep and aromatic Burgundy reds with bright and energetic red fruit characteristics in their youth. With age, they develop layers of complexity, never losing their signature freshness and purity.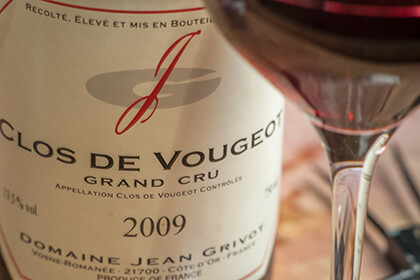 The 2018 vintage was especially elegant. The grapes were extremely ripe, harvested late but still maintaining their bright acidity and brilliant red fruit flavors. These wines are revealing themselves to be velvety smooth with soft tannins and rich aromas. The Vosne-Romanee Premier Cru "Les Beaux Monts" offers aromas of black cherries and licorice, along with beautifully smooth and refined tannins on the palate. The Clos Vougeot Grand Cru is a fine and elegant wine revealing aromas of blackberries, plums, raspberry coulis, rose petals and tar. Its palate is supple yet quite powerful with a very persistent finish.