A Few Words on Bottles Smaller than Large Format
On one side of the format spectrum are bottles containing less than 0.75 L of wine. These include the 20 cl Piccolo (containing a single glass of, usually, Champagne), the 25 cl Chopine of Bordeaux, and the 37.5 cl Half or Demi Bottle, containing 3 glasses of wine. These mini-bottles can be quite practical in situations that call for a portable format, such as a camping trip with friends. So, if you expect the New Year to bring you on adventures outdoors, you might want to stock up on these backpack-friendly minis. Small formats also allow for "mixing and matching" for wine lovers who would like to try various labels in one sitting. The major drawbacks are that they're not great for aging and that they are only made available by a limited number of producers.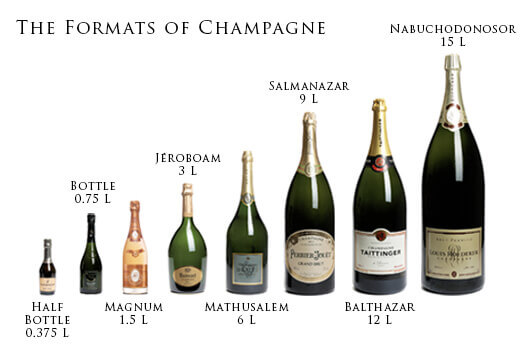 Nevertheless, smaller formats are the way to go for sweet wines, such as Sauternes and Tokaji, and Sherry. These often come in 37.5 cl half bottles or 50 cl Jenni bottles, since a single serving tends to be much smaller than that of dry wine.
A Standard Bottle for a Significant Few, Smaller than Large Format
We're all familiar with the standard bottle of 75 cl or 6 glasses of wine, ideal for romantic dinners or a cozy nights at home. If you expect to toast the greatest moment of the year with your significant other or a few close friends, perhaps your focus should be on the standard bottle.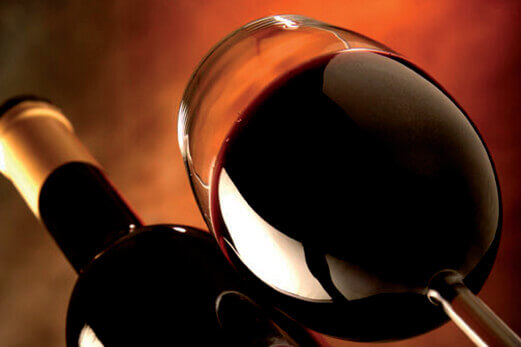 Depending on region and style, standard wine bottles come in different shapes and dimensions, which can be classified into four main categories. These are the Bordeaux bottle (with high shoulders and a deep "punt," both meant to keep the sediment away from the cork), the Burgundy bottle (with sloping shoulders), the Hock bottle (tall, slender and typically used for Alsace or Rhine white wines) and Specialty bottles (thick-walled Champagne bottles and the sturdy Port bottle, for example).
With just the right wine-to-cork ratio, these bottles are designed to protect their contents for the standard aging period for each wine. They also offer the advantage of fitting perfectly into all wine storage cabinets, which tend to be designed to hold the standard bottle.
Large Formats for Great Moments of Sharing
And then there are the large formats, many of them graced with the names of famous characters from the Bible. There's the 150 cl Magnum, containing 12 glasses worth of wine or exactly the double of the standard format. If what the New Year holds for you is lively dinner parties with friends and family, the Magnum is the right format for you, as this bottle is both visually impressive and still quite easy to pour from.
Then there's the Double-Magnum of 300 cl (known as Jeroboam for Champagne and Burgundy), the Jeroboam of 450 cl or 5L (known as Rehoboam for Champagne and Burgundy), the 6 L Imperial of the greatest Bordeaux chateaux (Methusaleh for Champagne and Burgundy), the 9 L Salmanazaar or Mordechai, the 12 L Balthazar, 15 L Nebuchadnezzar, 18 L Melchior, 20 L Solomon (we're now at 156 glasses), and the 30 L Melchizedek with its whopping 240 glasses worth. In volume, these wines are perfectly suited to those grand soirées, for the occasions that mark the most special moments. For wine lovers planning to celebrate their greatest milestones in this upcoming year – a 50th birthday, a 10-year anniversary or a wedding, for example – we suggest finding some of these super-sized formats.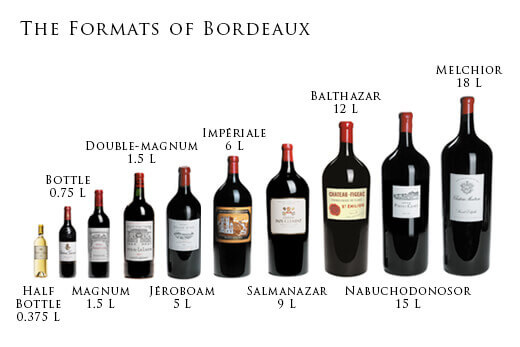 The benefits of large formats go far beyond volume, however. In these large bottles, the ratio between the volume of wine in the bottle and the air between the wine surface and cork is much greater, so the oxygenation of the wine takes place at a much slower rate than in the standard bottle. This means that wines in large formats can age more gradually and for a longer period of time. The thermal inertia of larger bottles is also greater, making them less sensitive to temperature variations during the aging process. So if one of your New Year's resolutions was to start collecting wines to age them, we highly recommend a Magnum or larger. Just remember to always lay them on the side, with the wine in constant contact with the cork.
Our team at Millesima is ready to help restock your collection with whatever formats best fit your lifestyle in this upcoming year. Our bottles are sourced directly from the cellars of the producing estates and stored in optimal conditions until they are ready to ship to you.