This legendary wine comes from a chateau whose illustrious history stretches back three centuries and whose legacy has been marked by the feminine touch of a suite of women owners and managers. Since its acquisition in 2007 by Frederic Rouzaud, owner of Champagne House Louis Roederer, Pichon Comtesse has been elevated to the heights of its potential through a strategic replanting program, significant renovations and a gradual shift to organic and biodynamic farming. The results shine through in Pauillac wines with stunning aromas of ripe and sappy black fruit, licorice, pipe tobacco and chocolate box. This is an especially sumptuous Second, whose 2018 vintage was voted Second Best Wine in the World in the 2021 ranking by Wine Spectator.
The History of Chateau Pichon Longueville Comtesse de Lalande
Chateau Pichon Longueville Comtesse de Lalande (a.k.a. Chateau Pichon Comtesse or Chateau Pichon Lalande) was once part of a larger Pauillac estate, along with Chateau Pichon Longueville Baron in Pauillac (a.k.a. Chateau Pichon Baron in Pauillac, Bordeaux). The two estates were owned by Pierre de Mazure Rauzan and inherited by his daughter Therese when she married Jacques de Pichon Longueville, who was also the first President of the Parliament of Bordeaux. Eventually Chateau Pichon Longueville in Pauillac passed to Baron Joseph de Pichon Longueville who, upon his death in 1850, divided the estate into the two chateaux we know today, but not before the Pichon Longueville estate was listed as a Classified Second Growth (2eme Grand Cru Classe) of Pauillac in the 1855 Classification of Bordeaux wines.
The Baron's sons inherited what would one day be called Chateau Pichon-Longueville Baron, while his daughters received what would become Château Pichon Longueville Comtesse de Lalande. During the 18th century, Pichon Lalande was managed by three women: Therese de Rauzan, Marie Branda de Terrefort and Germaine de Lajus. Some wine experts attribute the chateau's delicate and elegant style to the feminine influence of the latter three. Female management of the chateau continued with Virginie, the wife of the Count of Lalande, who took over the chateau, adding to its name "Comtesse de Lalande." It was also the countess who commissioned architect Duphot to design and build the residence we see on the estate today.
In the decades that followed, Chateau Pichon Longueville Comtesse de Lalande passed from aunts to nieces until it was eventually acquired by the Miailhe brothers in 1925. May-Eliane de Lencquesaing, daughter of Edouard Miailhe took over as general manager and owner of the chateau in 1978, investing heavily into the chateau and its vineyards. Under her tenure, the estate wines improved in quality significantly and gained international recognition. May-Eliane also more than doubled the size of the estate vineyard from 40 hectares to 89 hectares.
In January 2007, May-Eliane de Lencquesaing sold Château Pichon Longueville Comtesse de Lalande to the Rouzaud family, who also own Champagne Louis Roederer. In February 2011, Sylvie Cazes, sister of Jean-Michel Cazes, was brought on as the Director of the chateau, replacing Gildas d'Ollone. She was succeeded by Nicolas Glumineau, previously of Chateau Montrose in Saint-Estephe. In 2008, the estate underwent a complete renovation, with the winemaking facilities rebuilt and modernized, the chateau remodeled and the vineyard replanted strategically with the right grape variety for each microterroir.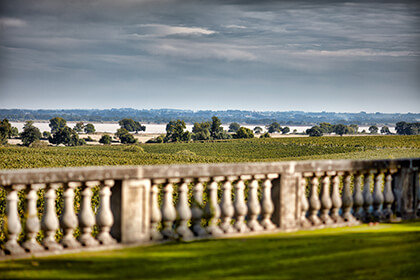 Between 2012 and 2013, the chateau was renovated once again, this time with a significant budget, and led by reputed architects Philippe Ducos and Alexandre Rougier. A new triple-tiered cellar was created for gravity-led winemaking. New temperature-controlled, stainless steel vats were acquired, with parcel-by-parcel vinifications in mind. A new underground barrel cellar and several other buildings were also constructed. The winemaking today focuses on environmentally conscious vineyard management, parcel-by-parcel vinifications and gentle extractions to produce a softer, more sensuous Pauillac wine. By 2019, a total vineyard area of 37 acres was biodynamically cultivated, with this number growing each year.
Under the tenure of Nicolas Glumineau, Second Growth Pichon Longueville Comtesse has produced some of the best wines of Bordeaux and has achieved the status of a Bordeaux "Super Second," sought after by fine wine lovers around the world.
A 220 Acre Vineyard in Pauillac
Chateau Pichon Longueville Comtesse de Lalande is situated in the Pauillac in Bordeaux's Left Bank in France. The estate vineyard totals 220 acres, 27 of which are situated in the commune of Saint-Julien. As the chateau is set between the Atlantic Ocean and the Gironde Estuary, these two bodies of water moderate the temperature and create the ideal conditions for the cultivation of wine grapes. The vineyard is planted with roughly 65% Cabernet Sauvignon, 25% Merlot, 7% Cabernet Franc and 3% Petit Verdot, with Cabernet Sauvignon gradually increasing throughout the past decade.
The vines of Pichon Comtesse in France, in Bordeaux's Pauillac appellation, are 35 years old on average and planted in the signature terroir of Pauillac, composed of deep gravel soils, with some clay and limestone. In these well-drained gravel soils, the vine roots much work themselves several meters down in order to reach water. These deep roots, which enjoy an increased area of contact with the soil, help the vine produce grapes with remarkably complex aromas. The Pichon Lalande vineyard can be divided into 6 distinct blocks and further subdivided into more than 65 parcels, each with its own microterroir.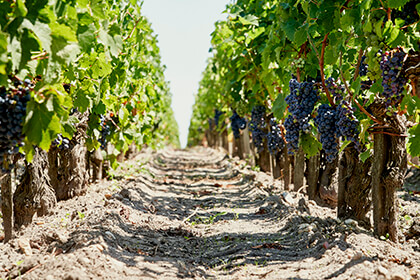 Nicolas Glumineau makes it a point not to rush the harvest, especially of Cabernet Sauvignon, which needs time to fully ripen. Unlike some other Bordeaux properties that harvest close to 100 hectares in just over 2 weeks, harvest at Pichon Comtesse can take up to 6 weeks in order to pick each plot at the perfect moment. When the harvested Cabernet Sauvignon is completely ripe, the winemaking process becomes easier, with gentler extractions leading to the softer, more balanced style that has become the hallmark of the chateau.
Beginning in 2014, the viticultural team has been gradually converting to biodynamic farming, setting aside small parcels for experimentation with both biodynamic and organic techniques. Nicolas Glumineau has said that he prefers to move slowly and fully understand how organic and biodynamic methods can be applied to the Pichon Comtesse terroir before fully committing. As of 2021, over 32 hectares have been biodynamically cultivated.
Traditional Winemaking Practices
At Pichon Longueville Comtesse de Lalande, the vinification is carried out in 70 temperature-controlled vats made of stainless steel. These vats vary in size from 50 to 150 hectoliters, allowing for precise plot-by-plot vinification. The winemaking process is traditional, with malolactic fermentation taking place in tank. The blending process is carried out between late December and early January and is lead by General Manager and Winemaker Nicolas Glumineau and his team, with Frederic Rouzaud present as well. The chateau produces red wines only, from a blend of Cabernet Sauvignon, Merlot, Cabernet Franc and Petit Verdot, which Petit Verdot adding a touch of freshness and complexity to the wine.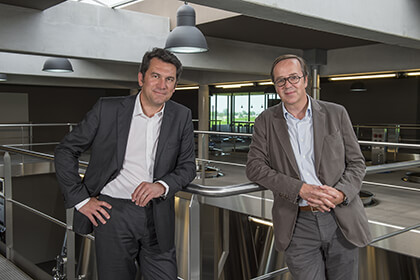 The namesake Grand Vin (or First Wine) of Chateau Pichon Longueville Comtesse de Lalande is aged for a period of 12 to 22 months in French oak barrels of which 40-50% is new each year. The chateau's Second Wine, whose debut vintage was 1973 was renamed from Reserve de la Comtesse to Reserve de Pichon Comtesse in 2019. This sought-after second wine is aged for 12 months in 40% new oak barrels as well. The wines undergo traditional racking "a l'esquive."
The Signature Style of a Pauillac Super Second
Considered a "Super Second" of Bordeaux, Chateau Pichon Longueville Comtesse de Lalande is sought after by wine lovers around the world for its elegant, balanced style. The higher percentage of Merlot in the blend of Chateau Pichon Comtesse de Lalande Pauillac is often credited as the reason for its sensuous quality, its voluptuous mouthfeel and velvety texture. The softness of this wine makes certain vintages approachable earlier than other Medoc wines. Nevertheless, Chateau Pichon Comtesse is still 100% Pauillac in style, with Cabernet Sauvignon that is subtle and fine at the same time as being powerful and structured. This is truly an "iron hand in a velvet glove" kind of wine, with exceptional balance between strength and refinement, and power and elegance.
On the nose, the Grand Vin of Chateau Pichon Longueville Comtesse de Lalande reveals pure fruit aromas of blackberry and blackcurrant, along with floral touches of peonies and the signature cedar nuances typical of Pauillac wines. The palate of this Bordeaux red wine is full-bodied and powerful yet elegant, with black fruit flavors consistent with the nose coating the mouth. The tannins are polished and precise. This Pauillac Second Growth can age easily for decades in your cellar, best to open between 15 to 40 years after the vintage. Younger vintages will pair beautifully with lamb roasted with herbs, sweetbread, grilled beef or dark chocolate, while older vintages will go nicely with poultry served in a mushroom cream sauce.
Made with almost equal parts Merlot and Cabernet Sauvignon, with just a touch of Cabernet Franc, Reserve de Pichon Comtesse offers delicious raspberry, wild strawberry and rose aromas on the nose, along with touches of pastry. On the palate, this wine is quite sensual, with a remarkable length, liveliness and purity. The finish reveals raspberry, frangipane, black pepper and white flower aromas. This sought-after Second Wine is more approachable in its youth, ideally enjoyed 6 to 20 years after its vintage.
We hope you have enjoyed this article about Chateau Pichon Comtesse. If you have any questions on the bond price of a specific bottle of this iconic red wine or about the rating points received by wine critics like Robert Parker, Jane Anson or James Molesworth, please contact us directly. Feel free to reach out if you are trying to find a specific vintage that you have tasted before or to find out more about Chateau Pichon Baron (owned by AXA MIllesimes) or the wines Les Griffons de Pichon Baron and Les Tourelles de Longueville in Pauillac.