The Sancerre appellation of France's Loire Valley has for some time now enjoyed a fine reputation for Sauvignon Blanc - flinty, savory, mineral whites, perfect with seafood, or just a moment in the sun. And for those seeking this classic profile, Domaine Lucien Crochet is the perfect choice. Formed by the merger of two estates, belonging to two pioneers of Sancerre winemaking, Domaine Lucien Crochet continues as a family business, today run by Gilles Crochet from the 3rd generation. Combining a traditional, terroir-driven approach to viticulture with a passion for never-ending experimentation, Gilles creates beautiful wines from Sauvignon Blanc and Pinot Noir: classic whites, an elegant red and a signature, frank pink rosé, all bearing the emblematic mineral touch of the great chalk soils of Sancerre.
Lucien Crochet: Bringing Together Two Sancerre Estates
The story of Domaine Lucien Crochet brings together the work of two true Sancerre pioneers: Lucien Picard and Andre Crochet. Monsieur Picard was actually one of the very first winegrowers in the region to begin bottling his own wines in the early 1950's, and to sell them outside Sancerre, primarily to restaurants in Paris. It was Andre Crochet's son, Lucien Crochet, who decided to merge the two estates together after marrying Luciens Picard's daughter. He expanded his father-in-law's estate to its current 35 hectares, situated mostly around the village of Bue, with some small holdings in the villages of Vinon and Crezancy nearby. Lucien also developed sales, forming close relationships with a wide network of Paris's finest restaurant and eventually focusing on export markets as well.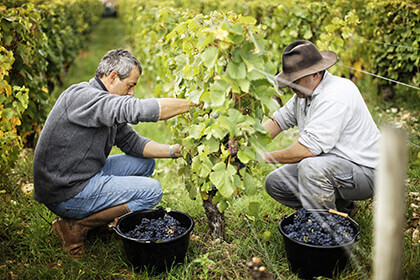 Today, the family estate in the Sancerre appellation of the Loire Valley is run by Lucien's son, Gilles Crochet and his wife Laurence (also from a family of Sancerre winegrowers), who manages the administrative side of the business. Before joining the company, Gilles pursued university studies in oenology in Dijon and had an especially formative experience training in Pinot Noir cultivation at Domaine Dujac in Morey-Saint-Denis. He returned to Sancerre in 1983 and since then has been at the helm of his family's business, producing 7 or 8 terroir-driven wines, always experimenting with new techniques. Gilles and Laurence are assisted by a dedicated team of vineyard and cellar professionals, many of whom have been with the estate for several decades.
Lucien Crochet: A Sancerre Terroir of Clay, Limestone and Chalk
Today, Domaine Lucien Crochet covers 35 hectares of vineyards, out of which 26 are planted to the flagship variety of Sancerre, Sauvignon Blanc, and 9 hectares to Pinot Noir, used to produce red and rosé wines. The quality of the estate's wines are credited to the diversity of soils to be found in the vineyards. These include calcareous clay and Oxfordian or Kimmeridgian subsoils, different combinations of which are expressed in various cuvées. The plots are planted on east, south and west-facing slopes, at various altitudes between 240 and 280 meters. A strict parcel-by-parcel selection ensures that the fruit is picked only after having achieved an optimum level of ripeness.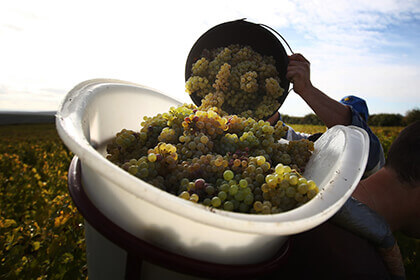 Since 1989, the vineyards of Domaine Lucien Crochet have been treated with exclusively organic fertilizers, as a way of ensuring the health of the vines and the natural ecosystem to which they belong. The vines are planted at a density of 6,600 to 8,700 vines per hectare, with older vines being planted at lower densities. The harvest at the estate is 100% manual.
Lucien Crochet: Winemaking Tailored to Terroir of Origin
To produce the white Sancerre wines of Domaine Lucien Crochet, ripe grapes of Sauvignon Blanc are fed in whole bunches into pneumatic presses with a conveyor belt. After around 24 hours of cold-settling in temperature-controlled stainless steel vats (and some new casks in the Prestige cuvee), the must undergoes fermentation for around 30 days in stainless-steel (and some 600-liter oak barrel for the Le Chene Marchand). Gilles prefers the use of natural yeasts, as well as some cultured yeasts from Champagne, for his fermentations. After fermentation, the winemaking process depends on the terroir of origin and vintage. Some wines are lees-aged before racking and bottling, while some are directly fined, chilled, racked and filtered.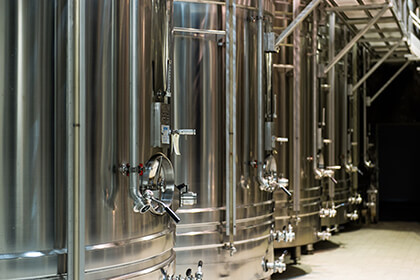 In the case of the Sancerre Pinot Noir Rosé, a blend of Pinot Noir grapes are used from several plots and two terroirs: the Oxfordian "caillottes" and Kimmeridgian marls so representative of the Sancerre appellation. The fruit is fed, also in whole bunches, into pneumatic presses, just as in the case of the Sauvignon Blanc whites. Fermentation takes place in temperature-controlled vats for a period of 20 days, with the wines racked in March. After 6 months of aging, they are bottled.
The Signature Style of Lucien Crochet
The wines of Lucien Crochet offer outstanding expressions of the terroirs of the Sancerre appellation, and how the region's two varieties – Sauvignon Blanc and Pinot Noir – perform here. The "Croix du Roy" white is a textbook Sancerre Sauvignon Blanc of the highest quality, exuding bright citrus fruit, citrus blossom and pear on the nose, along with earthy, herbal nuances and that characteristic Sancerre chalky minerality, which contributes to its dazzling complexity. This wine offers a pure entry, and a crisp, fruity quality on the palate. Excellent on its own, this classic white Sancerre also has enough body to stand up to a variety of food pairings, including roast pork medallions, grilled crab legs or, – a tried and true pairing, local to Sancerre – "Crottin de Chavignol" goat cheese.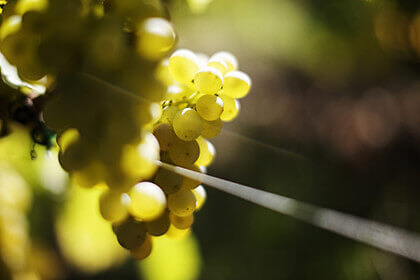 With its frank pink color, the Pinot Noir Rosé of Domaine Lucien Crochet offers a different kind of rosé experience. On the nose, this single-varietal Pinot Noir reveals refreshing and very fine notes of berries, including redcurrants and juicy blueberries. A lovely texture follows on the palate, with fresh and delicate fruity flavors coming through. This rosé is a perfect choice for a leisurely lunch outdoors, bringing a fresh twist to a variety of spring salads, cold cuts and barbecued dishes.