Today run by Sir Michael's son Paul Michael, the winery continues to produce these wines of terroir in limited quantities – Bordeaux red and white blends, Pinot Noir and Chardonnay in a nuanced, elegant and beautifully restrained Old World style.
The Story of the Peter Michael Winery
Sir Peter Michael was born into a well-to-do English family in a town south of London in 1938. Through family trips to the wineries of Bordeaux and Burgundy led by his wine-loving father, Michael became familiarized with wine at an early age. After earning an engineering degree at Queen Mary College University and London and then an MBA at Thames University, Michael founded his first company, Micro Consultants Group, in London in the late 1960's. Drawn to the tech revolution unfolding in Silicon Valley, he travelled to San Francisco to start Quantel in 1972, a company that became immensely successful.
But it was in 1975 that a single glass of wine would spark Peter Michael's true passion. During a concert at the Venetian Room in San Francisco, Michael tasted one of the first vintages of the Chateau Montelena Chardonnay and was taken aback by its quality. And when the 1973 vintage of that same wine won at the Judgement of Paris in 1976, Michael decided it was time to invest in Californian terroir.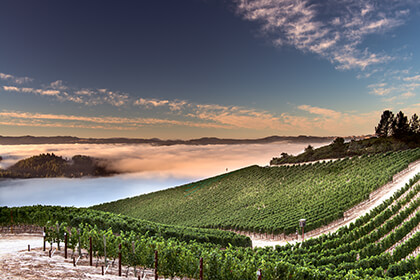 Together with his wife Lady Margaret Michael (or Maggie for short), Peter Michael purchased the then abandoned 630-acre Sugarloaf Ranch in the sleepy Knights Valley AVA of Sonoma county, where he founded the Peter Michael Winery in 1982. Just one year later, Peter Michael and his sons David and Paul Michael planted a 64-acre Cabernet Sauvignon vineyard by the name of Les Pavots at an elevation of 1,000 feet on the western slopes of Mount St. Helena. A few years later he planted Chardonnay vineyards La Carriere and Mon Plaisir a few hundred feet higher. In 1987, famed California winemaker Helen Turley produced the first Peter Michael wine, the "Mon Plaisir" Chardonnay 1987, in a custom crush facility.
The following year saw the debut vintage of the Peter Michael Les Pavots Estate Cabernet Blend and Cuvee Indegene Chardonnay. By 1989, the winery building had been completed, the very first winery to be built in Knights Valley. In that same year, Sir Peter Michael was knighted by Queen Elizabeth for his service to industry in the UK, making Knights Valley a particularly fitting setting for him and his wife Lady Margaret. In 1990, Mark Aubert joined the Peter Michael team as Winemaker, followed by Vineyard Manager Javier Avina in 1991.
In the years that followed, the winery expanded its beautiful range of award-winning Cabernet Sauvignon, Chardonnay and Sauvignon Blanc wines from the estate vineyards in the mountains of Sonoma County. And in 1998, driven by the desire to experiment with Pinot Noir, the Peter Michael Winery acquired the 400-acre Seaview Estate in the Fort Ross-Seaview AVA of the Sonoma Coast. Another 26 acres, planted with Bordeaux varietals, was purchased the Oakville AVA of Napa Valley in 2009.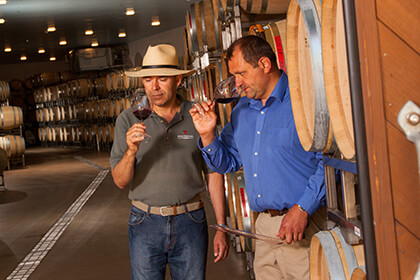 From a few bottles of Cabernet Sauvignon distributed exclusively in the UK, the Peter Michael Winery grew into a California institution, receiving countless awards and highly regarded by wine critics from around the world. The winery's "Les Pavots" Estate Cabernet Blend 1997 was served at a White House Dinner in 2003. Three of the winery's wines have made the top 10 in Wine Spectator's Top 100. And an impressive 14 wines have been rated 98 points or higher by Robert Parker.
The Peter Michael Winery remains family-owned, today run by Peter's son Paul Michael and his wife Emily Michael (after whom the Ma Belle-Fille or "My Daughter-in-Law" Chardonnay vineyard was named). Javier Avina has stayed on as Vineyard Manager, while Nicolas Morlet (originally from Epernay, France) runs the cellar as Winemaker at Paul Michael Winery. Together, this dedicated team produces a beautiful collection of 15 different wines from 8 estate vineyards and sourcing vineyards.
Peter Michael Winery | A Matter of Terroir
Vineyard Manager Javier Avina manages the vineyards of Peter Michael Winery by means of low-input sustainable agriculture, relying on minimally invasive methods that help protect the soil, water and wildlife, which make up the natural ecosystem of these vineyards. Almost everything is done by hand, and several organic and biodynamic practices have been adopted to keep the soils healthy and productive for generations to come.
The wines of the Peter Michael Winery are produced from steep mountain vineyards, where the cool climate helps preserve the bright natural acidity of the fruit. The yields of these vines tend to be quite low, resulting in fruit with very concentrated aromas.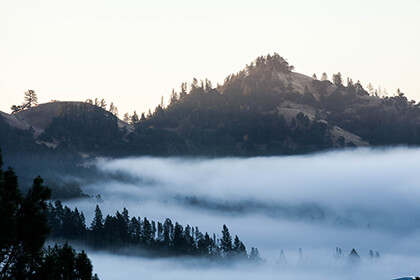 The Peter Michael Winery produces four Chardonnay wines from four vineyards at various elevations of the Knights Valley AVA of Sonoma County. Situated at an elevation of 1,700-1,900 feet is the 14-acre Ma Belle-Fille Vineyard, a Peter Michael estate vineyard planted in 1999. This is the highest vineyard in the Peter Michael portfolio, home to south/southeast-facing, early-ripening Chardonnay planted in rocky volcanic ridges of Rhyolite soils. Just 100 or so feet below is the 15.5-acre east-facing Belle Cote Vineyard (French for "Beautiful Slope"), planted in 1990 at an elevation of 1,700-1,800 feet, Here Chardonnay grows in thicker soils and enjoys a slower ripening through a longer growing season.
At around the same elevation is the 7-acre southeast-facing Mon Plaisir Vineyard (French for "My Pleasure"), planted in 1999 with low-yielding Chardonnay. And finally, at a lower elevation of 1,200-1,700 feet is the 17-acre south/southeast-facing La Carriere Vineyard (French for "The Quarry"), where Chardonnay is grown in very rocky and shallow soils, producing low yields of very concentrated fruit.
In the Fort-Seaview AVA of Sonoma County, Peter Michael makes three different Pinot Noir wines ("Le Caprice," "Ma Danseuse," and "Clos du Ciel") from the 26-acre east and northeast-facing Seaview Vineyard, which was first planted in 2006 with 100% Pinot Noir. Here the vines grow in rocky alluvial sediments, volcanic materials and clay at an elevation of 1,000-1,5000 feet.
The 64-acre flagship Les Pavots Vineyard (meaning "The Poppies" in French) was planted between 1989-1999 at elevations between 900-1,400 feet in the Knights Valley AVA of Sonoma County. This south-facing vineyard is home to rocky, very well-drained soils - the perfect environment for Cabernet Sauvignon to thrive.
This vineyard is also planted with Bordeaux red and white varietals Cabernet Franc, Merlot, Petit Verdot, Sauvignon Blanc and Semillon, which go into three Bordeaux-style wines: The Les Pavots Estate Cabernet Blend and two Bordeaux style dry white blends of Sauvignon Blanc and Semillon: "L'Apres-Midi" and "Coeur a Coeur."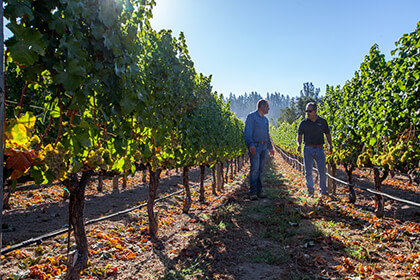 In the Santa Lucia Highlands of Monterey County, the 4.5-acre Pisoni Vineyard was planted in 1991 with Burgundian Pinot Noir at an elevation of 1,300 in decomposed granite soils. Here the cool maritime influence helps produce a red wine with beautiful acidity, the "Le Moulin Rouge" Estate Pinot Noir.
And finally, the 18-acre south/southwest-facing Au Paradis Vineyard in the Oakville AVA of Napa Valley was planted in 1984 and 2007 with Cabernet Sauvignon, Cabernet Franc and Merlot at 500-600 feet. Today these Bordeaux varietals thrive in the red Aiken soils of rocky red boomer loam, volcanic rock, clay, silt and sand, producing the fantastic "Au Paradis" Estate Cabernet Blend.
Winemaking at the Peter Michael Winery
At the Peter Michael Winery, the fruit is harvested by hand into small lungs, which are then gently transported to the winery. The white grapes are sorted by hand as whole clusters and then pressed gently. Meanwhile, the red grapes are sorted three times: by hand as whole clusters, then two more times as individual berries.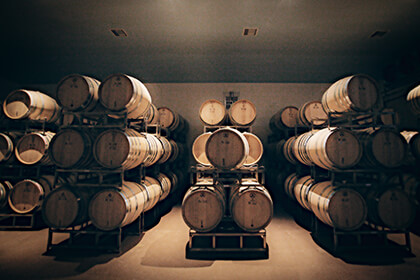 The white fruit is vinified through barrel fermentation using indigenous yeast. They are aged on lees with plenty of batonnage (stirring of the lees in the barrel). Malolactic fermentation is also carried out using native yeasts. The red wines are fermented with indigenous yeasts in tanks that have been custom-designed to fit each plot. They are then transferred to barrels, where they undergo malolactic fermentation and maturation. The wines are racked according to tradition and are not fined or filtered (with a few exception) before bottling.
The Star-Studded Peter Michael Winery Portfolio
Altogether, the Peter Michael Winery produces 15 bottlings: 3 Cabernet Sauvignon wines, 4 Pinot Noir wines, 6 Chardonnay wines and 2 Semillon-Sauvignon Blends. Out of these 15 cuvées, 12 are site-driven single-vineyard bottlings. The high-altitude growing sites of the winery are often situated above the fog line, allowing the fruit to ripen fully in the Californian sunshine. Meanwhile the cool night temperatures allow the grapes to retain their natural acidity and produce nuanced Old World style wines with plenty of restraint and elegance.
The "Ma Belle-Fille" Chardonnay from the highest vineyard in the Peter Michael range is a wine full of energy and joy, revealing on the nose apricot jam, honey, ginger and lemon curd as well as apple pie and baking spices. This is a creamy and generous Chardonnay but with a finish that is nevertheless incredibly fresh, with great minerality. Pair this wine with grilled salmon and roasted summer vegetables.
From slightly further down the slope, the "Belle Cote" Chardonnay expresses gorgeous lemon meringue and key lime pie aromas, tangerine peel, pink grapefruit and rose oil, continuing into a creamy texture and brioche-scented finish. Serve this Chardonnay with a roasted chicken or creamed vegetable soup.
The Peter Michael "L'Apres-Midi" blends roughly 90% Sauvignon Blanc and 10% Semillon to produce a dry white wine with intense aromas of apricot, passion fruit and guava, along with hints of lemongrass and wild thyme.
And, of course, the flagship "Les Pavots" Estate Cabernet, a Bordeaux blend with notes of blackcurrant, blueberry jam and blackberry pie filling, mixed with an earthy touches of damp soil and truffle, red roses and garrigue. A vivacious and persistent red wine with fine tannins and an earthy finish, Les Pavots will pair beautifully with a leg of lamb and ratatouille.