Founded in 1991 with its debut commercial vintage, Frias Family Vineyard is the very first bonded Mexican-American winery in the Napa Valley region of California. Of the 100 acres of land owned by founder Manny Frias, his wife and children, only around 13 acres in Spring Mountain are planted with vines – Cabernet Sauvignon, Cabernet Franc and Merlot. An extremely limited yield, subject to very selective sorting, gives rise to an equally limited production of precious and sought-after cult wines. Discover, in particular, the Frias Family Vineyard "Lady of the Dead" cuvée, a Cabernet-heavy red blend with an intense bouquet of lush black fruits, cinnamon and spice.
The History of Frias Family Vineyard
Manny Frias first became interested in wine during his college years in San Francisco, when a Spanish friend introduced him to the Napa Valley wine industry. From a family with a long, rich Mexican heritage, it became Manny's dream to one day own and operate land in Napa. Finally, in 1977 Manny and his father purchased 100 acres of land here and Manny's parents moved into the Victorian farmhouse built on the site in 1983. Starting from that time, Manny would often make the drive up from San Francisco to visit his parents, and he eventually started taking classes on viticulture at Napa Valley College, soaking up as much information as possible through books on winemaking and conversations with winemakers.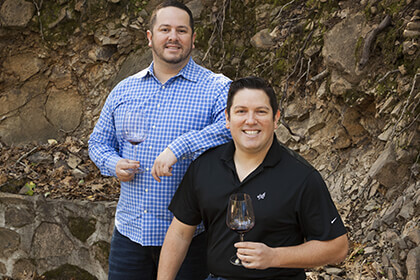 As a hobby, Manny planted a small vineyard and produced his very first unofficial vintage in 1988. Shortly after, what was initially just a hobby became something much more serious. He produced his first commercial vintage in 1991 – just over 325 cases from just 5 acres of vineyards. This vintage was produced as custom crush by Marryvale Vineyards. Eventually, the winemaking would take place at Rombauer Winery and Ballentine Vineyards. Sometime after, the Frias family planted an additional 8 acres of vineyards, 6 dedicated to Cabernet Sauvignon, 1 to Merlot and 1 to Cabernet Franc. While the family does intend to gradually expand the Frias Family Vineyard growing area, they prefer to do so slowly and with caution, in a way that preserves the precious natural trees and wildlife that surrounds the vineyard. In fact, the property is home to oak, madrone, Douglas fir, redwood, California bay and manzanita. Local wildlife includes turkeys, bobcats, deer, mountain lions, rattlesnakes and hawks.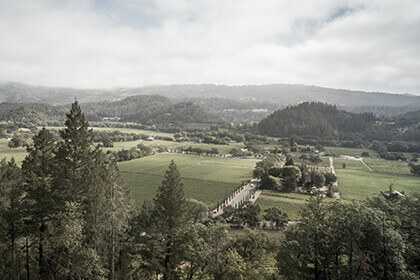 Today, Frias is a 100% family-owned and –operated vineyard, with all tasks shared between Manny, his wife Maria and their five children. Brothers Fernando Frias and Manny Frias Jr. have taken over operations from their father, bringing great passion and enthusiasm to the brand.
Frias Family Vineyard Terroir | The Birthplace of Frias Wine
The Frias Family Vineyard is located in the Spring Mountain sub-appellation of Napa Valley. This is a rather small area of only 8,600 acres, most of which unplanted, and is best known for producing bold Bordeaux-style wines. Spring Mountain is bordered by Diamond Mountain to the North, the St. Helena appellation to the South and East, and Sonoma County to the West. The Frias Family Vineyard is home to a wide array of soil types. The hillside vineyard, part of the Spring Mountain District appellation, is characterized by rocky soils and lightly-colored clay. Meanwhile, the lower vineyard, situated within the Saint Helena appellation is planted in less rocky, red clay soils, with one hectare in volcanic ash. Most of the vines are planted at an elevation of 1,000 to 1,400 feet above sea level. A nearby spring provides water year round for irrigation.
At Frias Family Vineyard, winemaking starts out amongst the vines. The family spends a significant amount of time caring for the vineyard, one vine at a time. When it comes to selection, the Frias team is extremely thorough, sorting several times both out in the vineyard and then again in the winery in order to use only the most premium quality grapes in their wines. Focusing on a 100% single-varietal Cabernet Sauvignon for the first 10 years, Frias Family Vineyard has gradually expanded its portfolio and now includes four Cabernet Sauvignon wines, a red blend, a white wine (a Napa Valley Sauvignon Blanc) and even a Napa Valley rosé.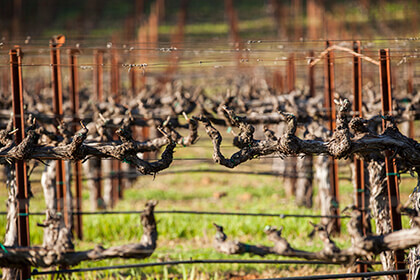 The Frias wine "Lady of the Dead" cuvée is an homage to the rich Mexican heritage of the Frias family. This Cabernet-dominant blend is deep, dark and intense in the glass, revealing a bouquet of luscious red and black fruits, along with cinnamon and hints of spice. The wine coats the palate with juicy, ripe plums and blackberries, offering sweet, smooth tannins on the finish. The eye-catching label features a Santa Muerte, an important and deeply revered character in Mexican culture.