The legacy of Josh Jensen rings loud and clear through the beautiful wines of his Calera Wine Company, named after the limestone kiln housed on Jensen's exceptional property in the Mt. Harlan AVA of California. Calera specializes in terroir-driven, Old World style Pinot Noir, Chardonnay and Viognier, bearing the unmistakable touches (or the lack thereof) of a Burgundian minimalist approach to winemaking. The grapes and wines move gently by gravity through a seven-tier winery, and are left alone for most of the fermentation and maturation processes. The result is a genuine expression of the limestone-rich soil and the carefully selected terroir through wines unsullied by human intervention.
Calera Wine Company: Early Inspiration in Burgundy and Rhone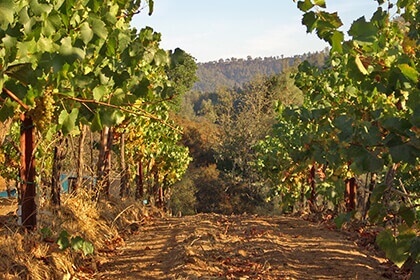 Son of a Californian dentist, Josh Jensen discovered his passion for wine at an early age. During his time at Yale University and then Oxford, he would taste the great wines of France, including Bordeaux and Burgundy. In 1969, Jensen completed his studies and applied for a job as a grape picker at the prestigious Domaine de la Romanee-Conti. Jensen spent the next few years working at wineries around Burgundy, including Domaine Dujac in Morey-Saint-Denis, and in the Rhone Valley. In 1971, he returned home with one thing on his mind: testing out Burgundy-style terroir-focused viticulture and a hands-off, minimal intervention approach to winemaking to produce a brand new type of California Pinot Noir. And the first step would be to find the right terroir, one which – like the prized Grand Crus of Burgundy's Cote d'Or – would be rich in limestone soil.
The Birth and Expansion of Calera Wine Company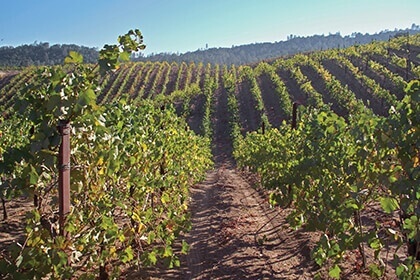 In 1974, Jensen found a 324-acre, high elevation parcel in San Benito Country with a generous limestone deposit. Limestone had historically been quarried from the nearby Mt. Harlan, a past still echoed by the 30-foot masonry limekiln that still stands, beautifully preserved, on the property. To emphasize the importance of the limestone soil as the very basis of his project, this limekiln ("calera" in Spanish) serves as the name and symbol of Jensen's label. In 1975, Jensen planted 24 acres of Pinot Noir in three separate parcels of the property, each with its own distinct soil types. These three original plots would become the Selleck Vineyard (5 acres), Reed Vineyard (5 acres) and Jensen Vineyard (14 acres). In that same year, the Calera label also released its first wine, a Zinfandel from purchased grapes and produced at a rented winery. The Calera winery would be build 2 years later, after Jensen purchased a 100-acre site on Cienega Road, at an elevation 1000 feet lower than that of the vineyard. By 1979, the vines of the three vineyards were mature enough to produce fruit for wines, and Calera released its first estate wines in 1979.
Over the next few years, Jensen expanded the Calera estate by purchasing 300 acres on a limestone-rich mountain in 1982 and planting it with 2 acres of Viognier vines. Back then, Jensen was one of the first winemakers in California to really take Viognier seriously as a varietal and experiment with growing it on Californian terroir. Two years later he planted 6 acres of Chardonnay, a fourth parcel of Pinot Noir (the 12-acre Mills Vineyard) and in 1989 he added 3 more acres of Viognier. The 13-acre Villiers vineyard was planted between the Jensen and Mills plots in 1997. The Calera estate is also home to around half an acre of Aligote vines, 330 in total, planted between the Jensen vineyard and Chardonnay plot. The Calera Aligote is considered one of the very best examples of this varietal in the United States.
Today, Josh Jensen's Pinot Noir is considered among the very best in the country, particularly the single vineyard expressions, which have been nicknamed the "Grand Crus of California." Robert Parker once nicknamed Calera "California's Romanee-Conti," an apt comparison especially considering that Calera is one of the only wineries in the world (like its legendary Burgundian cousin) and one of only two wineries in the United States with its own appellation. A firm believer of the unique character of the Mt. Harlan terroir, Jensen worked for two years to earn the region its own AVA designation, which he achieved in the year 1990. Alongside his estate wines, Jensen also produces a beautiful range of Central Coast wines from Chardonnay, Pinot Noir and Viognier grapes purchased from growers in the Central Coast region of California.
Minimalist Winemaking at the Gravity-Fed Calera Winery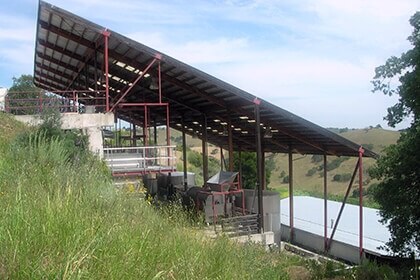 Mike Waller has worked with Jensen for over a decade and became winemaker at Calera in 2009. Today, Waller works closely with Vineyard Manager Jim Ryan to craft wines that offer the purest possible expression of Calera's six unique plots. In order to do so, a minimal intervention approach is taken at the winery, which is a modern masterpiece of gravity-flow architecture. The grapes and wine move through the winery's seven tiers (e.g.: a grape receiving level, fermentation level, press level, storage tank level, etc.) by dropping, sliding or flowing downward by gravity, rather than being moved mechanically by means of conveyer belts or pumps, which can damage the sensitive skin of the Pinot Noir grapes. This gentle handling of the grapes allows for a more natural extraction and a more authentic expression of the fruit's nuanced aromas and flavors.
At Calera, a minimal intervention approach to winemaking calls for the use of native yeasts in alcoholic fermentation and a preference for whole cluster fermentation whenever possible. The Pinot Noir wines, for example, are fermented in open-top vats at warm temperatures with uncrushed whole clusters. They are occasionally punched down to help extract color and tannins from the skins. The single-parcel wines mature for 16 months in 60-gallon French oak barrels of which 30% are new. During maturation, the wines are not racked too often, in order not to disturb them.
The white grapes are Calera are pressed whole cluster upon arrival to the winery. The Viognier is fermented with native yeasts in neutral oak barrels, while the Chardonnay ferments in oak, of which 10-15% is new for the Central Coast Chardonnay and 25-30% is new for the Mt. Harlan Chardonnay. A natural malolactic fermentation takes place in the barrels, while the wines are stirred weekly. The Viognier matures for 8 months in the same barrels, while Chardonnay spends 9-10 months on its lees, also in the same barrels used for fermentation. The wines are light fined with bentonite and lightly filtered before they are bottled and released. The resulting wines are beautifully elegant and rich in texture, bursting forth varietal aromas and the undeniable touches of their terroirs of origin.