Perhaps the best word to describe the winemaking philosophy of Ehren Jordan and the dazzling range of his Failla Wines is "synthesis." The project is a synthesis of experiences collected by Ehren's time spent working in Napa Valley, the Sonoma Coast and the Rhone Valley of France, a time spent learning from visionary winemakers. In 1998, Ehren started Failla with 2 single-vineyard wines – an Edna Valley Viognier and a Sonoma Coast Syrah – with grapes purchased from trusted California winegrowers. In just 2 decades, Failla has expanded its offering to over 30 wines, ranging from Pinot Noir sourced from some of the most prized California and Oregon vineyards, to Chardonnay, Zinfandel and Syrah grown in the estate's own vineyards. The wines included under the Failla label offer pure expressions of quality terroirs, hand-selected by Ehren Jordan to represent the very best the West Coast has to offer.
Failla: Gathering Experiences in the Napa and Rhone Valleys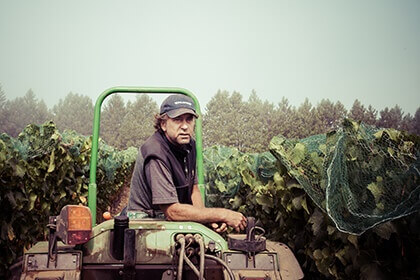 The story of Failla begins with the story of a man by the name of Ehren Jordan. After awakening his passion for wine during a part-time job at a Washington DC wine shop and a stint as a wine buyer at a restaurant in Aspen, Colorado, Ehren set his sights on California. After the ski season, he travelled there with his two roommates, who were both from Napa Valley. He landed a job first as a part-time tour guide at Joseph Phelps Vineyards in St. Helena, eventually making his way to the cellar, where he would work for free with the team. A few years later, his thirst for knowledge led Ehren to the Rhone Valley of France, where he worked as an apprentice for Jon Luc Columbo. It was here, on the sunny vineyards of the Southern Rhone that Ehren honed his skills in the production of Syrah and Grenache, adding Old World winemaking to his list of experiences. He returned to Napa Valley to work for Neyers Vineyards for two years before moving to Turley Wine Cellars. In 1994, while working for Helen Turley and her husband on their vineyard in the Sonoma Coast, Ehren tasted Chardonnay from the barrel just a month or two after harvest and, moved by the quality of this wine, he decided to purchase real estate in the region before its enormous potential was fully realized.
Launching Failla with Expertly Sourcing Fruit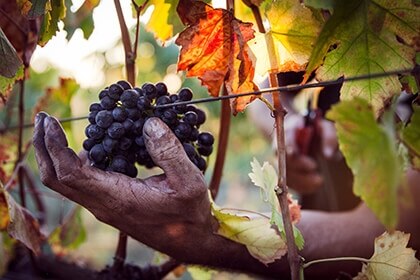 To put his past experience to work, Ehren, along with his wife Anne-Marie Failla, purchased vineyards plots on the Sonoma Coast and in 1998 they founded Failla Jordan Wines. The estate's first release, as Failla-Jordan, occurred in that same year, and included wines made with locally sourced grapes: the Alban Vineyards Viognier from Edna Valley and the Que Syrah from the Sonoma Coast. The Failla project also began a Pinot Noir program, producing a first Pinot Noir from Keefer Ranch Vineyard in the Russian River Valley in 1999. Planted in 1988 by Marcy Keefer and her husband Robert in the southwestern-most part of the Green Valley, the Keefer Ranch Vineyard enjoys an intense morning fog and sandy Goldridge soils, which impart a wonderful character to the finished wines. Two years later, Ehren added to the portfolio Pinot Noir sourced from Hirsch Vineyard, considered one of the "Grand Cu" blocks on the Sonoma Coast. This vineyard, originally founded in 1980 by David Hirsch, produces profound expressions of the local terroir, characterized by a myriad of soil types and exposures.
Eventually the Pinot Noir portfolio grew even more to include Occidental Ridge (2005), Peay Vineyard & Pearlessence Vineyard (2006) and Whistler Vineyard (2009) and Platt Vineyard (2015) on the Sonoma Coast, as well as Savoy Vineyard (2012) in the Anderson Valley. More recently, a single vineyard Pinot Noir has been added to the range, sourced from the highly acclaimed Seven Springs Vineyard in Oregon's Eola-Amity AVA.
Along with Pinot Noir, Failla also producer excellent Chardonnay wines sourced from the venerable Hudson Vineyard in Napa's Carneros and Haynes Vineyard in Coombsville. In total, the Failla portfolio offers 8 distinct bottlings of single-varietal Chardonnay, including wines made from the estate's own vineyard plot on Olivet Road in the Russian River Valley. And as an homage to Ehren's time spent in the Rhone, Failla also produces three Syrah wines - two made from fruit source from Hudson Vineyard and Kick Ranch in Sonoma, and a special cuvee made from the Estate Vineyard in Sonoma, just off the Pacific Coast.
Fort Ross-Seaview: The Failla Estate Vineyard
In 1998, Ehren also planted the first two blocks of the estate's own vineyards, Fort Ross-Seaview. By the end of 2002, this property was planted with 5 acres of rootstock and Pinot Noir clones were grafted the following year. Since then, the estate has expanded to include 11 acres, which are today planted with Syrah, Chardonnay and Pinot Noir vines. Since the very beginning, this vineyard has been farmed using organic practices, including the addition of compost and oyster-shell lime. The weeds are hoed by hand, and nitrogen-fixating cover crops are planted among the vines each fall in order to encourage natural biodiversity and maintain soil health. The vines are dry farmed, relying on natural springs in the area and the vineyard water is moved hundreds of feet uphill by means of solar power. The first grape harvest on the Failla Fort Ross-Seaview estate vineyard took place in 2001, with yields increasing slowly but surely in each year since.
The Failla estate vineyard is located in the Sonoma Coast AVA, at minimum elevations of 1,000 feet, around 1-3 miles from the Pacific Ocean. In 2012, the Fort Ross-Seaview sub-AVA appellation was created within the Sonoma Coast AVA to include those vineyards planted 920 to 1800 feet above sea level or higher. Here, the terrain is quite rugged and challenging, yet the reward of putting down stakes is clear. The coastal fog that lingers in the valleys brings just the right amount of cool air to the vines, leading to a slow and steady ripening of the fruit. This kind of micro-terroir is perfect for Pinot Noir, for example. Vines planted above the fog-line form their very own unique ecosystem, characterized by dryer, sunnier and warmer days, better suited to Syrah.
The Fort Ross-Seaview Syrah: A Reflection of Failla's Winemaking Philosophy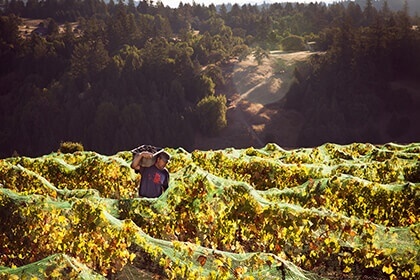 While Failla is perhaps best known for its carefully crafted array of Pinot Noir and Chardonnay wines, their Fort Ross-Seaview Syrah is something unique and rare: a cool-climate Syrah from grapes grown in American soil, but inspired by winemaking techniques Ehren learned during his time in Cornas, in the France's Northern Rhone. The grapes are harvested from vines that are aged 20 years on average, undergoing alcoholic fermentation with 100% whole clusters and native yeasts. The wine is then basket-pressed into barrel, where it undergoes malolactic fermentation, also with native yeasts. This singular Syrah spend 11 months maturing on its lees in French oak barriques, if which around 25% is new. The wine is not fined or filtered before being bottled.
While fully place-centric in his winemaking philosophy and a strong believer of terroir as the key element to creating wines of quality, Ehren does not feel fully tied to any one terroir. He plants Zinfandel in St. Helena, Chardonnay and Pinot Noir in the Russian River Valley, and Chardonnay, Pinot Noir and Syrah on the Sonoma Coast. He produces single-vineyard expressions in many different varietals, offering over 30 different wines in total. More recently, Ehren has set his sights on Oregon, working with Zenith Vineyard in the Eola-Amity Hills. Led by his natural curiosity and adventurous spirit, the winemaker plans to experiment with a handful of varietals in this region, including Gamay, Chenin Blanc, Riesling and Gruner Veltliner.