Here, winemaking techniques like malolactic fermentation, extended lees aging with batonnage and an extended maturation in oak barrels lend the wines a signature style: a rich, creamy, mouth-coating texture. The wines of Meursault seduce and bewilder with intense aromas of stone fruit and lime, fresh butter, honey and toasted hazelnuts. These are world-class wines to pair with decadent dishes, like grilled lobster slathered in a garlic and parsley butter or tender veal cutlets in an unctuous mushroom sauce.
A History of Meursault Wine
One of Burgundy's oldest wine villages, Meursault is located on a prehistoric site, which is believed to have first been settled around 2,500 BC. Under Roman rule, it became part of the province of Gaul. The name "Meursault" comes from the Latin expression "muris saltus," meaning "mouse leap," and was believed to be the name given by Roman soldiers to the Ruisseau des Cloux stream, which flows through this land. In the year 92, Roman emperor Domitian prohibited the planting of vines outside of modern-day Italy in order to avoid competition, which led to the uprooting of vines in Burgundy. Nevertheless, vines were eventually replanted.
The arrival of Christianity in the beginning of the 6th century led to the establishment of several abbey estates with vineyards. One of the very first "Murisaltian" vineyard mentioned was the one donated by the Duke Eudes I of Burgundy to the newly constructed Abbey of Citeaux in 1098. This abbey would eventually reign over a substantial vineyard area, spread over the municipalities of Meursault, Pommard and Aloxe. Under the reign of Louis XI, the vineyards of Burgundy became property of the French state. Eventually, the great maisons de negoce (merchant businesses) were established to direct the trade of Burgundy wines to their main market, Paris.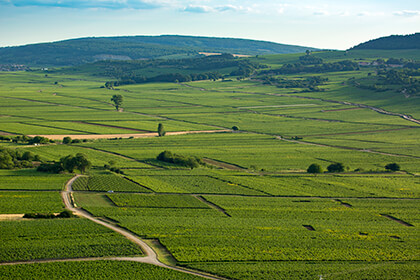 In the 19th century, the demand of the global market focused on red wines, posing some challenges for regions like Meursault, which were specialized in white wine. In 1855, Burgundy winemaker Jules Lavalle outlined, for the first time, the vineyards of the region, and in 1861 the wines of Meursault were classified by the Committee of Agriculture of Beaune. The second half of the 19th century brought further challenges, including downy mildew and phylloxera, which devastated the vines and led to a vast overhaul of the vineyards. An economic crisis, two World Wars and disappearing markets (Germany during WWI and Russia after the Bolshevik revolution in 1917) exacerbated the situation.
In order to protect and ensure a consistent quality for the wines of Burgundy, the Appellation d'Origine Controllée (AOC) system was established in 1935. The Meursault appellation was created in 1937. In the past 50 years, the region has seen an incredible evolution in both viticultural and winemaking techniques, including green harvesting, the sorting table, thermoregulated stainless steel vats and the pneumatic press. Today, there is also a greater focus on environmental sustainability and biodynamic approaches to viticulture among the winegrowers of Meursault.
A Magnificent Terroir in Burgundy's Golden Triangle
The wine region of Meursault, along with its namesake village, are situated in the Côte de Beaune region of Burgundy. The appellation is bordered by Volnay and Pommard in the north and Puligny-Montrachet and Chassagne-Montrachet in the south. Together, Meursault, Chassagne-Montrachet and Puligny-Montrachet form the "Golden Triangle" of Burgundy, producing some of the most legendary white wines not just in France but in the world.
But while Puligny-Montrachet and Chassagne-Montrachet is studded with Grand Cru plots, the reputation of Meursault rests on its 19 climats classified as Premier Cru and its well-respected "lieux-dits," which are plots of outstanding quality producing Village-classified wines. Overall the region is home to 289 hectares (roughly 715 acres) of Village-level Meursault vineyard and around 105 hectares (260 acres) of Meursault Premier Cru vineyards. Some of these Premier Cru climats, including Les Charmes, Les Perrières and Les Genevrieres, are widely considered to be on the same level of quality as the Grand Crus of neighboring appellations.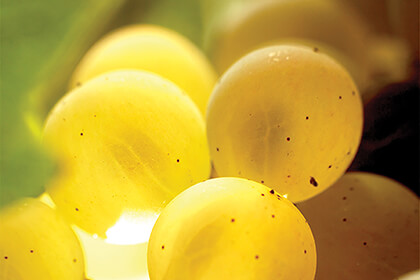 The vineyards of Meursault are planted on the slopes of the Cote d'Or escarpment and enjoy a wide variety of orientations, with the best sites situated at around 260 meters above sea level. Here, a poor topsoil with a high degree of stones lies above a substrate of Jurassic marl, magnesian limestone, chalky limestone and marly limestone, which translates into an unparalleled elegance in the wines.
The production of this appellation is almost exclusively dedicated to white wine made from Chardonnay grapes, the flagship white grapes of Burgundy. Nevertheless, there is also a very small proportion of vineyards (less than 5% of the total plantings) dedicated to Pinot Noir, used to produce red wines. These vineyards are found in five climats which make up the Santenots designation, which can also be classified under the Volnay AOC, generally better known for its red wines. The appellation rules allow Chardonnay to be blended with a very small number of grape varieties like Pinot Blanc, although this is very rare.
Winemaking and a Signature Style of Burgundy Chardonnay
The white wines of Meursault are often cited as a classic example of a specific style of Chardonnay, often juxtaposed in contrast to those of Chablis. While Chardonnay from Chablis expresses green apple and citrus aromas, with mineral hints of wet stone and slate, the classic Meursault Chardonnay exudes more stone fruit aromas, along with creamy butter, honey and hazelnut nuances. These differences come from both terroir difference and winemaking choices.
To produce their full-bodied and rich white wines, the winemakers of this appellation almost always encourage malolactic fermentation to take place, following alcoholic fermentation. The conversion of tart, harsh malic acid to softer malic acid results in a smoother texture in these wines. Another technique commonly used is extended lees aging with batonnage (stirring of the lees), resulting in a more full-bodied texture. Finally, the white wines of Meursault often undergo both fermentation in oak and extending oak aging in barrels, of which some are new. Along with texture-enriching tannins, the oak imparts aromas of butter, vanilla and hazelnuts to these wines. Oak aging also allows these wines to age for a few years, or up to 15 years for some of the best bottlings.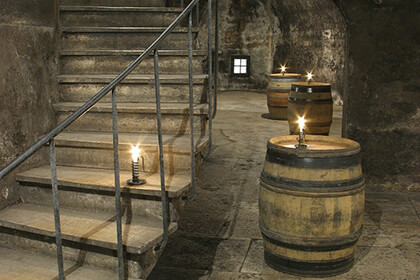 Terroir differences also contribute to variations in style, with the wines of the Perrieres climat, for example producing more powerful, intense, concentrated and age-worthy wines, while the Charmes climat is known for a suppler, softer style. Perhaps the most representative wines of the appellation's signature style come from Meursault les Genevrieres, where Chardonnay is heavily oaked with a very creamy, round texture and intensely nutty aromas.
Meanwhile, the Pinot Noir red wines of this appellation tend to be round and delicate with fresh black and red fruit aromas, complemented by touches of licorice and spices.
How to Enjoy these Legendary Burgundy Whites
While the wines of Meursault are considered slightly less age-worthy than those of Puligny-Montrachet and Chassagne-Montrachet, they will evolve beautifully over at least 5 years in the bottle. During this time, the bottles should be stored in a cool, dark environment and the bottles lain on their side to keep the cork moist and prevent oxidation. Wines from the Premier Cru climats typically age very gracefully for 15 years or more, depending on the vintage. As they age, aromas of dried fruit and honey appear.
Its sheer aromatic power and its exceptional balance of texture and acidity make white Meursault ideal for food pairing. Such a noble white wine should be paired with an equally noble dish, foods with unctuous and generous textures. In the realm of seafood, a Meursault will pair beautifully with dishes like grilled lobster or juicy king prawns slathered in a garlicky butter sauce, whose intense aromas will mingle beautifully with those of the wine. The distinguished acidity of this white Burgundy will also allow it to pair with meat or poultry dishes served in a white cream sauce, like rabbit in a mustard sauce, roast chicken or turkey, and veal in a rich mushroom cream sauce. The acidity has a palate-cleansing effect, balancing the creaminess of these dishes to prevent an excessively fatty mouthfeel. Meursault lends itself beautifully to creamy washed-rind cheeses like Brie and Camembert, or blue cheese. It will also pair exquisitely with foie gras.
To enjoy these wines to the fullest, we recommend serving them at a temperature between 12° and 14°C (or 53° to 57°F).