Have you ever wondered how a Cabernet Franc from Long Island would taste? How about a New York state Tocai Friulano blend? Channing Daughters Winery offers curious wine lovers a vast array of white and red wines, made with over two dozen grape varieties from all three Long Island AVA's. At the heart of the company is a commitment to environmental stewardship, with the vineyards managed according to a strict sustainable winegrowing program. Discover the dazzling collection of wines from Channing Daughters Winery – 14,000 cases per year spread over almost three dozen different bottlings – a result of the spirited and experimentalist nature of winemaker Christopher Tracy.
Channing Daughters: A New Winery is Born
Channing Daughters Winery was born in 1982, when multi-faceted venture capitalist and sculptor Walter Channing decided to plant his very first Chardonnay vine in Bridgehampton, Long Island. Unlike the few producers already established in the region since the 1970's, Channing decided to set up his vineyard in the Hamptons area of South Fork rather than the flatter fields of North Fork. And instead of ubiquitous Bordeaux and Burgundy varieties (Cabernet Sauvignon, Merlot, Chardonnay and Pinot Noir), he and his winemaker at the time Larry Perrine took a chance, testing out more obscure Italian varieties to see how they would fare in the Long Island terroir.
In 2001, Christopher Tracy joined the team as the new winemaker of Channing Daughters Winery, while Perrine became a partner and CEO of the company. Just like the latter two, Tracy is a man of many talents with graduate theatre training and a Grand Diplome from the French Culinary Institute of New York, not to mention abundant chef-ing experience at award-winning restaurants in New York City. It was as a chef that Tracy first became interested in wine, earning a Sommelier Certificate from the Sommelier Society of America, a Higher Certificate from the Wine and Spirits Education Trust and the Diploma from the Wine & Spirits Education Trust (WSET). He first became involved in Channing Daughters Winery as a member of their wine club. When he took the reins as winemaker, the winery was producing only around 4,000 cases per year. Tracy began by playing with various techniques (fermenting with autochthonous yeasts, longer and gentler extractions, field blends and extended skin contact on whites) to eventually develop a range of new wines. Today, Christopher Tracy still runs the winemaking at Channing Daughters Winery, producing around 14,000 cases per year, split between over three dozen different cuvees. Tracy has also become a partner in the company.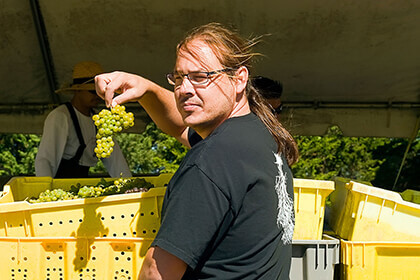 Channing Daughters: Experimentalist Wines from Long Island's Three AVA's
The Channing Daughters Winery is situated in Bridgehampton, close to six separate estate-owned vineyards, planted between 1982 and 2007. The 1-acre Channing Experimental Block was planted in 1982 by Walter Channing with 50% Chardonnay and 50% Cabernet Sauvignon and Cabernet Franc. Today, the Cabernets have been replaced with earlier-ripening Dornfelder and Lagrein, but the Chardonnay remains, over 3 decades old, forming the base of the winery's flagship L'Enfant Sauvage cuvee, a Burgundy-style varietal Chardonnay. The 3.2-acre Sculpture Garden Vineyard was originally planted to Merlot in 1987 but is today home to many different inter-planted varieties, including Blaüfranksich and Teroldego. Other estate vineyards include the 6-acre Scuttlehole Vineyard (planted in 1991 with Dijon Chardonnay in gravelly Riverhead Fine Sandy Loam soil), the 4-acre Brick Kiln Vineyard (also planted in 1991 with Dijon Chardonnay but in soil with some blue-grey clay), the 10-acre Sylvanus Vineyard (planted in 1999 and today home to a dazzling mosaic of white varieties) and the 3-acre Home Farm Vineyard (acquired in 2007 and planted with Northeastern Italian red varieties, like Lagrein and Refosco del Pedunculo Rosso). In total, Tracy produces wines from 27 acres (11 hectares) of estate vineyards, along with some grapes purchased from Mudd Vineyard on the North Fork, the oldest wine-producing property on Long Island. Altogether, Channing Daughters produces wines from all three long island AVA's: North Fork, the Hamptons and Long Island.
The Channing Daughters vineyards are home to a wide array of soil types, chief among them the Bridgehampton Silt Loam (perfect for Merlot, for example), with some Riverhead Fine Sandy Loam which is shallow and dry, causing it to warm up quite early in the growing season and allowing the fruit to ripen earlier. Some of the silt loam soils also have veins of blue clay running through them, making for a completely different mineral profile. The vineyards of South Folk are cooled by southwesterly breezes coming off the Atlantic Ocean and creating a climate favorable for many varieties, especially whites. The result is a slightly higher acidity in ripe fruit than in North Fork, which experiences a slightly warmer climate. Currently, Channing Daughters grows Chardonnay, Tocai Friulano, Pinot Grigio, Sauvignon Blanc, Malvasia, Gewurztraminer, Ribolla Gialla and Pinot Bianco for whites, and Merlot, Dornfelder, Blaufränkisch, Refosco Cabernet Franc, Syrah, Cabernet Sauvignon, Teroldego and Lagrein for reds. On Long Island, many of these varieties are cultivated only by Channing Daughters.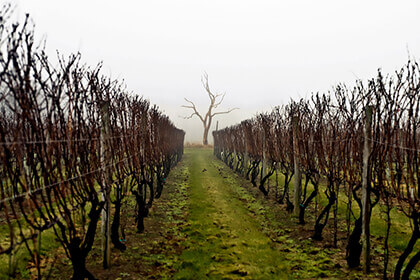 Channing Daughters Winery is a founding member of Long Island Sustainable Winegrowing, which is an independent sustainable viticulture program certified by a third party, and the first such program in the country that is not based on the West Coast. The winery recycles 100% of its grape pomace and add horse manure to create its own organic compost. Only organic, slow-release forms of nitrogen – like compost- are applied to the soil, completely replacing synthetic nitrogen. Around 90% of the estate vineyards are planted with cover crops, which prevent the erosion of the soil and contribute to a healthy ecosystem with a rich biodiversity.
The Many Wines of Channing Daughters
While it's well-nigh impossible to define the "signature style" of a winery with such a vast portfolio of wines, perhaps the word "experimentalist" best fits Channing Daughters Winery's winemaking program. Led by Christopher Tracy, the team produces many cuvees, each one in relatively small quantities. The Channing Daughters selection includes mono-varietals and blends, whites and reds, rosés and oranges, fortified wines, pétillants, natural wines and even a vermouth. Each wine is meant to be "delicious" first and foremost, and each one is suited to different kinds of moments, meals and moods. Tracy describes his winemaking style as "bottom-up," meaning that he makes the decision of what to do with a certain batch of fruit on the crush pad, basing that decision on what best suits that grape variety, that terroir plot, that vintage. The winemaking follows a minimal intervention approach, with a minimal use of sulfur dioxide, but some filtering for the sake of clarity.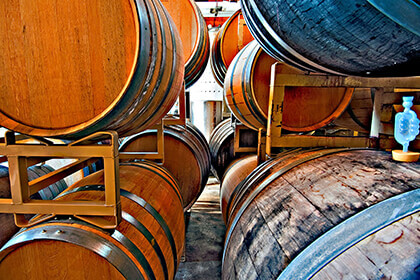 Exemplifying a Channing Daughters white blend is the Vino Bianco cuvee from the Long Island AVA, produced with a blend of Pinot Grigio, Sauvignon Blanc, Tocai Friulano and Chardonnay. The varieties are harvest and vinified separately in a combination of stainless steel, new oak, old oak and hogsheads, then blended and aged on lees for eleven months to produce around 400 cases. The result is a very lively wine with aromas of citrus and white flowers, and a succulent, juicy mouthfeel.
Perhaps their best-known single-variety white wine is the L'Enfant Sauvage Chardonnay from the Hamptons AVA, produced from fruit hand-harvested from the Brick Kiln and Sculpture Garden Vineyards in Bridgehampton. The grapes are pressed with whole clusters and added to new French oak barrels, where they ferment with native yeasts only and then go through malolactic also with native yeasts. In total, the wine spends around 16 months in barrel. The 2015 offers clean, generous aromas of lemon curd, pear and brioche, along with a medium body and very long, persistent finish. This is a wine that can already be opened and enjoyed in its youth, but which can also age 8-12 years. A total of 282 cases were produced of the 2015 vintage.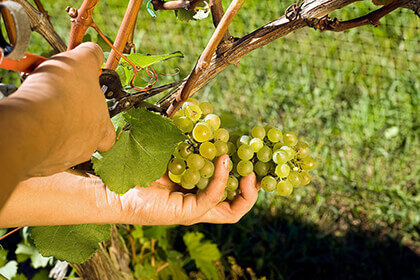 And from the North Fork AVA, the Channing Daughters Mudd West Vineyard Cabernet Franc is produced with 93% Cabernet Franc and 7% Merlot grapes, sourced from the Mudd West Vineyard. Following the manual harvest, the fruit was crushed by foot and punched down by hand. The wine was fermented with ambient yeasts and matured for 8 months in older oak barrels. This North Fork red offers bright red fruit flavors (raspberries, cherries, plums), as well as hints of violet and jasmine. On the palate, it is shows a silky texture and beautiful lightness. Only 113 cases were produced for the 2015 vintage.