The Wolffer Estate Vineyard was born in 1988, when German venture capitalist Christian Wolffer purchased his first parcel of vines on the East End of Long Island. It was this unique terroir – distinguished by its signature Bridgehampton loam soil and cool marine breezes blowing off the Atlantic Ocean nearby – that captured the heart of the self-made entrepreneur and convinced him to settle after decades of travel and hard work. While the founder passed away in 2009, his spirit remains at the namesake estate, which is now managed by his children, Marc and Joey Wolffer. Their portfolio includes world-class red and white wines, as well as two exquisite rosés, which have achieved a special cult status in recent years.
Wolffer Estate Vineyards: Representing East End Since 1988
Christian Wolffer was born in Hamburg, Germany in 1938. After stints at a bank, an import-export company and a German chemical company, he began his entrepreneurial career in 1971, selling Canadian real estate to investors from Europe. Later on in the 1970's, Wolffer moved to the United States and founded two venture capital concerns. Eventually, the great creative vision of this self-made venture capitalist brought him to Long Island, where he purchased a 14-acre parcel of land, originally home to a potato field and a small farmhouse. It is on this land that Wolffer founded his wine estate in 1988, originally named Sagpond Vineyards. In 1997, with the inauguration of its 12,000-square-foot, state-of-the-art winery, it was renamed Wolffer Estate Vineyard. The winery, whose ochre stucco walls and terra-cotta walls recall the rustic architecture of the Tuscan wine region, is known as one of the most beautiful on Long Island.
While Mr. Wolffer passed away in 2009 at the age of 70, his presence is still very much felt as one of the leading "second wave" vintners of Long Island. He was known by many in Long Island's East End as a joyful bon vivant who spoke six languages, as well as a fierce and very public champion of the region's wines.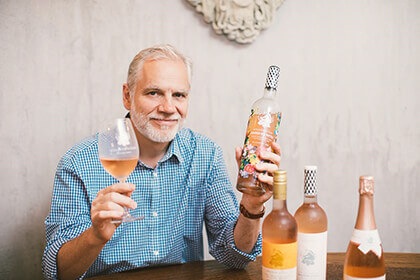 Today, the estate is owned and operated by the founder's children, Marc and Joey Wolffer and Partner/Winemaker Roman Roth who has been at the estate as its first winemaker since 1992. German-born Roman Roth was the one to establish the distinctive character of Wolffer wines, by combining a certain European elegance with Long Island's unique terroir. Roman has worked closely with experienced Vineyard Manager Richie Pisacano to create over 20 vintages together. These days, the Wolffer Estate spans 470 acres, including 55 acres of sustainably farmed vineyards in Sagaponack, NY, 52 acres on the North Fork of Long Island, 200 acres in Mendoza, Argentina and 2.5 acres in Mallorca, Spain. Another 160 acres are managed in collaboration with other winegrowers of North Fork.
Wolffer Estate: A Terroir Like No Other on the Atlantic Coast
The heart and soul of Wolffer Estate Vineyard lies in the 55 acres of estate vines, managed by Richie Pisacano. These vines of Merlot, Chardonnay, Cabernet Franc, Cabernet Sauvignon, Trebbiano, Pinot Noir and Vignole are cultivated with sustainable farming practices. In fact, the estate has been certified 6 years in a row by Long Island Sustainable Winegrowing. Here, the region's emblematic Bridgehampton loam soil and the breezes blowing off the coast of the Atlantic Ocean (just 2.6 miles from the estate) combine to form a maritime climate. This specific climate is largely responsible for that balance of ripeness and acidity that marks the signature style of Wolffer Estate Vineyard wines.
The winery, completed in 1997, is outfitted with the latest technologies, including massive, computerized stainless steel tanks, a laboratory, riddling rooms, an Old World style barrel room in high-vaulted caves, a bottling line and a cellar in which the wines are stored before distribution. The estate has also invested in a tasting room, which stays open 7 days a week, welcoming visitors to live the full Wolffer Estate experience.
The Signature Style of Wolffer Estate Wines
Wolffer Estate Vineyard produces a wide range of red wines (single-varietal Cabernet Francs, Merlot, Cabernet Sauvignon and Pinot Noir, as well as a blend), white wines (single-varietal Riesling, Chardonnays, Trebbiano, Sauvignon Blanc and blends), sparkling wines and ciders. However, it is for their signature rosé wines that they are particularly well known.
Their Estate Rosé is their first, the original. The 2018 vintage was made from a blend of 50% Merlot, 20% Chardonnay, 13% Cabernet Franc, 11% Cabernet Sauvignon, 2% Sauvignon Blanc, 1% Riesling and 1% Pinot Noir. Truly a testament to the Wolffer team's mastery of blending, this light orange and copper-toned rosé exudes elegant aromas of ripe pear and apples, followed by a clean mouthfeel and fabulous minerality on the palate. Its great balance and long finish make it the perfect wine to pair with a variety of light summer dishes, including smoked salmon, tuna tartar, raw shellfish or grilled fish.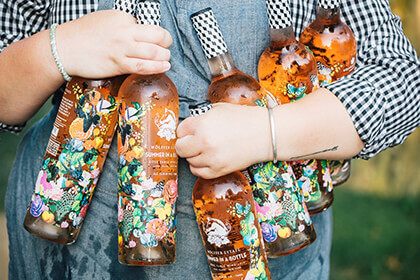 The aptly named Summer in a Bottle Rosé by Wolffer Estate Vineyard is also a blend, this time of 48% Merlot, 41% Chardonnay, 6% Gewurztraminer, 3% Riesling and 2% Cabernet Franc for the most recent release. The 2018 vintage comes dressed up with a colorful and sophisticated new limited edition label to mark its 5th birthday. The Riesling and Gewurztraminer in the blend add beautiful floral notes, as well as a fresh touch of acid, while the Merlot mellows the wine out, adding body and notes of fresh red fruit. A perfect summertime sipper to be enjoyed pool-side on its own, or paired with fish or pork dishes.
The wines of Wolffer Estate are typically described as continental in style, fruit-forward without being too sweet. They offer the perfect opportunity to taste the terroir of Long Island's East End, expressed in all of its purity in each and every sip.