In truly Burgundian fashion, the range includes an array of single-vineyard Grand Cru expressions, alongside a flagship blend in white and rosé. Transparency about origin is at the forefront of these champagnes and is expressed as a code gracing each straight-forward label, providing the taster with information about terroir of origin, base vintage and dosage. These are boutique champagnes that charm with their precision and elegance, finding their place easily among the most decadent culinary indulgences. Pair them with caviar, lobster or Sole Meuniere.
The Story of Valentin Leflaive Champagne
Valentin Leflaive Champagne is an exciting new project by the legendary Leflaive family of Burgundy and specifically Olivier Leflaive, whose namesake wines from Puligny Montrachet, Chassagne Montrachet and Meursault are considered some of the best expressions of Chardonnay in the world. It was during the many trips taken by the visionary Erick de Sousa (of Champagne fame) that the two winemaker friends formed a plan to collaborate on a joint venture, which would bring together the art of wine and savoir-faire of Burgundy and Champagne. The project was named after Olivier's son Valentin, a symbol of the family's future in wine.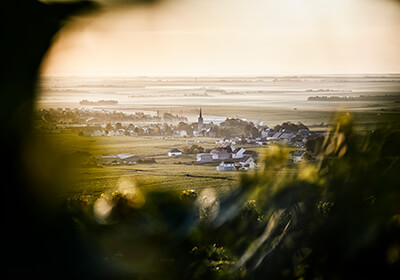 The project was launched in the Avize appellation of the Champagne region in 2015. The Valentin Leflaive company was granted "negociant-manipulant" status 5 years later, allowing for stricter control over the entire production process, including the sourcing of the grapes. A brand new boutique winery was established in Oger, complete with a traditional underground aging cellar dug into the chalk soils. Today, Chef de Caves and native champenois Christophe Pitois looks after the company's relationship with its growers and, with the assistance of oenologist Clement Galois, creates the brand's unique range of champagnes.
A Burgundian Approach to Champagne
The Valentin Leflaive project is based in Oger, between Le Mesnil and Avize, considered one of the most prestigious appellations of the Cote des Blancs region of Champagne. This area is particularly well known for the quality of its Chardonnay, which has long been the flagship grape of the Leflaive family and remains the flagship grape of their champagne. The house maintains a very precise selection process when it comes to plots and chooses to work only with winegrowers with the highest standards, who cultivate their vines by means of sustainable viticulture and harvest the grapes 100% by hand.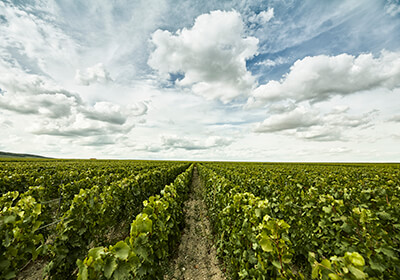 With an undeniably Burgundian approach to champagne-making, the team has decided to produce single-varietal cuvées, made of either 100% Chardonnay or 100% Pinot Noir. Additionally, in order to offer unique expression of various specific Champagne terroirs, a selection of their wines are made with a plot-by-plot approach. Their range of cru champagnes are thus single-varietal and single-plot bottlings.
A Unique Label, Transparent about Origin
Transparence about origin is key when it comes to the champagnes of Valentin Leflaive, each of which bears a special code on its label. This code is comprised of letters referring to their terroir or origin, followed by numbers which indicate base vintage and dosage. For example, the code CV/17/50 signifies that the grapes come from the appellations of Cramant and Vertus, that the base wine was blended in 2017 and that the wine receives a dosage of 5.0 grams of sugar per liter, qualifying it as an extra brut champagne.
Crafting a Range of Exquisite Champagnes
To create each of their exquisite champagnes, the Valentin Leflaive team adjusts the winemaking to suit the needs of each varietal and cru. Nevertheless, the House's cuvées are all aged in Burgundy barrels and vinified on a plot-by-plot basis before being blended.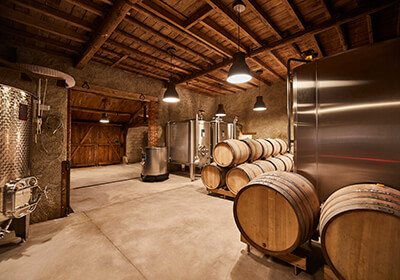 The House's flagship white champagne is their Extra Brut Blanc de Blancs NV, also known as CV/17/50. This is a "Blanc de Blancs" champagne made exclusively of Chardonnay from the Vertus and Bergeres les Vertus Premiers Crus as well as the Cramant Grand Cru plot. The fruit is harvested manually, pressed directly and vinified with 19% reserve wines before being aged for 2 years on its lees and bottled with a dosage of 5 grams per liter. This is a champagne with a fresh nose fill of citrus fruits, along with saline nuances. On the palate, it is quite fine and polished, with great volume and a chalky finish. Pair it with your favorite seafood specialties, like caviar or grilled sea bass.
The House's flagship Brut Rosé MA/16/60 comprises a blend of 51% Pinot Noir from the Grand Cru plot of Ambonnay in the Montagne de Reims and 49% Chardonnay from Le Mesnil sur Oger on the Cote des Blancs. Around 87% of the total fruit is vinified in white, and the rest in red. The wine is aged for a period of 3 years on lees and bottled with a dosage of 6 grams per liter. This rosé champagne combines aromas of wild strawberries, raspberries and citrus on the nose, while the palate reveals mineral hints and red berry fruit flavors. Pair it with a rich lobster dish, red mullet or a flaky tomato tart.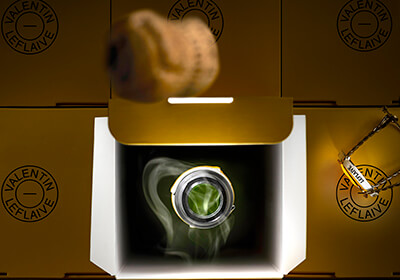 The House of Valentin Leflaive also produces three single-vineyard "cru" champagnes exclusively from their flagship grape, Chardonnay. Their Extra Brut Blanc de Blancs Avize/15/40 is made from 100% Chardonnay grapes from the Avize Grand Cru of the Côte des Blancs, vinified in thermoregulated stainless steel vats, aged for 3.5 years and dosed with 4 grams per liter. With its complex nose of orange zest and white flowers, this chalky and elegant Blanc de Blancs will pair beautifully with Sole Meuniere or pan-fried scallops.
Their Extra Brut Blanc de Blancs Le Mesnil Sur Oger/15/50 is a 100% Chardonnay from a Le Mesnil sur Oger Grand Cru plot on the Cote des Blancs. This champagne is also aged for 3.5 years on lees but receives a dosage of only 5 grams per liter. On the palate, it reveals a freshness and minerality, followed by a mouthwatering finish. Pair it with langoustines or grilled turbot. Finally, the House also produces a 100% Pinot Noir Blanc de Noirs from the Verzenay Grand Cru, which is dosed with 4 grams per liter.