Not only did he single-handedly bring his Bodega Catena Zapata into the modern age and through its cuvées put Argentina on the map for fine wine production, but he also went where no winemaker had gone before: to the heights of Tupungato in Mendoza's Uco Valley. Here, upon a sun-blistered, extreme landscape at almost 5,000 feet of altitude, he established the Adrianna Vineyard, named after his youngest daughter, and produced wines with unparalleled elegance. Founded by Nicolas's daughter Dr. Laura Catena in 1995, the Catena Institute of Wine is dedicated to producing some of the most groundbreaking and extensive studies of terroir in the world, pioneering the study of high-altitude growing environments.
The History of Bodega Catena Zapata
The story of Catena Zapata begins with an Italian immigrant by the name of Nicola Catena who, in 1902, planted his very first Malbec vines in the Mendoza region of Argentina. The founder passed his vineyard on to his son Domingo Catena who, in turn, passed it to his son Nicolas Catena Zapata in the mid 1960's. A well-travelled, worldly visionary with a pioneering spirit, Nicolas is credited for bringing the family bodega into the modern age and for putting the Argentinean wine industry on the map overall. Specifically, he brought about three major changes, today referred to as the "Three Revolutions" at Catena Zapata.
Catena's first "revolution" followed an "out with the old, in with the new" philosophy in both the vineyards and the winery of the estate. Nicolas's father and grandfather had made wines according to their ancestral Italian traditions, by aging their wines for 3 to 4 years in large oak casks to produce an oxidative style similar to sherry. In the 1980's, Nicolas spent some time in Berkeley as a student of economics, and during this time he learned about a new generation of California winemakers who were leading a winemaking revolution in Napa Valley. With new and improved vineyard management techniques (like clonal selection) and winemaking methods (like the use of temperature-controlled stainless steel vats and high-quality oak barrels), these winemakers were aiming to produce fresh, intense and oaky wines to rival the best of France. Inspired by their ambition, Nicolas decided to bring some of these "Californian-French" techniques home with him. Back in Mendoza, Argentina, he sold off the table-wine producing branch of the family company, planted Chardonnay and Cabernet Sauvignon and carried out a plant selection study on Malbec. He introduced temperature-controlled winemaking and the use of French oak barrels to age his wines. It was not long before neighboring Mendoza wineries began following Catena's lead.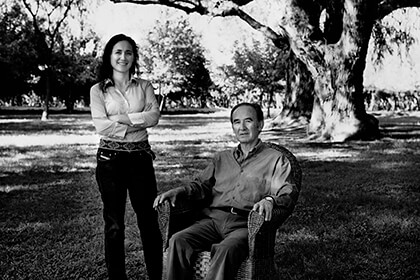 Catena's second "revolution" focused on terroir. In order to produce world-class wines recognized for their elegance and freshness, Nicolás Catena Zapata understood that he would have to plant his vines in the cooler areas of Argentina. Ruling out Patagonia because of its threat of frost, he chose to plant at higher altitudes. In 1992, Nicolas planted his first vines in the Gualtallary Alto of Tupungato at almost 5,000 feet above sea level. The winemaker named this precious vineyard Adrianna after his youngest daughter. Upon tasting the wines from this vineyard, the family noticed that they were much deeper in color with more complexity, lower pH, softer tannins and intense floral aromas. The family carried out a study on the grapes grown here and found that these differences came from higher levels of tannin in the grape skins, which were developed to protect the fruit from the very strong sun. They realized the remarkable potential of these high altitude, low fertility terroirs.
Catena's third "revolution" was nicknamed "the vineyard lot revolution." After years of experimenting with high altitude terroirs, the family discovered dramatic differences in the physical and chemical characteristics of the alluvial soils from one "parcela" to another. Nicolas's daughter Dr. Laura Catena, who earned her degree in biology at Harvard University and joined her father at the family business in 1995, has made it her life's mission to understand these differences through science. Together with the bodega's all-star team, composed of Head Winemaker Alejandro Vigil, Wine Director Fernando Buscema and Vineyard Manager Luis Reginato, Laura founded the Catena Institute of Wine, whose mission is to conduct research on the soils and terroirs of Mendoza. One of the Institute's first projects was to analyze the different lots of the Adrianna Vineyard and produce research that led to the creation, in 2008, of two terroir-driven single-vineyard bottlings called the White Stones Chardonnay and White Bones Chardonnay. To this day, Bodega Catena Zapata leads the way in soil research and plot-by-plot winemaking in Argentina.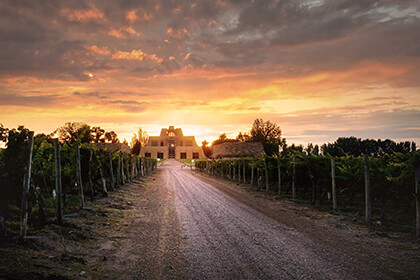 In 1994, Bodega Catena Zapata became the very first producer to export a premium single-varietal Malbec wine from Argentina. This wine was simply called "Catena Malbec." Over the next few years, the estate's portfolio has expanded to include a beautiful selection of single-vineyard bottlings, single-varietal wines and blends. In 2009, Nicolas Catena Zapata was chosen as Decanter magazine's "Man of the Year," the first South American winemaker to receive this distinction. Today, he is considered the single most important figure in the history of the Argentine wine industry and enjoys a rare status shared by few winemakers, the likes of which include Robert Mondavi in California and Angelo Gaja in Piedmont.
The Catena Terroir: High-Altitude Viticulture at its Best
Today, Bodega Catena Zapata produces a myriad of wines from six historic high-altitude estate vineyards. The Catena Institute of Wine has conducted in-depth analyses of the different lots in each of these vineyards, mapping out the soil types, vine clones, planting densities and average temperatures characterizing each micro-terroir. This has allowed them to produce a range of wines with pure terroir expression.
The Angelica Vineyard is situated at an altitude of 3,018 feet in the Maipu region. Here, Malbec and Cabernet Sauvignon were first planted around 1903 in a mixture of light gravel, clay and loam soils upon a subsoil of alluvial rocks. Named after Nicolas's mother, the Angelica vineyard produces full yet soft Malbec wine with plum and red fruit aromas, as well as Cabernet Sauvignon with fine grainy tannins. The Angelica Sur Vineyard is situated in the San Carlos region, at an altitude of 3,576 feet, and was planted in 2005 with Malbec, Cabernet Sauvignon, Cabernet Franc and Petit Verdot.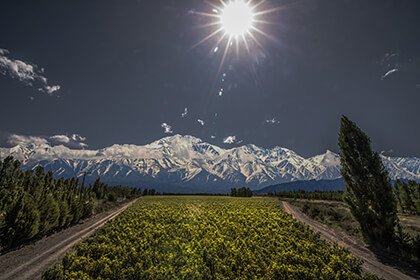 The La Piramide Vineyard surrounds the iconic pyramid-shaped Catena Zapata winery in the Lujan de Cuyo region of Mendoza. Here, vines of Malbec, Cabernet Sauvignon, Cabernet Franc and Petit Verdot are planted at 3,117 feet in alluvial loam and clay over alluvial rock. The Nicasia Vineyard in San Carlos is planted at 3,593 feet in shallow loam and gravel over alluvial and glacial rock. The Domingo Vineyard in Tupungato is one of the highest, at 3,675 feet. But the prized gem of the Catena Zapata estate is the Adrianna Vineyard, which has been nicknamed "South America's Grand Cru."
One of the most studied vineyards in the world, Adrianna is planted in the Tupungato region at altitudes of almost 5,000 feet above sea level. The vineyard was planted with Chardonnay and Cabernet Sauvignon cuttings from France and with Malbec which was taken from the 75-year-old Angelica Vineyard in Maipu. At such a high altitude, the vines enjoy intense sunlight, which allows the grapes to ripen. Meanwhile, the cool nighttime temperatures allow the vines to preserve their natural acidity. The diurnals (differences between nighttime and daytime temperatures) create a slow ripening season, allowing the grapes to develop high levels of tannins and polyphenols. This leads to Cabernet with characteristic capsicum aromas, Malbec with grippy, dense tannins, and Chardonnay which are simultaneously mineral and generous on the palate.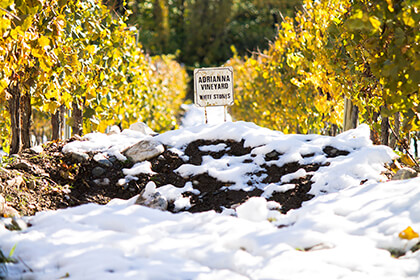 Boasting a fascinating geological history, the Adrianna Vineyard is home to a stunning mosaic of soils and subsoils, which contributes to the equally stunning complexity of its wines. The Catena Institute of Wine has mapped out the soil composition of the entire vineyard, dividing It into 70 soils pits per hectare. Today, the team vinifies between 200 and 300 different lots just from the Adrianna Vineyard, keeping them in separate barrels to achieve separate fermentations. Such a remarkable arsenal of base wines is used to achieve a stunning portfolio of single-parcel bottlings and blends.
The Winemaking and Wines of a Pioneering Bodega
Winemaking at Bodega Catena Zapata has come a long way from the traditional Italian oxidative style practiced by Nicola Catena. Nevertheless, there are no pre-set, hard-and-fast rules for winemaking here. Rather, the winemaking is adapted to the individual needs of each batch of grapes.
The Catena Malbec, for example, is made with a blend of Malbec grapes from various High Mountain Estate Vineyards by Laura Catena and the estate's Chief Winemaker Alejandro Vigil. The wine undergoes 5 days of cold pre-fermentation maceration with the aim to extract aromas. The must is then fermented for a period of 12 days using wild yeasts, following post-fermentation maceration to soften the tannins for 19 to 22 days. The wine ages for 12 months in a mixture of first, second and third use oak barrels. This wine presents a unique expression of the Malbec varietal with fantastic natural balance and concentration. On the nose, it reveals ripe red and dark fruits, violet and lavender, with hints of mocha and vanilla. The concentrated palate offers flavors of blueberries, blackberries, leather and cinnamon. A fantastic easy-drinking Malbec, which will pair beautifully with grilled meats, pasta Bolognese and even salmon.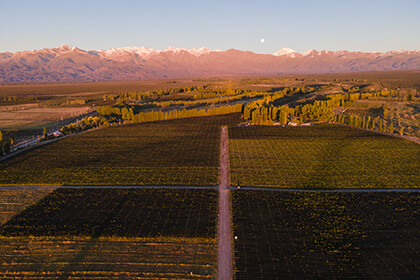 Similarly, the San Carlos Cabernet Franc is aged for 12 months in French oak barrel of which around 35% is new. This wine, made with 100% Cabernet Franc from the family's historic San Carlos vineyards, goes through 3 days of cold maceration, followed by 20 days of alcoholic fermentation and 10 days of post-fermentation maceration. This wine reveals incredibly concentrated and ripe red berry aromas, along with a touch of black pepper and eucalyptus. On the palate, it presents a powerful tannic structure and smooth texture. Pair this versatile Argentine red wine with hearty stews, moles or roasted lamb.
The Catena Zapata Malbec Argentino is produced from Malbec grapes grown on old vines in the Nicasia and Angelica vineyards. The wine is fermented with 20% whole clusters and 80% whole berries in 225-500 liter new French oak barrels, where they ferment with wild yeasts for a period of 30 days to allow for a seamless integration of oak. During the fermentation process, the cap management is extremely gentle and the temperatures are kept low to extract fresh fruit aromas. Following malolactic fermentation, also in barrel, the wines age for a period of 18 months in French oak barrels. This wine reveals a bouquet of ripe blueberries, cassis and violets, along with a characteristic earthy touch of wet soil. On the palate, it offers subtle saline and mineral nuances which round out the sweet black and blue fruit flavors. Serve this very special Malbec with a prime cut of beef or lambchops.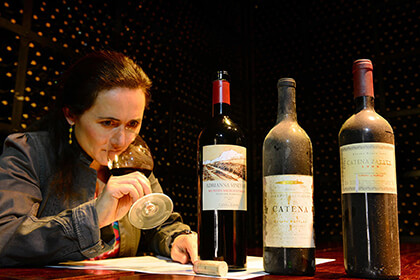 Hailing from Catena Zapata's most legendary high altitude vineyard, the Adrianna Vineyard White Stones Chardonnay comes from 27 rows of vines within Block 1 of the famous Tupungato vineyard. This parcel gets its name from its subsoil of oval white stones, covered with gravel. The Chardonnay grapes go through cold settling for 12 hours in stainless steel tanks at 6 °C, followed by fermentation for 45 to 95 days in French oak barrels at 16 °C with batonnage (stirring of the lees). After a partial malolactic fermentation, the wine is aged for 12 to 16 months in a combination of 2nd, 3rd and 4th use French oak barrels. The result is a Chardonnay with a mineral and floral bouquet, matched by a flavorful palate of jasmine and white peaches. Its lively acidity and minerality will lend it to a vast array of food pairings, especially rich seafood dishes like grilled langoustines, crab and lobster.
The Catena Zapata "Tikal" winery is situated in Agrelo, in the Lujan de Cuyo area of Mendoza. The stunning pyramid-shaped building was inspired by Mayan architecture.