A prestigious First Growth Classified in 1855 and one of the most famous wine estates in the Sauternes appellation of Bordeaux, Chateau Lafaurie-Peyraguey boasts an illustrious pasts and a legacy over four centuries old. Nevertheless, it was only after its acquisition in 2014 by Swiss businessman Silvio Denz that the chateau entered the most glorious chapter of its history, as a place where fine wine fuses with fine art, where the liquid gold of Sauternes finds a worthy shelter in the precious crystal of Lalique. The wines of Chateau Lafaurie-Peyraguey are pure joy in every sip: dazzling, complex Sauternes to be paired with the finest cuisine, or enjoyed on ice as a refreshing cocktail.
Four Hundred Years of History at Chateau Lafaurie-Peyraguey
The history of Chateau Lafaurie-Peyraguey actually begins back in the Middle Ages, with the chateau's porch and wall towers having been traced back to the 13th century. They were built with very old stones from the nearby village of Bommes. The castle's first documented owner was Lord Raymond Peyraguey, who fortified the property with a wall and planted the first vines there in 1618. In 1742, the estate – then named Chateau Peyraguey - was consolidated by Pierre de Prichard, who passed it to his grandson Nicolas Pierre de Pichard. The family expanded its vineyard to almost 30 hectares in total. During the French Revolution, Chateau Peyraguey was sold at auction as a national asset to Pierre Lafaurie, who is largely credited with the chateau's reputation for excellence. Laufaurie transformed the property into a cherished Bordeaux "cru," investing heavily in wine quality. His tremendous efforts paid off five decades later, when the chateau – now Chateau Lafaurie-Peyraguey – was named a Premier Cru Classé in the world-famous 1855 classification of Sauternes and Barsac wines. Lafaurie-Peyraguey gained many famous followers in this time, including King Alfonso XII of Spain, who declared the estate's wines to be his favorite.
In the century that followed, Chateau Lafaurie-Peyraguey changed hands several times. In 1865, it was purchased by Count Duchatel (former Minister of the Interior) who modernized the winery facilities and renovated the chateau in a Hispanic-Byzantine style. In 1917, the chateau was acquired by a wine merchant by the name of Désiré Cordier, who directed his focus on further increasing the quality of the estate's wine. In 1984, Chateau Lafaurie-Peyraguey was acquired by the Suez group, which carried out an enormous renovation project between 1998 and 2005. After restoring the estate and its vineyards to a perfect condition, they sold it to Silvio Denz, a businessman from Basel and CEO of Lalique. Under its new owner, Lafaurie-Peyraguey would experience a brand new chapter of its history.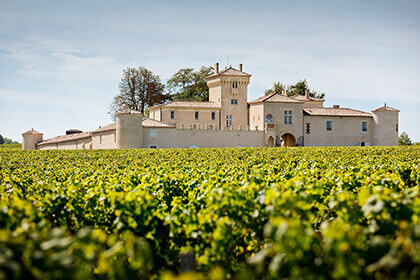 A passionate enthusiast of fine art and wine, Silvio Denz took it upon himself to combine the two at Chateau Lafaurie-Peyraguey. In renovating the chateau, he chose to preserve its original identity and enhance it with contemporary details. Interior designers Lady Tina Green and Pietro Mingarelli created the Lalique Maison collection of furniture and accessories gracing the castle's interior. A modern extension known as the conservatory was designed by renowned architect Mario Botta. With its delicate metal frame and transparent glass walls, this structure accentuates rather than covers the historic façade. It is this same subtle balance between tradition and modern refinement that characterizes the boutique luxury Lalique Hotel and Restaurant, which opened its doors in June of 2018, in honor of Chateau Lafaurie-Peyraguey's 400th anniversary.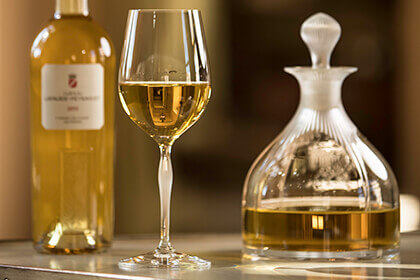 In addition to decking out the chateau's interior in his signature Lalique crystal, Denz also left his mark on the very bottles housing the estate wines. Combining "the gold of Sauternes with the crystal of Lalique," he created a unique bottle for Chateau Lafaurie-Peyraguey featuring an engraving originally created by René Lalique in 1928. Starting with the 2013, each bottle of Chateau Lafaurie-Peyraguey bears this engraving of "Femme et Raisins." Today, the Chateau Lafaurie-Peyraguey estate is managed by David Bolzan.
The Chateau Lafaurie-Peyraguey Vineyard : A Premier Cru Terroir
Situated in the heart of the Sauternes appellation, directly adjacent to the world-famous Chateau d'Yquem, the Chateau Lafaurie-Peyraguey estate reigns over 36 hectares of prime vineyard land. The vineyard is perched upon a terrace of Sauternes gravel, 70 meters above sea level. The vines are 40 years old on average, with some of the oldest plots dating back to 1926. These vines are planted at a density of 6,500 to 9000 vine stocks per hectare and are comprised of 93% Semillon, 6% Sauvignon Blanc and 1% Muscadelle. The signature soil type of the Lafaurie-Peyraguey vineyard is silica-gravel and clay-gravel. At the heart of the estate are the historic plots of "Enclos" and "Maisons Rouges," where the vines stretch their roots deep into clay dating from the Quaternary era, deposited upon a substratum of Aquitania limestone.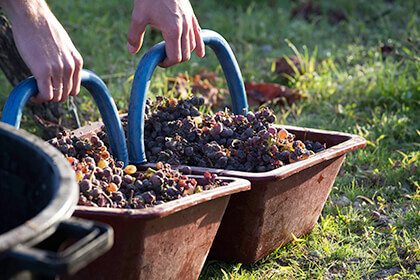 The vines are managed by means of sustainable viticulture, with no chemical herbicides used. The vineyard team practices tillage and selective grassing, debudding the vines in spring and stripping some of the leaves by hand. The manual harvest takes place in successive rounds of picking, ranging from 4 to 7 in total, depending on the vintage. A very thorough selection process ensures that only grapes at the ideal stage of ripeness make it into the final blend.
Winemaking at Chateau Lafaurie-Peyraguey
The vinification of the Chateau Lafaurie-Peyraguey base wines takes place in fine-grained French oak barrels, of which 40 to 70% are new each year, depending on the characteristics and needs of the vintage. Fermentation is carried out at temperatures between 17°C and 23°C for 18 to 30 days, depending on the style of the batch. The wine is aged in French oak barrels (40 to 70% new oak) for a period of 18 to 20 months – again, depending on the vintage. Around 40,000 bottles are produced each year of the estate's namesake first wine. Chateau Lafaurie-Peyraguey also produced a Second Wine named La Chapelle de Lafaurie-Peyraguey, fermented and aged in oak barrels of one previous use. Around 15,000 bottles of La Chapelle de Lafaurie-Peyraguey are produced annually. As a way to limit the fruit that goes into the estate's First Wine to only the very best, Chateau Laufaurie-Peyraguey has also begun producing two dry Bordeaux white wines: the Château Lafaurie-Peyraguey Grand Vin Blanc Sec and Le Lys de Lafaurie-Peyraguey.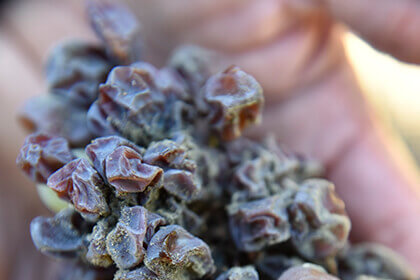 The world-class sweet wines of Chateau Lafaurie-Peyraguey are characterized by gorgeous floral fragrances, along with honey, candied and dried fruits, citrus and spices on the nose. On the palate, they are remarkably balanced, rich and delicious. The sweetness of these wines is perfectly balanced by a crisp line of acidity and a tension which persists until the finish. The Chateau Lafaurie-Peyraguey ends in a penetrating, impressive finish, which lingers long, revealing an exciting spicy touch at the very end.
How to Enjoy Chateau Lafaurie-Peyraguey : From Cocktail Hour to Dessert
While the freshness and verve of Chateau Lafaurie-Peyraguey make this sweet Sauternes wine enjoyable in its youth, a bottle from a good vintage will not reach its peak until around 15 to 40 years of age. This Sauternes wine is best served at a temperature around 14°C. As it warms naturally in the glass, it releases a dazzling, complex bouquet of aromas. Sweet Chateau Lafaurie-Peyraguey wine pairs nicely with a range of dishes, especially seafood, chicken or veal prepared with a hint of spice or touch of sweetness. The classic pairings of foie gras and creamy, blue cheese will also work exceptionally well.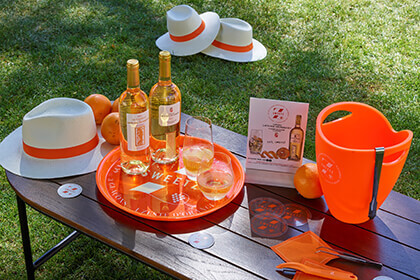 But apart from the classic pairings, Chateau Lafaurie-Peyraguey has also been a strong proponent of a brand new way to enjoy Sauternes: in a cocktail. As a way to make their sweet wines more approachable, a treat to be enjoyed any day of the week, the estate put forth and trademarked the SweetZ cocktail in 2016. The recipe is simple: 2 ounces of Château Lafaurie-Peyraguey, 3 ice cubes and your choice of orange or citrus zest. After all, why wait until dessert to enjoy the dazzling complexity of aromas and flavors locked inside every precious drop of Château Lafaurie-Peyraguey? This fresh and refreshing take on a classic works perfectly well as an aperitif before a family meal or a cocktail to enjoy with friends.