From these grapes, harvested in incredibly limited quantities, comes a wine unlike any other dry white in the world, expressing the pure truth of its singular vineyard of origin: a healthy, lively and balanced ecosystem with stunning biodiversity. And in the glass? Wave upon wave of wet stone and ginger spice, chamomile, stone fruit, meadow flowers and honey, all rounded out by an oxidative touch echoing bruised apples or toasted nuts… These are wines with so much to say, wines that age for years and persist on the palate for what seems like eternity.
The Story of Nicolas Joly | A Visionary Meets a Fabled Terroir
The story of Domaine Nicolas Joly is the story of a meeting between a passionate, forward-thinking individual and a historically renowned vineyard in the Loire Valley.
The La Coulée de Serrant vineyard was originally planted in the 1130's by Cistercian monks and has remained under vine ever since. This 7-hectare monopole vineyard actually has its very own appellation – Savennieres-Coulee-de-Serrant -, making it one of the only single-estate appellations in France. A small monastery still remains on the property and has been classified as a historic building.
A few hundred meters away can be found the ruins of the La Roche aux Moines fortress, where the son of King Philip Augustus defeated the son of Richard the Lionheart in 1214. While the original Chateau de la Roche aux Moines was destroyed in the 16th century, its namesake vineyard still stands as one of the most notable vineyards in Savennieres. These adjacent vineyards were bought by the Joly family in 1962.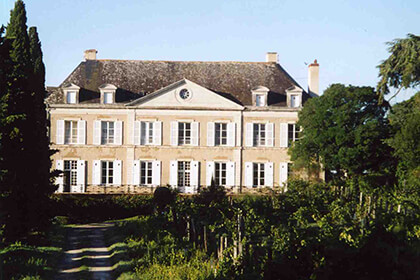 Nicolas Joly began his career in finance. After completing his MBA at Columbia University, he worked as an investment banker in London and for JP Morgan in the United States before returning to Savennieres in 1977 to take over the family vineyards from his parents.
With no previous experience in winemaking, Joly took some courses at University of Bordeaux and experimented with conventional viticulture, using weed killers. He soon realized the devastating effects of these chemicals on the natural biodiversity of the vineyards, which were left completely devoid of life in a perpetual state of winter.
It was perhaps by fate that Nicolas Joly came across a book on biodynamics by Austrian philosopher Rudolf Steiner that would change the way he viewed viticulture and winemaking forever. In the 1920's, Steiner theorized about a holistic approach to agriculture, paving the way for modern biodynamics.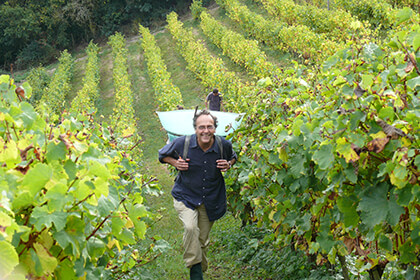 Joly began applying these biodynamic principles to his Coulee de Serrant vineyard, eliminating herbicides and pesticides to encourage healthier soils. By 1984 the entire domain was cultivated biodynamically and was fully certified for biodynamic farming a year later.
Today, Nicolas Joly has become one of the greatest driving forces for biodynamic viticulture in the wine world. His influential seminars on biodynamics attract winegrowers from all over and his three books serve as important reference works for winemakers and wine lovers everywhere.
His pint-sized Coulée de Serrant has been lauded as one of the most precious vineyards in France and the wines produced there considered some of the best white wines in the world. Today, this iconic Loire estate is managed by Nicolas Joly's daughter, Virginie Joly, running the estate under the tutelage of her father.
In the Vineyards of Nicolas Joly
The legendary monopole and single-vineyard appellation of Coulee-de-Serrant covers 7 hectares (17.3 acres) of exclusively Chenin Blanc vines, aged 35 to 40 years on average, but with some over 80 years old. These vines are planted on principally south/southeast-facing slopes in red schist soils with excellent drainage. The average yield of the vineyard is 20-25 hectoliters per hectare, significantly smaller than the authorized 40 hL/ha. The grapes are used to produce roughly 20,000 to 25,000 bottles of the vineyard's eponymous "Coulée de Serrant."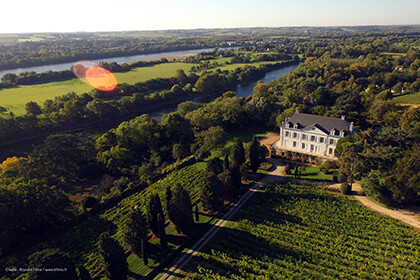 Meanwhile, 8,000-10,000 bottles per year of "Clos de al Bergerie" cuvée are produced from the appellation of Savennieres Roche aux Moines, a vineyard with slightly thicker schist soils and less marked east-facing slopes. And Nicolas Joly's "Les Vieux Clos" is produced in the appellation of Savennieres, from vineyards of schist, quartz and some rare sand soils.
Nicolas Joly and his daughter Virginie have a truly philosophical approach to viticulture, considering themselves to be assistants to nature rather than "winemakers" in the conventional sense. Viticultural interventions follow a strict biodynamic calendar with emphasis on living forces.
Since 1984, the entire Nicolas Joly estate has been cultivated biodynamically. Rather than chemical fertilizers which Joly considers a kind of salt that causes bloating of the grapes, the soils is treated with natural compost from Joly's herd of 10 Nantais cows and two bulls, which are fed grain, beets and hay grown on the property.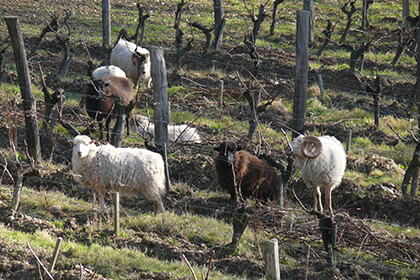 The property has also been home to shire horses, donkeys, goats, sheep and chickens, each of which contributes to the rich biodiversity of the estate. Joly believes that the vines draw energy from sharing their environment with animals and that this promotes a more joyful expression of terroir in the glass.
The vines also share the land with a wide range of native cover crops, whose roots host a great variety of microorganisms. This contributes to a fuller, richer and more healthy soil, whose nuances are fully grasped by the vine roots and communicated in the resulting wine. Goats graze this cover crop and produce manure that feeds the soil.
Between vine rows, the soils is plowed by horse, a process that is carried out in a very gentle manner in order to avoid disturbing the various strata of the soil.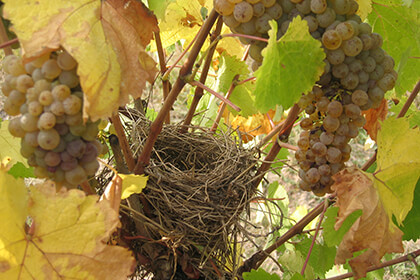 Joly considers disease to be simple a deficiency of heath. Rather than fighting various diseases with harmful chemicals, he prefers to reinforce the vine so that it can build immunity naturally. He does so by treating the vines regularly with teas produced from various medicinal plants grown on the property or harvested in the nearby mountains. These include sorrel, sage, nettle, willow, elm, oak bark, arnica and blackthorn. The vines are vigorously pruned to limit the yield to 20-25 hectoliters per hectare of extremely concentrated, healthy grapes.
The harvest at Domaine Nicolas Joly is carried out relatively late in the season and the pickings occur in 3 to 5 passes over a 3 to 4 week period. This helps ensure that only fully ripened Chenin Blanc grapes are collected. In some vintages, the harvest is so late that the fruit begins to develop botrytis. It is at this stage of full ripeness that Chenin Blanc can fully express itself and the mineral intensity of its terroir.
Hands-Off Winemaking at Domaine Nicolas Joly
Winemaking at Domaine Nicolas Joly is distinguished not by the series of processes undertaken but instead what is not done to the grape in its natural conversion into wine.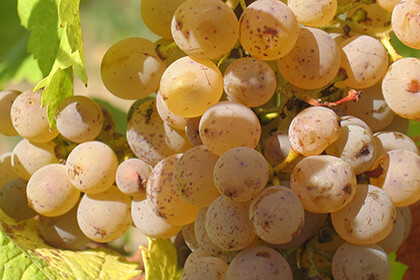 There has been no chaptalization for over 10 years and only indigenous yeasts are used, which Joly believes carry within them the subtleties of each vintage. There is also no settling of grape must and the temperature is allowed to vary naturally during fermentation, which can last 2 to 4 months or even more. Malolactic fermentation is left to take place spontaneously.
The wines are aged in neutral 500-liter oak casks for a period of six to eight months. While Nicolas Joly has been known to experiment with clay amphorae as an alternative to wood, he finds that the egg shape of the barrel provides a certain life force to the wines as they mature and develop. The wines are only very slightly filtered and not fined before bottling.
The "True" Wines of Nicolas Joly
In his three signature cuvées Nicolas Joly is in search of producing "not just a good wine, but a true wine." In other words, his aim is to make wines which offer the purest possible reflection of a happy, healthy, biodiverse environment in a privileged terroir. These dry Chenin Blanc white wines produced from nearly-rotted or rotted grapes show incredible depth of flavor and express to the fullest the stunning minerality of the vineyards' schist soils.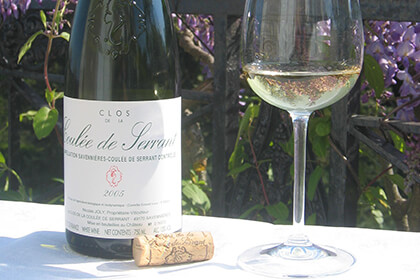 Displaying a yellow to deep copper color in the glass, the three cuvees (Coulée de Serrant, Clos de la Bergerie and Les Vieux Clos) offer a mouthwatering freshness and brisk hints of spice and wet rock, revealing luscious stone fruit, meadow flower and honeyed fragrances only after airing for quite a bit. Completing the bouquet of aromas is an oxidative touch, reminiscent of bruised apples and toasted nuts. The palate is richly layered and incredibly complex, evolving floral notes, blood orange and toucher of bitter grapefruit zest. These wines tend to be dry or off-dry, but offering honeyed, juicy, sweet fruit aromas, and can age for many years in the cellar.