While sweetness and terroir expression vary across the range, these wines all seem to have in common a single, spectacular feature: a natural acidity that carries them through decades of age. This is some of the best Chenin Blanc on the planet, a standard-bearer for age-worthy white wines, and an absolute must-have in the collection of any serious wine lover.
The History of Domaine Huet in France's Loire Valley
Domaine Huet was founded by Victor Huet, a former bistro owner who, after surviving the horrors of World War I, decided to move to the peaceful town of Vouvray in France's scenic Loire Valley. He purchased his first vineyard, the 9-hectare Le Haut-Lieu, in 1928. At this time, the Le Haut-Lieu vineyard, situated on the Premiere Cote (Vouvray's premier cru terroir), was already planted with Chenin Blanc, the historic flagship grape variety of Vouvray. Victor Huet took up winemaking, aided from early on by his son Gaston Huet, born in 1910.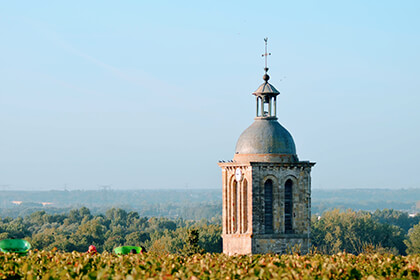 By 1937, Gaston Huet took full charge of the family estate, which he would come to build into a legacy over the course of the next 55 years. But before he could devote himself fully to his vines, Gaston would serve in World War II and spend 5 years in a German POW camp. Following the Liberation, Gaston returned to Vouvray, intent on raising its reputation. He acquired two additional parcels on the Premiere Cote, Le Mont in 1957 and Clos du Bourg in 1963. This brought the estate to a total of 30 hectares under vine.
With the help of his son-in-law Noël Pinguet and winemaker Jean-Bernard Bethomé (who joined Huet in 1979), Gaston focused on producing 100% Chenin Blanc wines from the three vineyards of the estate. Domaine Huet adopted biodynamic practices rather early on, around 1988, with the viticultural work guided by the rhythm of the moon and planets. Through the decades, Gaston Huet became a prominent figure in the winemaking landscape of the Loire Valley, even serving as the Mayor of Vouvray between 1947 and 1989.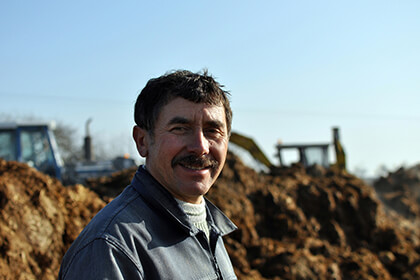 Upon the death of Gaston Huet in 2002, the day-to-day operations of the estate passed to Noel Pinguet and in the same year Filipino-born New York businessman Anthony Hwang was brought in as a financial partner. While Hwang invested heavily in the estate, Pinguet stayed on as winemaker until his retirement in 2012, when Berthome took over as chief winemaker of Domaine Huet. With over 40 years of experience at the Huet estate, Jean-Bernard Bethome continues to carry on the legacy of Victor and Gaston, with the aid of second-generation siblings Sarah and Hugo Hwang, who today own Domaine Huet.
The Three Exquisite Vineyards of Domaine Huet
Today Domaine Huet spans 35 hectares (86.5 acres) in the Vouvray appellation of the Touraine region in France's Loire Valley. The estate comprises three main south-facing vineyards, each with its own unique character. Nevertheless, they all have in common the Chenin Blanc grape variety, which represents 100% of the estate's plantings.
The Le Haut-Lieu vineyard was the first to be purchased by Victor Huet and its 9 hectares of vines surround the original house. Here, the terroir is characterized by rich brown clay and limestone soils, which make for very approachable, supple wines. Meanwhile, the 6-hectare Clos du Bourg vineyard is home to shallow, stony clay-limestone soils, producing wines with an intense minerality, great structure and voluptuous texture. Finally, the exceptional 8-hectare Le Mont vineyard features pebbly clay and chiseled flint soils, which makes Chenin Blanc wines with an intense minerality, great length and superb finesse on the palate.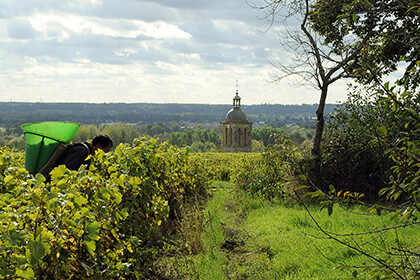 The vineyards of Domaine Huet have been cultivated with biodynamic principles since the 1980's, with no chemical fertilizers, herbicides or pesticides applied to the soil. The vines enjoy a thriving natural ecosystem, with soils rich in biodiversity. The estate has always stood for guiding Chenin Blanc to truly discover itself in the natural balance of its ecosystem and to reveal the most faithful expression of itself, its terroir of origin and its vintage.
In fact, the climate of each vintage plays an important role in defining the styles of wines produced by Domaine Huet. In warmer years, the estate makes more sweet wines (vins moelleux), while cooler vintages mean drier Chenin Blanc styles (sec and demi-sec) and sparkling wines (petillant). And if the grapes harvested in a certain vintage are not deemed right for a certain style of wine, that style is simple not produced in that vintage.
Winemaking at Domaine Huet
At Domaine Huet, the grapes are picked manually in series of several passages through the vineyards. As some of their sweeter cuvées are made from shriveled fruit, harvest is sometimes carried out late into November. At the winery, each plot is vinified separately. The grapes are slowly and gently pressed in whole bunches. After a settling of 24 hours, the juice is separated into two parts – some of it goes in vat, the rest in old oak barrels of varying sizes.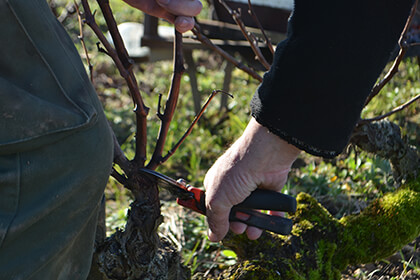 Fermentation occurs with natural yeast found in the cellars, and the duration of the fermentation is determined by the character of each must. Malolactic fermentation is avoided in order to allow the wine to mature as much as possible in the bottle. The wines are aged for 6 months in large demi-muids and bottled after a light filtration in April. The bottled wines are then stored in underground stone quarries, where they slowly ripen and evolve under perfect storage conditions.
The Wide Range of Styles by Domaine Huet
Domaine Huet produces a wide range of styles (bone-dry, semi-dry, sparkling and dessert wines) all from a single variety, Chenin Blanc. Their portfolio demonstrates the incredible versatility of this star white grape from the Loire Valley. And while the estate's different styles vary by the amount of residual sugar left in the wine, they all seem to have in common an unmistakable freshness and a level of natural acidity that allows the wines to age for decades upon decades. This incredible aging potential has really become the hallmark of the wines of Domaine Huet.
The Demi-Sec (semi-dry) wines of Domaine Huet offers a fantastic representation of the house's signature style. The Le Haut-Lieu Demi-Sec bursts forth on the nose with aromas of quince, pineapple, dried flowers, hints of chalk and honeycomb. On the palate, this wine is beautifully full-bodied and ripe, yet still crisp with plenty of zesty acid and great length of flavor. A Chenin Blanc to enjoy now or keep for several years in the cellar. Likewise, the Le Mont Demi-Sec wines develop with age a powerful and intense nose of ripe white fruit, flowers and caramel, as well as a palate that is very pure and mineral, with a well-rounded texture and long, lingering finish. These wines will pair beautifully with rich and slightly spicy dishes with creamy sauces, like a decadent lobster in green curry sauce.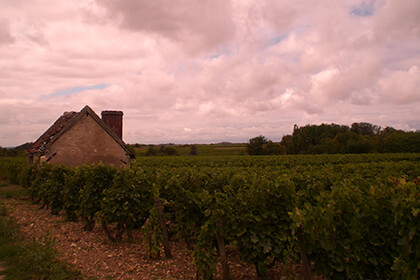 Meanwhile, their dry wines, like the Huet Vouvray Clos du Bourg Sec 2018, reveal a fine yet concentrated nose of freshly scraped chalk, lemon juice and lime zest. On the palate these wines are luscious, precise and juicy with a nice saltiness to them, as well as a mineral tension on the mouthwatering finish. This wine will age 20 years are more, pairing beautifully with most roasted or grilled fish or shellfish recipes.
Finally, Domaine Huet also produces some magical sweet wines from raisined grapes, which are incredibly pure and complex in the glass and can age for decades. The Petillant, made from grapes from the Le Haut Lieu, Le Mont and Clos du Bourg vineyards, offers crisp apple and citrus on the nose, as well as a very long and classy finish.