The Rise of Paolo Bea in Montefalco
Descendant of a family whose roots in the Montefalco area of Umbria date back to the 1500's, Paolo Bea has devoted his life to working the family farm, raising cattle and producing small quantities of very high-quality olive oil in wine for personal and local consumption. In the mid-1980's his two sons – Giampiero Bea and Giuseppe Bea – recognized the impending threat to the family farm posed by the advent of industrialized agriculture and decided to join the business to help preserve it. The brothers saw a great potential in this land and the production of high-quality, terroir-driven boutique wines for commercial purposes in the newly formed Italian DOC of Montefalco Sagrantino (made official in 1979).
Taking over as winemaker with no former training in oenology, Giampiero relied as a guiding force on what he had learned from his father, who had always followed a natural approach to agriculture. In the early days of exporting the wines, Giampiero received feedback from his importers saying that customers were interested in his natural approach to winemaking. He was encouraged to continue on the same path. Eventually, Giampiero got even more involved in natural wine, joining key figures in the movement (including Stanko Radikon, Fabrizio Niccolaini of Massa Vecchia and Angiolino Maule of La Biancara) to establish the Vini Veri consortium and wine fair, which has since served as an important foundation for Italian natural wine.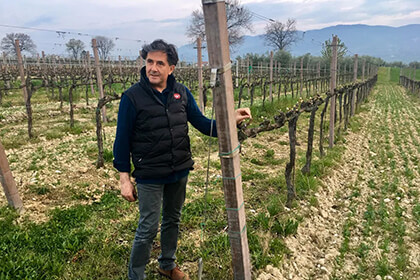 Giampiero also applied his experience working in organic and eco-friendly architecture to design a new sustainable cellar and office building at the Paolo Bea winery, which take advantage of natural lighting and ventilation to save energy. This minimalist winery is built of stone, wood and earth, blending beautifully into its natural surroundings. In the past few decades, Paolo Bea has become a must-try reference in Umbria, Italy and one of the most respected natural wine producers of Italy. Giampiero and Giuseppe Bea have completely dedicated themselves to the natural approach, eliminating the use of copper sulfate to treat the vineyards, even when this means the loss of their entire crop in certain vintages (as in 2013 and 2014).
The Wild and Wonderful Paolo Bea Vineyards
The Paolo Bea estate is located around the picturesque hilltop village of Montefalco, in the Umbria region of central Italy. The property covers roughly 15 hectares in total, only 5 of which are planted to vineyards. The rest are dedicated to the cultivation of olives, vegetables, fruits and grains. Sagrantino, the flagship red grape of the region, represents around 60% of the vineyard plantings, while the rest is planted with Sangiovese, Montepulciano and a mix of white varieties. Paolo Bea is best known for his Paolo Bea Montefalco Sagrantino red wines, produced in both secco and passito styles.
Today, the vineyard is run by the younger of Paolo Bea's sons, Giuseppe, who farms the vineyards with a strictly minimal intervention approach to viticulture. He works together on a daily basis with his brother Giampiero, who assist in the vinification of the wines. The vines are cultivated organically, without the use of herbicides, pesticides or chemical fertilizers. Bea refuses to spray the vines with copper, which would technically be allowed by organic viticulture as a way to fight mold. This can lead to the entire crop being lost to rot, which happened two years in a row at Paolo Bea, in 2013 and 2014.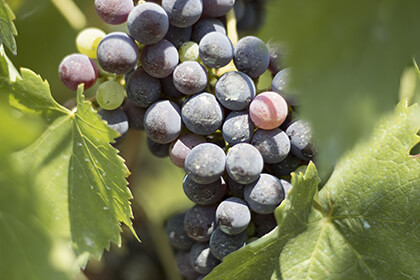 Some biodynamic practices are also applied, such as harvesting only when the moon is waning and encouraging biodiversity by growing cover crops between the vines. In fact, the vines are interspersed with forests, wild herbs, olive trees and vegetables. The soil is ploughed each year in order to promote the health of the vineyard, and the yields limited with meticulous winter pruning and debudding.
The vines are trained in Cordon, except for those used to produce the Arboreus cuvée, which are trained up trees. These Trebbiano vines are planted at the base of oak trees to encourage a symbiosis with the latter, contributing a certain roundness and complexity to the fruit. The vines of the Paolo Bea estate are aged at least 20 years, with some of them over 100 years old. They grow in mostly limestone-clay soils and gravel.
The estate's flagship wine comes from the Pagliaro vineyard on a beautiful hill in the Sagrantino di Montefalco DOCG, which overlooks the Paolo Bea winery and the city of Montefalco. In each vintage where the yield is plentiful, the team even produces a late-harvest "passito" Sagrantino from this vineyard.
Minimal Intervention Winemaking by Paolo Bea
The Paolo Bea winery stands as a beautiful example of naturalist, minimal intervention winemaking. At the core of the estate's philosophy is the aim to produce wines that are alive, offering a pure representation of their place of origin.
Following a strictly manual harvest, the fruit (100% estate grown) is allowed plenty of time for cuvaison and fermentation, which takes place spontaneously with indigenous yeasts only, in stainless steel tanks without temperature control. Malolactic fermentation is also allowed to take place spontaneously. The wines are aged on their fine lees for a period of 12 months to 5 years either in stainless steel tanks or large Slavonian oak botti, believed to mask terroir significantly less than new French oak. None of the wines of Paolo Bea or either fined or filtered, and only a trace amount sulfur is used at bottling.
While the Bea family is perhaps best known for beautiful dry red wines from Sagrantino and Sagrantino blended with Sangiovese and Montepulciano, the brothers also produce a sweet wine from this local grape. To make their Sagrantino Passito, late-harvested Sagrantino grapes are left to dry out for several months on cane racks before they are destemmed and crushed. The tiny amounts of very concentrated and sweet must ferment for 26 days to produce this lovely and rare sweet wine.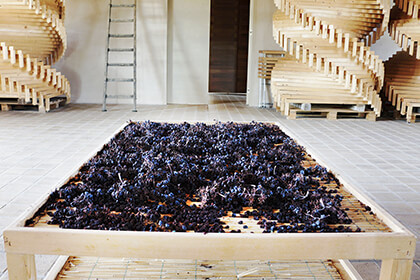 The Paolo Bea white wines are produced with skin contact and kept on lees, resulting in remarkable body and intensity of flavors.
The Energy and Purity of Paolo Bea Wines
Produced with as little intervention or manipulation as possible, the Paolo Bea Montefalco Rosso wines are alive in the glass, revealing with great purity the pulse of their terroir and grapes of origin. The flagship of the Paolo Bea range is the Sagrantino di Montefalco Secco DOCG "Pagliaro" red, made from 100% Sagrantino from the Paolo Bea Pagliaro vineyard at an altitude of 1,300 feet above sea level. Far from the aggressive tannins and overwhelming intensity associated with many Sagrantino wines, Pagliaro is remarkably easy to drink, offering a dark, sensual and complex nose cherry liquor and earth, balsamic undertones, black licorice and spice cake fresh out of the oven. The palate presents wave upon wave of flavor and a profoundly deep texture counterbalanced by a beautiful restraint.
Even more nuanced and profound than Pagliaro is the Paolo Bea Sagrantino di Montefalco Secco "Cerrete", made from the older Sagrantino vines of the Cerrete family vineyard. Another pure Sagrantino, the Paolo Bea "Rosso de Veo" is an IGT Umbria Rosso wine from several different parcels, including the Cerrete vineyard. Made from some of the estate's younger vines, it is vinified with the same love, care and "laissez-faire" spirit, producing a slightly lighter red wine with pronounced and pure red fruit on a graceful palate.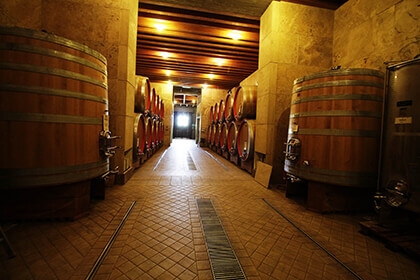 Among the Paolo Bea red blends, the DOC Montefalco Rosso "San Valentino" red wine contains mostly Sangiovese with some Montepulciano and Sagrantino grown in the Valentino vineyard, near Montefalco, to produce a powerful yet well-balanced wine with an exuberant and exotic nose of black fruits, spices and sandalwood. Similarly, the DOC "Pipparello" Montefalco Rosso Riserva by Paolo Bea is produced from Sangiovese, Montepulciano and Sagrantino but from the hilltop Pipparello vineyard. The Paolo Bea Rosso Riserva Pipparello is aged 12 to 24 months in stainless steel and then an additional 24 months in Slavonian oak botti, qualifying it as a riserva. This wine is remarkably profound, with a very savory nose of black olives, tar and spices. The palate is dense, revealing incredible energy and spirit.
Finally, the Paolo Bea white wines are truly special. These intense, skin-contact, lees-aged wines offer a complex nose and a palate marked by soft tannins. The Paolo Bea "Arboreus" is an IGT Umbria Bianco made exclusively from Trebbiano Spoletino from vines up to 130 years old. This wine takes its name from the unusual training method of its vines, which can be found wrapped around the trunks and branches of oak trees, ripening high above the ground. Displaying a gorgeous orange color in the glass, the Paolo Bea Arboreus reveals an opulent, dazzling nose of apricots, marzipan and exotic Indian spices. On the palate, this wine is quite racy and polished, with very present tannins and a beautiful acidity.
The Paolo Bea IGT Umbria Bianco "Santa Chiara" is produced from a blend of Grechetto, Malvasia, Garganega, Chardonnay and Sauvignon Blanc from co-planted parcels in the Pagliaro vineyards. Unlike the quite restrained and refined Arboreus, Santa Chiara leaps unapologetically forth from the glass, pouring forth notes of macerated peaches, candied citrus and white pepper. On the palate, it is quite explosive, yet structured by way of its tannins. Roughly 4,500 bottles of this wine are produced per year, depending on the vintage.
If you have any questions about Paolo Bea or the current price and qty of each bottle of Paolo Bea, do not hesitate to contact our team directly.