An acceptance of and a respect for the land - its peculiarities and imperfections – is at the core of Azienda Agricola Arianna Occhipinti, an estate whose namesake founder has become an iconic reference in the world of biodynamic viticulture and natural winemaking. A sensitive, sensible approach out in the vineyards is coupled with a hands-off philosophy in the winery, where Occhipinti's signature wines are gently shaped through spontaneous fermentations with only native yeasts, minimal to no sulfur treatments, aging in cement with no new oak, and bottling without filtration. These wines, above all else, express a strong sense of place, capturing in the glass the terroirs of Vittoria in Sicily, its warm sunshine, its cool mountain winds, its winding roads over 3,000 years old…
Azienda Agricola Arianna Occhipinti : From Just One Hectare in Vittoria
Arianna Occhipinti first developed an interest in wine during her teenage years, while helping out in the cellar of her uncle, Giusto Occhipinti (the « O » in Azienda Agricola COS). At the age of 16, Giusto brought Arianna along with him to VinItaly, an annual wine exposition in Verona, where she rubbed shoulders with many interesting people in the wine industry and experience her first exposure to the international winemaking community. Inspired, Arianna enrolled in a winemaking university in Milan and graduated with a degree in Agriculture and Enology. During her time spent in Milan, Arianna grew weary of the syllabus, which put too much emphasis on chemistry and laboratory work, rather than the natural approach she had learned out in the organic vineyards of COS. She describes her professors as trying to teach a kind of precise formula or recipe for winemaking, a formula which in her opinion just doesn't exist.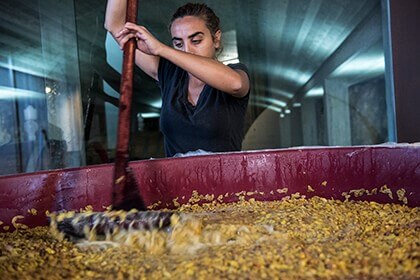 Upon graduating at the age of 22, Arianna returned to Sicily and founded her own winery on one hectare of vineyards near her family's farm. She bottled her first vintage (vintage 2004) in 2006. From early on, Arianna's wish was to express the unique terroir of the Fossa di Lupo area of Sicily's Vittoria wine region, its red loam over white limestone soils, the sizzling hot southern Sicilian sunshine, the fresh Ibleian winds and a very special county road named SP68 with a tremendous past. Throughout the years, Arianna replanted 10 hectares of the region's native Nero d'Avola and Frappato varieties, started leasing a property with 50-year-old Frappato and 45-year-old Nero d'Avola vines and purchased an additional 7 hectares of 19-year-old vines.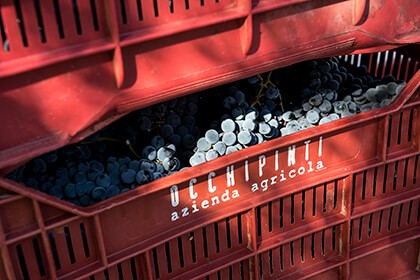 From the very beginning, Arianna Occhipinti has cultivated her vines with a biodynamic approach, choosing to go a step further to produce natural wines to best express her beloved terroir. At an early age, she had learned from her uncle an approach focused on manual harvesting and fermentations using native yeasts only, very different from the more bulk-driven approach typical of most of Sicily's wine production. The construction of her winery allowed Occhipinti to age her wines in gravity-fed concrete tanks. Today, the Azienda Agricola Arianna Occhipinti expands over around roughly 22 hectares (54 acres) of vineyard land, all farmed without pesticides, herbicides, fungicides or chemical fertilizers. Arianna's portfolio proves that natural wines can be extremely elegant, balanced and expressive of terroir instead of just "funky" (as their reputation often implies). These wines shine as brilliant examples of success in the world of biodynamic viticulture and natural winemaking.
Out in the Vines of Arianna Occhipinti
Situated in the Vittoria region near the southern coast of Sicily, somewhere between the Mediterranean Sea and the Ibleian Mountains is Azienda Agricola Arianna Occhipinti, home to around 22 hectares of land planted to vines of native Sicilian varieties: mostly Frappato and Nero d'Avola, with some white vines of Albanello and Zibibbo (Moscato di Alessandria). The Frappato and Nero d'Avola vines range from 10-year-old guyot-trained plants to albarello-trained ones up to 60 years of age. Unlike many of the vineyards in the area, the vineyards of Arianna Occhipinti are not irrigated, despite the very hot climate. The farming is biodynamic, with cover crops like fava beans and oat grasses growing freely between every other vineyard row, overturned in the springtime. The soil is treated only with green manure and new plantings are exclusively massale, in order to strengthen the vineyard as a whole. Occhipinti plants her vines closely together at an average density of 6,000 vines per hectare and practices an extremely selective sorting at the time of harvest.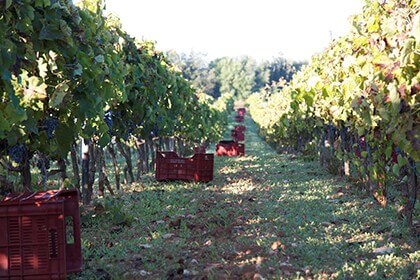 Arianna Occhipinti's philosophy is to closely observe the terroir, and to accept and respect its characteristics – its soil types, slopes, altitudes and climates – rather than force upon it vineyard practices dictated by some kind of formula. The ecosystem of her vineyards is for the most part allowed to keep on living and breathing as it always has, and the resulting wines express the personality of this land with remarkable purity.
In the Winery of Arianna Occhipinti
A biodynamic approach out in the vineyards of Arianna Occhipinti is coupled with a natural approach at the winery. Throughout the entire winemaking process, juices and wines are moved through the winery exclusively by means of gravity. The fresh and healthy grapes undergo spontaneous fermentations made with native yeasts only. The red wines undergo maceration on the skins without punch-downs, in order to guarantee the gentlest possible extraction of color and aromas. Her flagship wines on the Arianna Occhipinti SP68 portfolio are vinified in cement vats, where they then remain for a few more months to age, with absolutely no oak of any kind in sight. The wines are bottled unfiltered, with little to not sulfur added while they are made. The SP68 Bianco consists of roughly 60% Zibibbo and 40% Albanello. Her SP68 Rosso blends 70% Frappato and 30% Nero d'Avola in a young wine that is cool and pleasant, capturing within itself the fruit and freshness of its terroir of origin. These wines are classified in the Terre Siciliane IGT.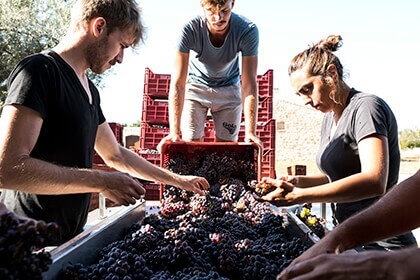 From her older vines, Occhipinti produces a single-varietal Frappato (Il Frappato) and Nero d'Avola (Siccagno) still classified in the Terre Siciliane IGT. These red wines undergo a longer period of maceration of 30 days, and are aged for roughly 14 months in 25 hL Slavonian oak barrels, but with none of the new oak commonly used by Sicilian producers to appeal to the international market. In fact, Arianna has consistently rejected the DOCG designation in favor of shorter aging times, in order to achieve fresher, purer expressions of terroir. She does, however, produce a DOCG Cerasuolo di Vittoria blend of 50% Frappato and 50% Nero d'Avola, called Grotte Alte. This Sicilian wine is aged in the same large Slavonian oak barrels.