Among the lovers and collectors of the world's finest wines, Lopez de Heredia needs no introduction. Established in 1877, this historic Rioja estate is today owned and operated by the fifth generation of the founder's descendants, forever steadfast in their adherence to traditional viticulture and winemaking. There are countless ways in which Lopez de Heredia stands out from Rioja's rest: in the bodega's reliance on exclusively estate-grown fruit, in its unparalleled barrel-aging program… The result is a portfolio of stunningly complex, ripe and intense wines, including their flagship Vina Tondonia Reserva and Gran Reserva reds and one of the most brilliant, endlessly complex and profound whites ever to be produced in Rioja.
Lopez de Heredia: The History of a Family-Owned and -Operated Bodega
At the end of the 19th century, a deadly vine disease known as phylloxera swept through the wine regions of France, wiping out vineyards and rendering them unproductive for decades to come. As a result, several negociant-winemakers from Bordeaux were forced to seek out new lands and they quickly discover Rioja, in northern Spain. While the terroir here was quite different than on the banks of the Garonne River back home, Rioja quickly became the center for the production of high-quality wines and its capital city of Haro drew winemakers from around the world. It was this wave of new winemaking in Rioja that first attracted Don Rafael Lopez de Heredia y Landeta, a Chilean wine student, to Rioja Alta.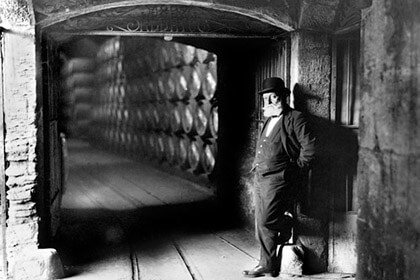 Seeing great potential in the local landscape, he began in 1877 to design and construct what is today the Lopez de Heredia complex, whose "bodega" would be modeled after the great chateaux of Bordeaux. The winery's famous "Txori Toki" tower was built in 1892 as an observation post from which to study the vineyards, while the cellars, offices and family residence were constructed over a period of decades. After establishing a center for operations, Don Rafael added the land, founding Vina Tondonia, one of the region's most famous vineyards, between 1913 and 1914. He also planted three additional vineyards – Vina Cubillo, Vina Bosconia and Vina Zaconia – in Rioja Alta. Today, the estate expands over a total of 180 hectares (445 acres), of which 110 hectares are under production. The rest of the land is allowed to rest up to 14 years while being used to grow cereals.
The bodega is run by Maria Jose Lopez de Heredia, her sister Mercedes and her brother Julio Cesar, making it one of the only family owned and operated wineries in a region where most wineries are owned by outside investors. Representing the fourth generation of the family business, they continue to run Lopez de Heredia with a very strict and steadfast adherence to tradition. The winemaking practices, many of which date back to the 19th century, set the bodega apart from others in the area, which are more geared towards incorporating the newest forms of modern technology.
Lopez de Heredia: A Magnificent Clay and Limestone Terroir in Rioja
One of many factors setting Lopez de Heredia apart from other Rioja wineries is that the family produces wines exclusively from estate-owned vineyards. In order to maintain full control over the quality of the fruit, no grapes are purchased from outside winegrowers, as is otherwise common practice in Rioja. The family's pride and joy is the century-old Vina Tondonia vineyard, over 100 hectares large and situated in a shell-shaped depression on the right bank of the Ebro River. The vines here average 45 years and are planted at an elevation of around 1,600 feet above sea level, in soils of alluvial clay with a high proportion of limestone. This vineyard, planted with Tempranillo, Mazuelo, Graciano and Garnacho (reds), as well as Viura and Malvasia (whites) is cultivated by means of organic viticulture in order to fully express the characteristics of this magnificent terroir.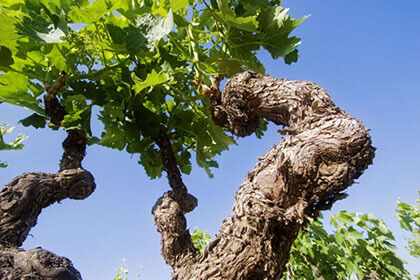 The Lopez de Heredia estate also includes the 37-acre Bosconia Vineyard near the winery, planted on the south-facing foothills of the Sierra Cantabria mountain range, with vines of Tempranillo, red Garnacho, Mazuelo and Graciano in clay and limestone soils. Wines from here tend to be very elegant, but full-bodied, with a great complexity. The 60-acre Cubillo Vineyard is planted with the same red varietals and used to make exceptional Crianza wines. Finally, the 60-acre Vina Gravonia is home to poor and stony soils in which only vines of the white varietal Viura are planted.
Lopez de Heredia: A Winemaking Approach Faithful to Tradition
At Lopez de Heredia, the wine harvest takes place in October and is carried out exclusively by hand, using a curved knife called a "corquete," which prevents the fragile fruit from breaking prematurely. They are collected in emblematic round baskets made of wood. As they arrive to the winery, the grapes are weighed in hoppers and then destemmed. The must is fermented in 72 large oak vats, the larger of which are used for the reds and the smaller for white grapes. Only natural yeasts are used in the alcoholic fermentation of wines at Lopez de Heredia and the temperature control is done by opening doors and windows, rather than through modern thermoregulation technology. The alcoholic fermentation process takes around seven days, with pump-overs encouraging maceration and the extraction of color from the mark of skins and seeds. After the wine is drained from the vat, it undergoes a second fermentation in Bordeaux-style oak barrels for up to five or six months.
The wines of Lopez de Heredia are aged in a 6,000 square meter cellar found 15 meters underground and home to around 14,000 225 liter American oak barrels. These barrels are actually produced in an in-house cooperage, making Lopez de Heredia the only bodega in Spain to hand-craft all the barrels used to age its wines. Following the family's philosophy of a long, gradual maturation in barrel, the wines spend between three and ten years in barrels. For example, the Tondonia Reserva spends six years in wood, while the Gran Reserva is matured for a full 10 years, the maximum amount of time allowed by the appellation of Rioja. During this time, the barrels are racked once or twice per year in order to remove the sediment. After their aging regimen has come to an end, the wines are fined with fresh egg whites, as dictated by tradition, and bottled directly without filtering. The bottles are closed with a cork and the Gran Reserva wines further sealed with wax, preventing any contact with the exterior.
Lopez de Heredia: A Signature Style Accomplished with Time
The Lopez de Heredia portfolio encompasses a wide range of red wines, all of which have in common the signature style of the estate, easily recognized for its masterful oak integration and light structure, despite the ripeness of the fruit. The wines are labeled according to the bottling aging requirements of Spain, which include four different categories: Crianza, Reserva, Gran Reserva and Joven. The expression "Crianza" means that the wines must spend at least one year in barrel and another year in bottle. "Reserva" requires 12 months in barrel with a total aging period of 36 months. "Gran Reserva" reds need to rest for two years in barrel, and then another three years in bottles – five years in total. Last, there's the "Vino Joven" and this is the simplest of them all – no aging at all, or the bare minimal.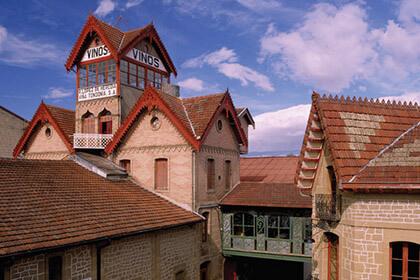 The red and white wines of Lopez de Heredia go through extensive aging to produce wines with a truly unique personality. Their Vina Cubillo Crianza is a blend of Tempranillo, Garnacho, Mazuelo and Graciano, aged 3 years to give a wine with fresh aromas of licorice and a smooth mouthfeel. The Vina Bosconia Reserva is a bit more complex, aged 5 years to produce a very full-bodied and mature wine with plenty of ripe fruit and a round, smooth and persistent palate. The Vina Tondonia Reserva could perhaps be considered their flagship, aged for 6 years to produce a light, freshly textured wine with notes of vanilla and dried berries. The tannins here are firm and beautifully balanced upon a rich, very dry, smooth palate.
In a region historically known only for its reds, Lopez de Heredia also stands out for its wonderfully aged and complex white wines. In fact, almost one-fourth of the wines produced at the bodega are white, including the smooth, elegant and delicious Gravonia, made from 100% Viura and the aged in oak for four years. And the Tondonia Reserva white is simply magnificent, produced from a blend of 90% Viura and 10% Malvasia, and aged in barrel 6 years – longer than any other white wine in the world. These wines develop a dazzling aromatic complexity and depth of flavor, with notes of balsamic, wood and honey, matched by a certain intensity and amazing persistence on the palate.
The wines of Lopez de Heredia are simply not to be missed, telling the story of Rioja's grand terroir and a history of winemaking, unchanged for well over a century.