He joined an international band of rebellious young winemakers, who would one day be known as the Priorat Five and credited for ushering in a renaissance in this all-but-forgotten appellation. Clinging strongly to very steep slopes of the region's iconic llicorella schist soils, the gnarled, old bush vines of Alvaro Palacios produce teeny-tiny yields of very concentrated Garnacha and Carinena grapes each year. From these grapes come magnificent red wines dense with aromas of ripe dark fruit like black plums and black cherries, scorched mountain herbs like rosemary thyme and a signature minerality so typical of this landscape: the smell of the first few drops of fresh summer rain hitting sizzling hot, sunbaked slate.
The Fascinating Story behind Alvaro Palacios Wines
Today considered an embodiment of the spirit of « The New Spain », Álvaro Palacios was born into quite a traditional winemaking family, one of nine children of the owners of Palacios Remondo, a widely respected wine estate in Rioja. During his enological studies in Bordeaux, Alvaro spent two years honing his skill at Petrus under the guidance of the visionary Jean-Pierre Moueix and developing an early foundation for his winemaking philosophy. Upon completing his studies, Alvaro could have chosen to return to the comforts of his family's winery in Rioja. Instead, this dynamic and adventurous young winemaker was drawn to the remote and rugged landscape of Priorat in Catalonia, where a group of rebellious young winemakers had recently settled. He arrived in the region in 1989, and purchased his first plot of vines near the town of Gratallops, and named the vineyard Finca Dofi.
Alvaro joined René Barbier, Carles Pastrana, José Luis Pérez and Daphne Glorian to form a group that would one day be called the "Priorat Five," responsible for the modern renaissance of this long-neglected wine region. In the beginning, the five winemakers shared not only their international savoir-faire but also their equipment to create the five "Clos" labels: Clos Mogador (by Rene Barbier), Clos Erasmus (by Daphne Glorian), Clos de l'Obac (by Carles Pastrana), Clos Martinet (by Jose Luis Perez) and Clos Dofi (by Alvaro Palacios). These five visionary winemakers championed the use of international varieties like Cabernet Sauvignon and Syrah to complement the local varieties of Garnacha and Cariñena They also aged the wines in new French oak barrels to produce wines that were intense, powerful and concentrated.
Confident in the remarkable potential of the Priorat terroir, Alvaro set out in 1993 to purchase a 1.4-hectare vineyard, situated on a steep slope of well-drained schist soils and home to gnarled bush vines planted between 1900 and 1940. Alvaro named this vineyard L'Ermita after a small chapel found on top of the hill. From the very beginning, viticulture focused on quality, with organic farming practices considered standard, and mules working with man to care for the steep, terraced sites. Eventually, Alvaro also began to focus on the native varieties over international ones, gradually replacing Cabernet and Syrah with Garnacha and Cariñena. The L'Ermita bottling was an instant success, its reputation exploding internationally following high praise by Robert Parker.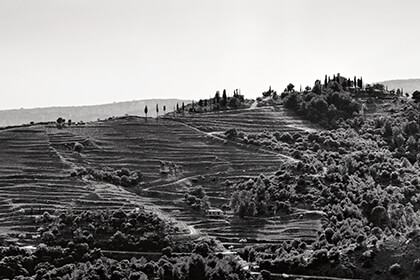 An avid believer in the Burgundian concepts of Villages and Crus, Palacios has played an instrumental role in the introduction of a similar system in Priorat. His "Gratallops" bottling was conceived as a Vi de Vila (the Priorat version of "Village") wine from a collection of small vineyards in Gratallops, the main winemaking township of the appellation. In time for the 2015 vintage harvest, he purchased a very special plot of centenarian Garnacha wines in Bellmunt to produce a single-vineyard bottling named "Les Aubaguetes". Starting with the 2018 vintage, he also began bottling a single-vineyard wine made from the "La Baixada" cru, situated on the north-facing side of the Dofi vineyard. The estate's flagship "Finca Dofi" also remains a single-vineyard wine.
Meanwhile, the Alvaro Palacios "Les Terrasses" bottling was created to offer a balanced and representative taste of the Priorat region as a whole, by blending wines from various steep, terraced, historic vineyards of Priorat. Although it was originally conceived as a value wine, Les Terrasses evolved tremendously in quality and was labeled "Velles Vinyes" (meaning "Old Vines" in Catalan) with the 2007 vintage. The "Camins del Priorat" bottling was created to take its place as the value wine of the lineup.
In addition to his pioneering work in Priorat, Palacios has also shifted his attention to the all-but-forgotten Bierzo DO appellation in northwestern Spain, where he today produces wines from the Mencia variety with his nephew Ricardo Perez under the label Descendientes de J. Palacios.
Following the death of his father in 2000, Alvaro Palacios returned to Rioja to take over the family business, Palacios Remondo, where he produces wines like "La Montesa."
The Rugged Beauty of the Priorat Terroir
The Alvaro Palacios winery is situated in the Gratallops township of the Priorat DOQ appellation in the Catalonia region of northeastern Spain. This small but very important appellation is known for its powerful red wines made from Garnacha (Garnatxa in Catalan) and Cariñena (Samso in Catalan), grown in very steep, terraced vineyards. These vineyards are virtually impossible to harvest mechanically and can only be cultivated by hand, which increases the cost of making wine in this part of the world.
Despite the appellation's proximity to the Mediterranean Sea, the climate here is very much continental, characterized by long, hot and dry summers and very cold winters. The average annual rainfall is around 500mm (20 inches), similar to that of Andalusia in the South. This climate can be attributed to the relatively high elevation at which the vineyards are planted, between 100m and 700m (330 feet to 2,230 feet) above sea level. Along with high continentality, the high diurnal temperature range contributes to aromatic complexity and great natural acidity in the wines of Priorat. Many of the most celebrated plots of Alvaro Palacios are situated on north-facing slopes to protect the vines from blistering afternoon sun typical in Priorat.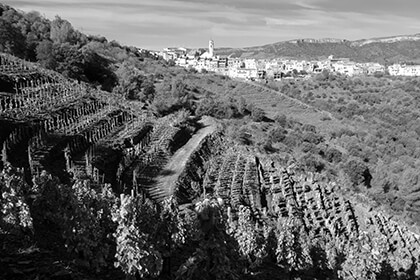 The Priorat vineyards of Alvaro Palacios are home to old bush vines planted in the region's iconic schist soils, locally known as llicorella. This free-draining, nutrient-poor soil of slate and quartz forces the vine roots to dig deep in search for water and nutrients, resulting in a very low yield of very concentrated fruit each year. The average yield of Priorat is around 25 hectoliters per hectare, one of the lowest out of any vineyard area in the world. These dark slate soils also absorb the heat of the sun, helping the grapes ripen in time for the harvest despite the cool night temperatures. They lend the wines from Priorat their signature earthy minerality.
Organic practices were adopted in the vineyards of Palacios from very early on. Today, biodynamic viticulture is practices in the Dofi and L'Ermita vineyards.
Winemaking at the Palacios Winery in Priorat
While the "Priorat Five" initially favored the introduction of foreign grape varieties to the vineyards of Priorat, the wines of Alvaro Palacios are today made almost entirely with the local varieties of Grenache, Carignan and Grenache Blanc (or Garnacha Blanca). Specifically, "L'Ermita" is made with around 90% Garnacha, 8% Cariñena and 2% white grapes, while "Finca Dofi" is made with 95% Garnacha and 5% Cariñena, and "Gratallops" with 85% Garnacha and 15% Cariñena. "Les Terrasses" tends to have a larger proportion of Cariñena (around 44%) to complement 55% Garnacha and roughly 1% white grapes like Garnacha Blanca, Macabeo and PX. "Camins del Priorat" is the only wine in this lineup that includes 15% Cabernet Sauvignon and 15% Syrah in with a blend of 40% Garnacha and 20% Cariñena.
The winemaking techniques are chosen to bring out the fullest possible expression of each wine's terroir of origin. At Alvaro Palacios, all grapes are harvested by hand from steep slopes situated at elevations between 250 to 600 meters (820 to 1970 feet) above sea level. The fruit for the "L'Ermita" bottling is destemmed by hand. The wines undergo extended maceration (typically 30 days for "Les Terrasses" and "Camins del Priorat," 40 days for the "Gratallops" cuvee, and 40-45 days for "Finca Dofí" and "L'Ermita"). "Finca Dofi" and "L'Ermita" are fermented in oak vats with regular punch-downs, while "Les Terrasses" and "Camins del Priorat" are fermented in a combination of stainless steel, cement and open-top wooden vats with punch-downs and/or pump-overs. Malolactic fermentation takes place in barrel for "L'Ermita," "Finca Dofi," and "Gratallops," while a mix of wooden vats and smaller barrels are used for "Les Terrasses." "Camins del Priorat" goes through malolactic fermentation in large wooden vats.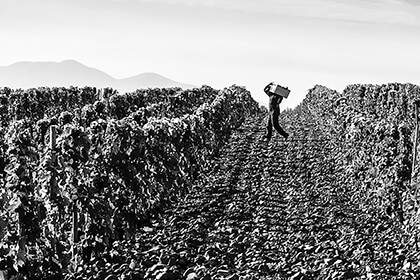 The aging program is also specific to each cuvee. "L'Ermita" is aged in 100% new French barriques for 16 months. "Finca Dofi" is aged in 100% new French barrels for 16 months. "Gratallops" is aged in new large French barrels for a period of 15 months. "Les Terrasses" is aged in French barrels (of which 20% new) for 10 months, and "Camins del Priorat" in used barrels and vats for 4-6 months.
The Signature Style of a Distinctive Spanish Wine
The great wines of Alvaro Palacios offer beautiful and authentic single-vineyard and multi-vineyard expressions of the classic Priorat style. These Grenache and Carignan red blends reveal gorgeous layers of black plum and ripe black cherry aromas, lifted by savory fragrances of dried sun-scorched mountain herbs like rosemary and thyme. Nuances of sticky balsamic and licorice are also common. Although the specific profile will depend on each terroir and vintage, these wines all have in common the signature minerality of Priorat, aromas of sunbaked hot slate on a summer afternoon.
On the palate, these wines deliver dense yet smooth tannins, which soften with time spent aging in bottle. We recommend pairing these wines with bold roasted or grilled meat dishes, like lamb shanks seasoned with rosemary and thyme, or braised oxtail in a red wine sauce.