How to produce wines of remarkable quality in a war zone, with tanks rolling through vine rows and missiles flying overhead? This is a question the late lamented visionary Serge Hochar could readily answer: through an undying commitment to a historic terroir and a passion for sharing its story with the world. The wines of Chateau Musar, from the fertile Bekaa Valley of Lebanon, gained a cult following internationally during a time when the Lebanese Civil War practically wiped out the country's domestic wine market. The very first wine estate in Lebanon to implement organic viticulture, Chateau Musar offers a gorgeous selection of red, white and rosé cuvées, produced with minimal intervention and expressing in every glass the pure essence of their legendary land of origin.
The History of Chateau Musar
Inspired by the ancient winemaking tradition of Lebanon, which dates back roughly 6,000 years, as well as his travels to Bordeaux, Gaston Hochar planted his first vines in 1930 and established upon them the Chateau Musar estate. Hochar was the descendant of a French family, who first arrived in Lebanon during the Crusades in the 12th century. His wines quickly gained the favor of senior officers in the army, particularly Major Ronald Barton of Bordeaux's Chateau Langoa-Barton, who was stationed in Lebanon during World War II. Hochar and Barton became great friends, setting up the historic relationship between Chateau Musar and Bordeaux, which would endure a century.
After completing his studies in civil engineering, Gaston's oldest son Serge Hochar decided to study oenology at the University of Oenology in Bordeaux, under the tutorage of mentors Emile Peynaud and Jean Riberau. In 1959, Serge returned to Lebanon and took over from his father as winemaker of Chateau Musar. His younger brother Ronald Hochar was chosen to manage the financial and marketing functions of the winery in 1962. Over the course of the 18 years that followed, Serge finalized the signature formula for the estate's red wines and set a high standard for their quality. This quality would remain remarkably consistent even during Lebanonese Civil War (1975-1990), due to Serge's undying dedication to the art of winemaking and Ronald's great efforts on the logistical fronts. Despite the vineyards of Chateau Musar being situated within a war zone, Serge insisted on caring for his vines. Astonishingly he managed to produce wine in every single vintage except two: 1974 (when a lack of electricity and impassable roads made harvest impossible) and 1984 (when the fruit harvested had to travel by boat and fermented along the way).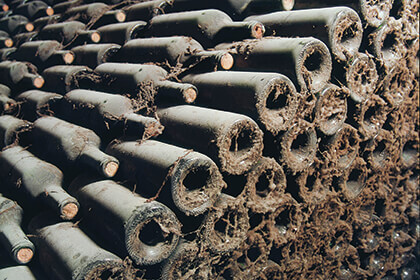 When the war effectively destroyed the domestic wine market in Lebanon, Serge decided to push the wines of Chateau Musar out into the world. A charismatic figure, he attended wine events all over the world, charming wine lovers and telling the incredible story of his wines. The Chateau Musar Red first burst onto the international wine scene in 1979, when it was hailed the "Find of the Fair" by Michael Broadbent at the Bristol Wine Fair. From that point on, Chateau Musar has been a British favorite, reaching other international markets in 2000 and after. In 1984, Serge Hochar was chosen as Decanter Magazine's very first "Man of the Year" in recognition of these great achievements. By 2006 the Hochar family managed to obtain organic certification for some of its vineyard, making Chateau Musar the first wine estate in Lebanon to implement organic viticulture and produce organic wine.
After Serge passed away in 2014, the estate remained under the control of the family, with Serge's son Gaston managing the day-to-day operations, while his other son Marc runs its commercial aspects. Ronald was appointed Chairman of Chateau Musar one year later. Ronald's son Ralph Hochar works in the company's UK office, which first opened in 1979 with the aim to expand the international reputation of Chateau Musar's wines.
Lebanon's Bekaa Valley : The Chateau Musar Terroir
Bordered by Syria in the north and east, and Israel to the south, Lebanon is home to two parallel mountain ranges and the Bekaa Valley between them. This ancient winegrowing site is situated in the region known as the Fertile Crescent, where agriculture is believed to have originated 10,000 years ago. Situated at a latitude of 34° N, the Bekaa Valley enjoys quite a bit of sunshine during the summer months. The Chateau Musar vineyards are planted at altitudes of 1,000 meters above sea level, characterized by a high degree of variation between day and nighttime temperatures, as well as a significant degree of seasonality (cold and snowy in the winter, dry and hot in the summer). This alpine environment allows for longer ripening periods and naturally healthy vines.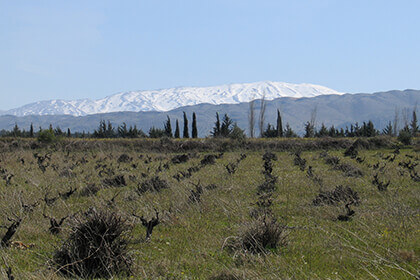 The red vines of Chateau Musar are planted in the southern end of the Bekaa Valley in a wide range of different gravelly soils over limestone, at various aspects. The varieties represented are Cabernet Sauvignon, Cinsault and Carignan, along with some Grenache and Syrah, yielding a maximum of 30 to 35 hectoliters per hectare. The white varieties of Chateau Musar – the Obaideh and Merwah indigenous to Lebanon – are planted in a cooler area at altitudes of around 1,500 meters above sea level. Since 2006, the Chateau Musar Red and white grapes have been produced following organically certified viticulture.
Winemaking at Chateau Musar
The original Chateau Musar winery was established by Gaston Hochar in 1930 inside the Hochar family's 18th century castle at Ghazir. As the business expanded, new cellars were constructed in the mountains nearby. The grapes are hand-picked in the morning, when the cool temperature helps preserve the natural acidity of the fruit, and driven in trucks to the winery. The red varieties are fermented with ambient yeast in separate cement vats, racked after 6 months and aged for 12 months in French oak barriques, of which only a few are new. The Cabernet Sauvignon, Cinsault and Carignan base wines are then carefully blended and bottled without fining or filtration. The final blend is aged for an additional 3 to 4 years before being released, at this point in its 7th year.
The Chateau Musar White is produced in a similar way. It is also kept in French Nevers oak barrels for a period of 6 to 9 months, and is then blended and bottled. The wine aged in bottle in the cellars of Chateau Musar for a period of 6 years before it is released.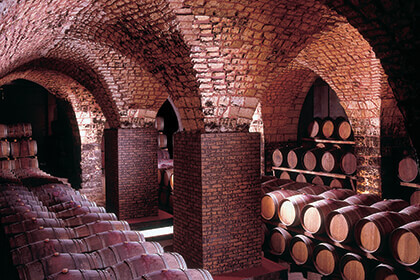 The estate currently produces three ranges of wine: Chateau Musar, Hochar Pere et Fils Red and Musar Jeune. First created in 2007, the Musar Jeune range includes a white, a red and a rosé cuvée. These wines, produced from grapes harvested in the Bekaa Valley, tend to be vibrant and fruity, with no oak used in the aging process. The Musar Jeune Red is an unoaked blend of Cinsault, Syrah and Cabernet Sauvignon from young vines planted since the year 2000. This wine is fermented in vats lined with cement and bottled one year after its harvest. Similar in style to a red wine from Roussillon, the Musar Jeune Red offers jammy, ripe blackcurrant, cherry and raspberry flavors, followed by a hint of spice on the finish.
The Chateau Musar White, first produced in 2006, is a blend of Viognier, Vermentino and Chardonnay from young Bekaa Valley vines. This unique Lebanese white wine reveals on the nose a bouquet of herbs and white fruits, like peaches and pears. It is a crisp, vivacious and mineral white wine, perfect served slightly chilled with Mediterranean dishes.