Pioneering Xinomavro in Naoussa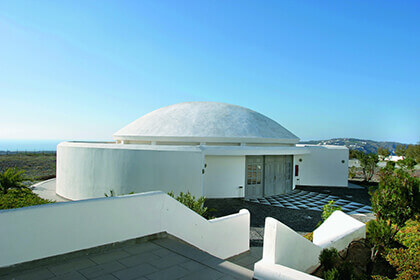 Ioannis Boutaris first established the Boutari Company in 1879. The family's first winery, still known as the Boutari Winery was built in Naoussa, a wine region on the eastern foothills of Mount Vermio in Macedonia, Northern Greece. The Boutari vineyards of Naoussa are planted on the southeast-facing slopes of the mountain. Here, the vines receive abundant rainfall and enjoy a relatively cool climate, growing in soils of calcium-rich marl (clay loam), ideal the production of rich, well-rounded wines.
This region has long been known as the birthplace of the Xinomavro varietal, a red grape closely linked with the legacy of the Boutari family. When the winery was beginning to produce its first wines, the Xinomavro vines of the region had been abandoned or replaced with more international varietals. But Ioannis saw the potential of this native red grape and began producing from it high quality wines with great aging potential. In the 1980's the Boutari team also planted foreign varieties, including Merlot and Syrah, and those first few Xinomavro wines evolved into a spectacular range of standard, Reserve and Grande Reserve single-varietal Xinomavro, along with blends of this varietal with French varietals. Beyond just promoting its emblematic flagship varietal, the Boutari Winery was also very influential in brining international attention to and raising the quality of wines produced in the VQPRD Naoussa appellation. In creating and managing a group of carefully selected producers in the region, Boutari pushed for a classification system based on quality level, which was then later expanded to other wine producing regions of Greece.
Beyond Naoussa Xinomavro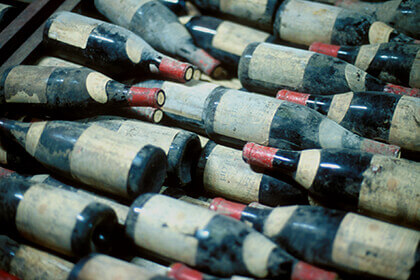 Since the purchase of its initial vineyards in the appellation of Naoussa, the Boutari Company has focused on strategic expansion, acquiring vineyards in carefully chosen terroirs of Greece and France. In 1989, a Boutari Winery opened its doors to its very first harvest on the island of Santorini. This very sparsely planted 6-hectare estate vineyard in the VQPRD appellation Santorini enjoys a cool climate and very little rainfall. The grapes are planted in sandy volcanic soils, covered with scoria, lava and pumice stone. The vines here are basket-pruned and grown in the center of the island to protect them from the very strong island winds. This unique climate results in limited yields, early ripening and good hygiene of the grapes. The Boutari Winery of Santorini produces wines from mainly local white varietals, including Assyrtiko, Athiri and Aidan.
The Boutari Winery of Crete was completed in 2004 and now produces red and white wines from a 7-hectare plot planted in clay and limestone soils at an altitude between 170 and 215 meters and cultivated using principle of organic vineyard management. Here, the Boutari team grows both indigenous varietals, including Kotsifali (red wine), Mantilari (red wine), Malvasia Aromatica (white wine) and Moschato Spinas (white wine), as well as Syrah and Chardonnay under the VQPRD appellation Archanes.
Just outside Tripoli in the historical wine producing region of Mantinia, the Boutari family invested significantly into an effort to save an ancient Greek white varietal, Moschofilero, from extinction and now uses it to produce its VQPRD Mantinia wine. The 70-hectare Mantinia vineyard is located at an altitude of 650 meters, home to Moschofilero, as well as Gewürztraminer, Chardonnay and some experimental varieties. The grapes here, 25-35 years old on average, grow on eastern-facing gravel slopes, in soils of clay and marl, ensuring fully ripe and highly concentrated fruit in time for harvest. In this region, Boutari also produces wines from the VQPRD zone of the Peloponnese, Nemea and fine wines from the noble native varietal Agiorgitiko from the Petri and Klimenti areas.
In the Kantza appellation of Attica Boutari collaborates with viniculturalist Roxane Matsa to produce two white wines from a historic 12.2-hectare vineyard from the native Savatiano and Malagouzia varietals. And in the Goumenissa appellation, the Boutari Company has been producing Filiria Boutari, a blend of Xinomavro and Negoska, from a 5.5-hectare vineyard since the 1980's. Viticultural and winemaking practices are carefully selected to match the individual terroir of origin, varietal (blend), and style of each wine in Boutari's wide range.
Research, Development and Experimentation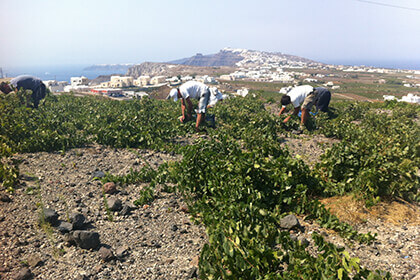 Throughout over a century of history, Boutari has positioned itself as a leading winery in Greece, not only the production of quality fine wines but in efforts to innovate as a way to benefit the Greek wine market as a whole. The company's Research & Development department, staffed by a team of highly trained scientists, has for decades carried out extensive research on various aspects of viticulture and winemaking, including the optimization of vineyard management, irrigation techniques and strategies, the biology of yeast and milk bacteria found in the various Greek appellations and environmentally friendly vineyard practices with minimal involvement. Many of Boutari's research results are shared with neighboring viticulturists and winemakers as part of the company's greater goal to contribute to the competitiveness of Greek grape cultivation and to encourage new participants in the world of Greek winemaking.
The findings of the Research & Development team are also relied on heavily in the creation of Boutari's range of "experimental wines," which are produced each year alongside their commercially available labels. These experiments allows the Boutari team to continue untangling the complexities of the Greek vinicultural landscape, better understand local biodiversity and continue to innovate based on their discoveries.