Amarone, the quintessence of Valpolicella in the Veneto region of northeastern Italy, is distinguished by its unique character and remarkable aging potential. Following a late harvest, carried out manually, the berries are dried on bamboo racks (traditionally called Arele) for a period of around 100 days. The dried grapes are then pressed, the must fermented and the wine aged for at least 2 years of oak aging before being commercialized. The result? Truly emblematic and prestigious Italian wines - complex and concentrated, while also maintaining the integrity of the local fruit.
The Amarone Process
The emblematic amarone style of the Valpolicella region was originally developed by the winemakers of Veneto as a way to amplify the aromatics, sugars and resulting alcohol in their wines. Wines made from the locally indigenous grapes (such as Corvina, Corvinone, Rondinella, Oseleta and Molinara) tend to be very light in body, a fact that isn't helped by the relatively cool growing conditions to be found in the western Veneto region. In order to remove excess water and concentrate the flavor of their wines, Veneto producers decided to lay the grapes out to dry after harvest. This drying process, locally named appassimento, was originally used to produce sweet wines called Recioto della Valpolicella. In fact, amarone (which in Italian means something like "very bitter") was originally considered a mistake, a recioto left to ferment too long, until the sugars were converted to alcohol, resulting in a dry style. Over time, amarone has become one of the region's most cherished and prestigious wines.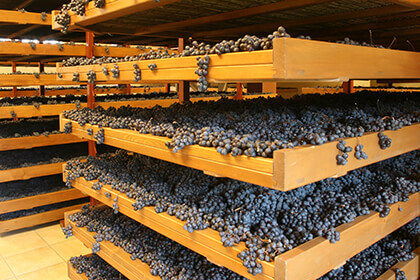 Traditionally appassimento was carried out by taking the manually harvested fruit in whole bunches and laying them on straw mats in a sunny, warm corner of the house. Nowadays, the same procedure is carried out on steel pallets. The grapes are required by the DOCG appellation to lose at least 40% of its water content. Upon achieving the right concentration, after up to 120 days of raisining, the fruit is slowly and gently pressed. The must is then fermented for around 100 days under very strict temperature and humidity regulations. Since the dried grapes have a higher sugar content, the resulting wine typically reaches a higher alcohol level, ranging between 15 to 16% by volume. Amarone della Valpolicella is often referred to as a "winemaker's wine," since the length of the appassimento process and the length of contact between juice and skin during maceration process has great influence over the style and personality of each resulting wine.
Amarone della Valpolicella wines are aged for at least two years in oak barriques (or the more traditional large botti) before hitting the market. These vessels are most often made of French or Slavonian oak, though other types of wood (cherry, acacia or chestnut) are sometimes used instead. A select few producers extend the aging program to 9 or even 10 years.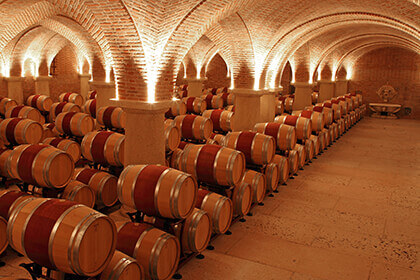 The dried grape skins that remain as a by-product of the amarone production process are often saved to add complexity (by way of tannins and aromatic compounds) to other Valpolicella wines. The latter undergo second fermentation together with these skins, creating Valpolicella Ripasso.
The Varieties of Amarone
The three main grape varieties used to produce Amarone della Valpolicella are Corvina, Corvinone (recently designated a separate variety) and Rondinella, along with a few other ones allowed by the appellation. Corvina is thought to contribute most to the identity of the finished wine, adding a certain elegance and notes of freshly ground black pepper). Corvinone adds depth of color, an extra layer of tannins and notes of tobacco to the aromatic bouquet. Rondinella is believed to add floral aromas, while trace amounts of Molinara add acidity.
The Styles and Regions of Amarone Production
While the earliest amarone wines were considered errors caused by leaving Recioto della Valpolicella wines to ferment for too long, this style eventually became very popular and respected in the area. Today three styles of red wine made by the amarone method exist: the sweet Recioto della Valpolicella (which is classified in its own Recioto della Valpolicella DOCG appellation), the Normale (an Amarone della Valpolicella aged for at least 2 years), and the Riserva (an Amarone della Valpolicella aged for at least 4 years).
Originally, amarone made in the Valpolicella region were classified as wines of the Valpolicella DOC. In order to preserve the heritage of the Amarone style and protect its authenticity, the Amarone della Valpolicella DOC was established in 1968 and later upgraded to DOCG status in 2010. In the case of such a truly unique wine, the appellation refers not to the region where it is made (Valpolicella, which is on its own a DOC appellation), but to the wine itself. These full-bodied, high alcohol wines are made according to a very strict set of rules - about varietal composition, production territory, viticultural practices, drying, labelling and bottling - laid out by the DOCG Amarone.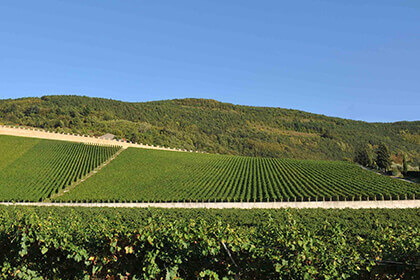 Today, the three regions producing Amarone della Valpolicella are Amarone della Valpolicella Classico, Valpantena and the rest of the region. An Amarone della Valpolicella wine receives the exclusive "Classico" specification when the grapes are grown in a specific area of Valpolicella, between the municipalities of Fumane, Marano di Valpolicella, Negrar, San Pietro in Cariano and Sant'Ambrogio di Valpolicella. This is considered the historical growing area, home to the very best slopes and low yields, which translate to concentrated, flavorful fruit. These wines belong in their own appellation, that of Amarone della Valpolicella Classico, consisting of 6 designations. The wines of Amarone della Valpolicella Classico are known to be the most elegant and intensely aromatic.
Southeast of the Classico regional appellation, in the Valpantena Valley is the region of Valpantena, known for producing Amarone della Valpolicella with a lighter, fruitier style. The extended Est zone, which lies southeast of Valpantena includes 7 designations found in the valleys of Squaranto, Tramigna, Mezzane and Illasi. Amarone from this area tends to be richer in body, with a higher level of alcohol.
How to Enjoy Amarone della Valpolicella
An Amarone della Valpolicella or Amarone della Valpolicella Classico is the perfect full-bodied wine for a romantic dinner at home in the wintertime. It pairs beautifully with charcuterie, hearty stews and red meats, such as venison, reindeer and beef. This is a wine that can stay on the table throughout the entire meal, a fantastic companion to ripe cheeses (think aged gorgonzola) and dark chocolate desserts.
Amarone della Valpolicella tend to be characterized by an intense red color, gradually turning garnet with age. The aromatic bouquet offers plenty of dried fruits, along with spices and tobacco. On the palate, Amarone wines tend to be very rich, smooth and warm, revealing sweet fruit flavors. These wines also tend to have excellent ageing potential, often designed to be kept for more than a decade.
The price for a bottle of Amarone does tend to be quite high, but this makes sense if you consider its higher cost of production. It is, after all, made with almost twice as many grapes as other wines, with a yield that can be as low as 1 glass per vine. The fermentation is also much longer, as is the aging at the winery.
As you begin restocking your cellar for the New Year, we recommend adding Amarone to the collection. Luscious, romantic and warm, these wines are true classics with an important legacy in Veneto.